When imagining South-Asian bridal wear, we immediately see deep red hues, bursts of rich gold embroidery, and voluminous lehengas sparkling as they swish. It's nothing short of magical. We all hold fond memories of weddings, past or more recent, that swept us in a flurry of glitz, glamour, and marigold flowers. These memories get woven into the fabric of the wedding outfits, to be a sartorial symbol of celebration. 
Although bridal wear varies across different countries, religions, and geographical regions, it is deeply rooted in cultural traditions and customs. With time, however, the traditional bridal trousseau (saris, dresses, and jewelry) is rapidly changing to suit the visions of a modern bride. Since each bride is unique, she must choose something that compliments her individuality, whilst never losing touch with her personal style.
Uniqueness, personality, and individuality are the founding ethics of JADE by MK, a contemporary fashion house that is home to a bridal couture line and fusion collections. Created by Monica Shah and Karisma Swali, the brand combines elegant modernity with classic embroidery, symbolic of the traditional craft of garment communities. Shah and Swali are sisters-in-law; their partnership produces beautiful bridal wear ensembles that are tailor-made for the spirit and personality of each bride. JADE's contemporary designs dazzle on red carpets too, with an extensive celebrity clientele including the likes of Deepika Padukone, Priyanka Chopra-Jonas, and Aishwarya Rai-Bachchan. In a one-on-one virtual conversation, Monica Shah told me:
For me, all of my brides are celebrities. I am excited every time I get to style a new bride.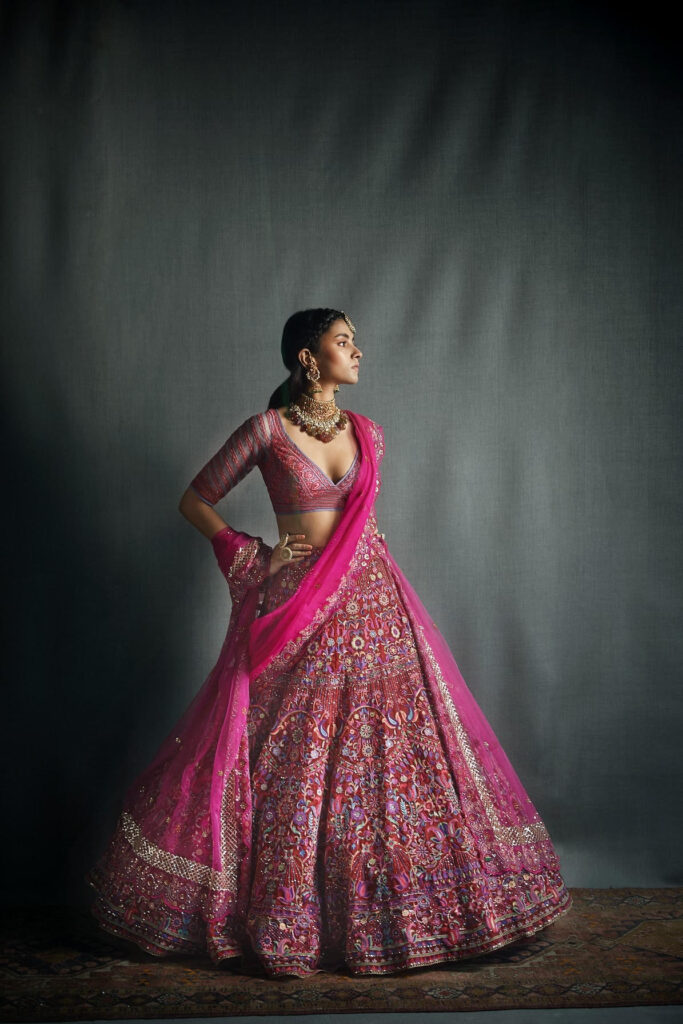 The consultation process for a JADE bride is a three-month collaboration, which starts with an in-depth consultation that can also be done virtually. Despite having a custom creative approach to bridal wear, JADE also strives to spotlight the classic history behind each garment with The Chanakya School of Craft, which is under the patronage of their parent company Chanakya International. The school is a way to institutionalize traditional craftsmanship while empowering the artisanal community and women from less fortunate backgrounds to help sustain and evolve Indian arts and crafts. 
I got the opportunity to talk to Monica Shah about what a JADE bride embodies, the changing world of fashion, the importance of uplifting artisanal, craft-making communities in India, and why we must push to preserve the ancient crafts of embroidery and weaving.