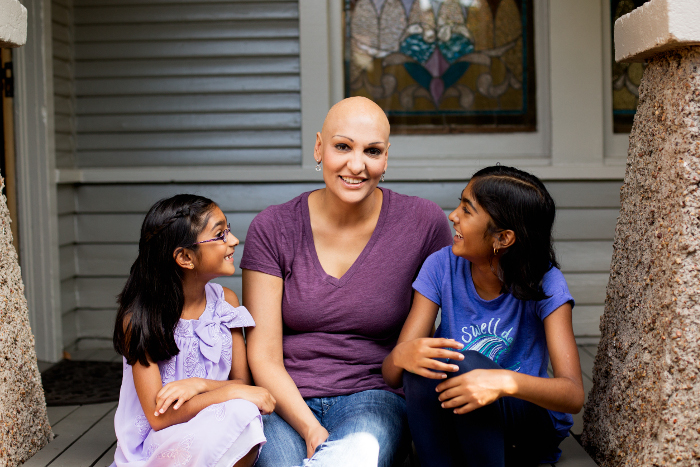 by Sandeep Panesar – Follow @PanesarSandeep
Dear Moms,  
We bow to your undying devotion and the effortless attention you shower on your children. Every. Single. Day.
As mothers, you bring your babies into this world and then you hit the ground running. There's no looking back because you're too busy trying to foresee a bright future for your child and for yourself. You are their teacher and a superhero in disguise, but most importantly, you are ma.  
Words like the ones above are comforting in a world of frenzy and dismay. With so much devastation toiling the world, mothers are the rock of every child's universe and shield him/her from havoc and chaos. This very bond between a mom and her child, unexpectedly paired with the negativity affecting modern-day society, gave birth to an important question posed by Jai Jai Hooray: What if there were more women in charge? What would the world be like then?
A future full of female leaders is where this world is headed, that's for sure, but until we get there, let's relish in the different ways we get to celebrate every female in the world. Women are honored in various cultures, in various ways and festivals happen to be one of them, festivals like Navratri.
Jai Jai Hooray is a company that is re-imagining cultures of South Asia by making beautifully simple toys and tools. They began with an exploration of Hindu mythology, and it's an educational platform trying to put learning materials in every parent's hands.
In light of the Hindu festival Navratri, the founder of Umani Rupa Parekh, and her team at Jai Jai Hooray, attempt to shine a spotlight on the world of everyday women and their personified roles as goddesses—the term "ma" refers to both mother and the female, Hindu deity, hence relationship between the two is inevitable.
With an effort to promote the power of the everyday mom and to help raise awareness of horrific incidents such as domestic abuse and female human trafficking, Jai Jai Horray presents the public with the #SheIsAGoddess social media campaign on the heels of its newest product—The Goddess Power Tower, an educational toy to help teach children about the many Hindu goddesses.

When asked to comment on the creation of this toy, Parekh explains:
"It started with us wanting to make a toy. But not just any toy, something unique and innovative. We also got a lot of customer feedback to focus on just the Goddesses. We asked ourselves, and a lot of families, 'How do you explain who a goddess is to a toddler?' Through our design research, we realized the best explanation was, 'MOM.' To a little one, mom is the center of his or her universe.

Another fun breakthrough came with Kali. So many Hindu moms have told us that they have a hard time talking about Kali to their kids because she is scary. We wondered, what if parents had easy prompts like, "She just keeps the monsters away at night." That's where this idea formed: What if we could create a prompt for each goddess that helps a child connect with her as though she were mom.

What we are most excited about is to offer families a high-quality, beautifully designed toy that combines identity, story, and play. Growing up, most brown kids never had that."
In an active effort to promote both the educational aspect of the Goddess Power Tower and the importance of women in any given society, Jai Jai Hooray presented their brilliant social media campaign throughout the nine auspicious days of Navratri.
"Our Instagram campaign [#SheIsAGoddess] was an effort to celebrate fantastic females who use their 14-arms every day to do amazing things. We really do believe that the future is female; these women offer some hope and positivity in the world during bleak times," Parekh said.
The company brought together nine amazing women who share their story, how the Goddess Power Tower has impacted their lives, and which Hindu Goddess they most resemble.
Kanika Chadda Gupta and her husband are practicing Hindus and are devoted to reciting mantras and bhajans in the home. The relatively new mom, who takes on the image of Parvati in the #SheIsAGoddess campaign, says that she always knew she wanted to be a mother, but it came as a shocking, yet pleasant, surprise when the couple found out they were expecting twins:
"Twin moms have a unique experience of being thrust into motherhood. From creating schedules, to nursing around the clock and learning what works for one child may not work for the other, we master the art of doing double the work twice as fast."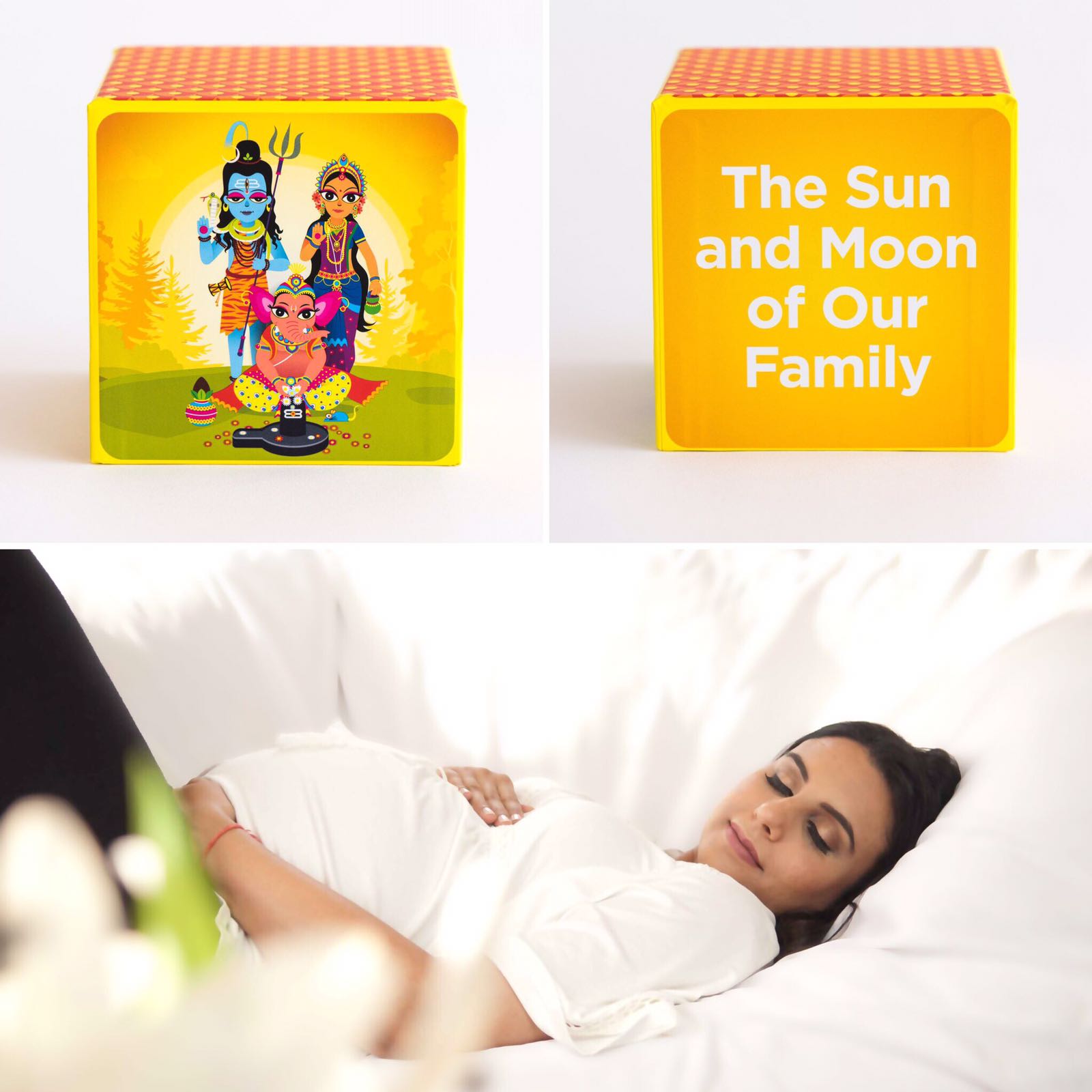 As a mother, and mompreneur and CEO, it's so important for Gupta to teach her children about gender equality and that's where the Goddess Power Tower comes into play:
"I feel this toy is a great tool to teach my son and daughter about gender equality. Despite stereotypes or restrictions that may still exist in society, we want to inculcate the belief that they both can achieve whatever they set their minds to. Women are just as capable as men. So, here's to all the devoted moms out there who are present and constant day and night, serving as the 'sun and moon' of their families. We are divine. We are Goddesses."
It is impossible to speak about Parvati without the mention of Sita, so it's only just to go ahead and introduce the Sita of Jai Jai Hooray's #SheIsAGoddess campaign. Everyone, meet Sonali Patel, a strong and defiant single mother who has seen her share of adversities and suffering, yet has prevailed and is triumphant. On being Sita, she admits,
"Although there are different interpretations, I hold both a traditional and modern view of her [Sita]. Sita is known for bravery, loyalty, morality, virtue and immeasurable patience. These are all qualities that mean a great deal to me and that I've been tested on, want to live by and teach my daughter.


Over the course of five or so years, I encountered experiences, circumstances, and emotions I never imagined I'd have to consider, let alone live out. I became a new mother and a short time after that, watched a family member battle cancer, lost my father and then my mother, got divorced and became a single mom. The waves of emotions, fear, hypersensitivity to life, losing so much family, feeling orphaned in my 30's­—is that a thing?)—was crippling. I couldn't be crippled though because I had this beautiful, intelligent, sweet baby girl that needed me (and I needed her just as much)."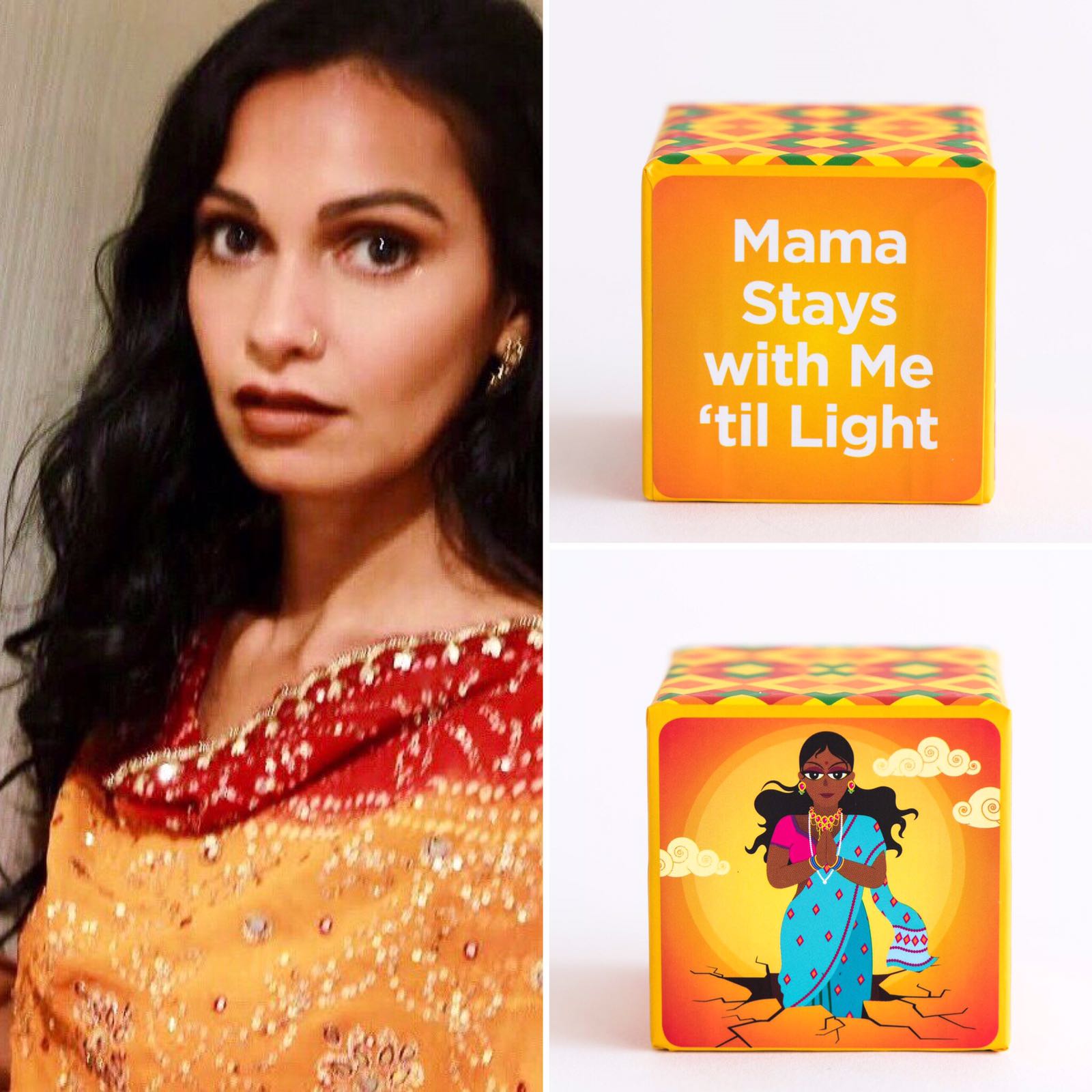 Sonali's daughter, Ellora, is of mixed identity:
"Ellora is a mix of Indian, Jamaican, European Jewish, Spanish and Italian backgrounds. (I think I got everything!) It is important as a parent to be proactive in providing tools, information, and experiences if you want your child to understand and identify with any part of their culture. It was easier for me to expose her to the various elements of Indian culture (because that is my background) when I had my parents, but after they passed, she was no longer hearing the language spoken or immersed as much as I wanted her to be. Now, I am very mindful to incorporate as much as I can so she can have constant exposure."
Jai Jai Hooray's goddess Radha comes in the form of supermom, Kajal Desai. Desai resonates most with Radha because she relates directly to everything that the mythical goddess is known for—Radha is full of love, has strength in her spirituality, and strongly believes in the joy that dance can bring into one's life.
While she's in the middle of building her career, Desai understands her priorities and the route she's taking in raising her son. As she shares her story with us, this young mom admits that when she found out she was pregnant, she was really hoping for a daughter.
"When I found out I was pregnant, I wanted a girl. I had a desire to raise a strong, loving, generous, confident girl, and then I found out I was having a boy. Once that set in, I realized I had an even greater role [and that was] to raise a son who always saw women as his equal, would never allow a woman's confidence to be broken or their dreams to become jaded."
Kajal promotes the idea of equality by continuing to pursue her professional dreams while raising her son. To this she says that she won't break and set an example for her son—she wants her son to grow up knowing that the women he crosses paths with will never break. Today, if you ask which superhero he wants to be he will say, "I'm Super Mommy!"
Since we're speaking of super mommies, it's only right to introduce the next deity from the #SheisaGoddess campaign, Pranika Uppal Sinha. Sinha is the face of Durga, fierce and powerful. With a continuing battle against her diagnosis of Alopecia, this mother of two little girls has defied the standards of beauty.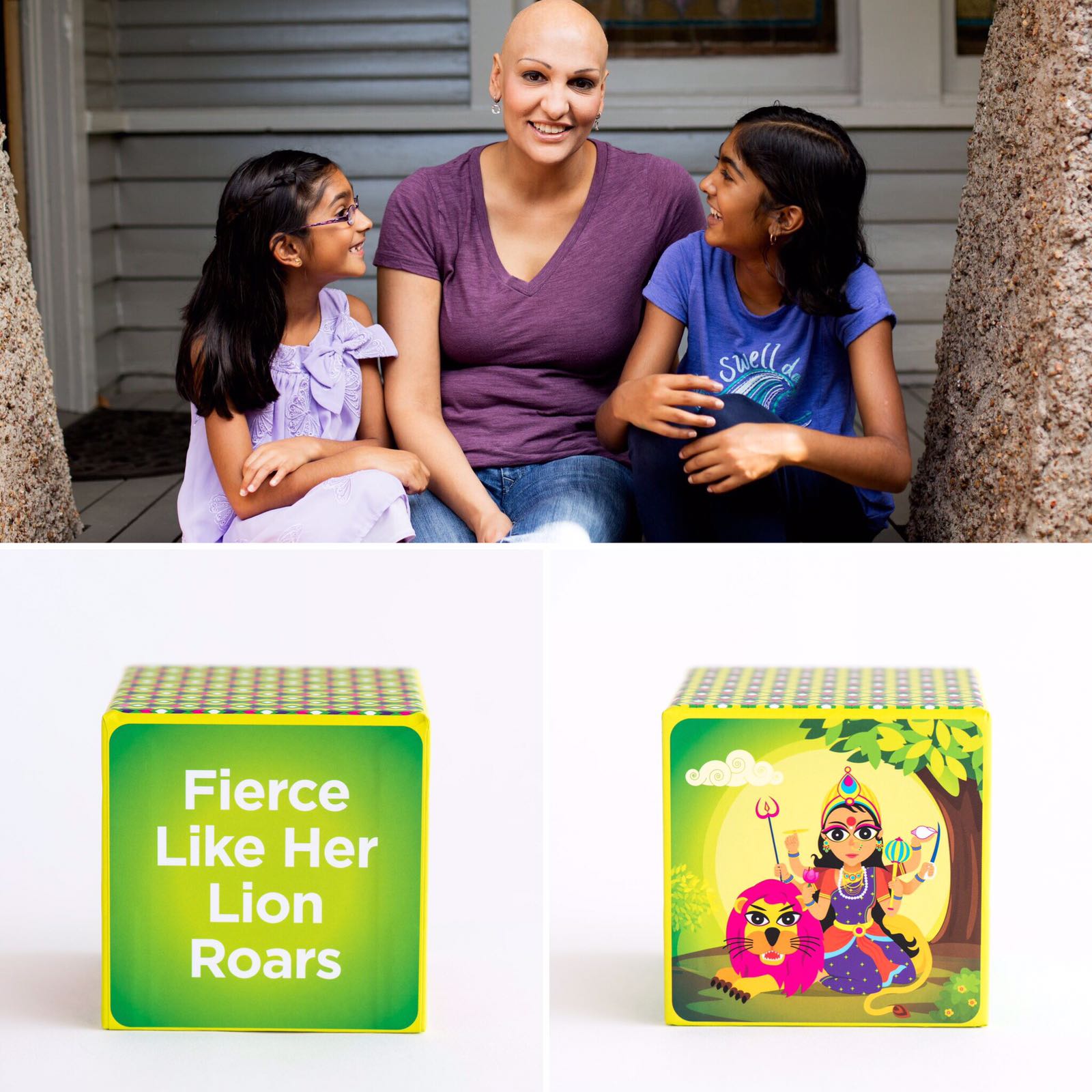 After being diagnosed at the age of four, and with very little hair left, Pranika made the decision to shave off what was left on her head:
"My husband was at a meeting and couldn't come, so the girls went with me, held my hand, and comforted me as I got emotional. They liked my new look and gave me nonstop smiles and hugs. They have never pressured me to wear a wig or hat and are comfortable with me no matter what! I feel as though they truly understand that beauty is inside and out and you get to define it for yourself. As women, we can spend our whole lives trying to fit other people's expectations, when really we can never be confident and free until we got our own. My daughters have helped me with their encouraging words, hugs, and love, and I like to think that inadvertently I have helped them as well."
When it comes to the Goddess Power Tower, Sinha says,
"My daughters have never had a toy quite like this. I find that it's unique, empowering, and allows them to really see the power of brown girls and goddesses, and learn more about their religion. Every year at the end of Navratri, we celebrate our daughters as goddesses on Ashtami. Now they can play, and 'interact' with these goddesses daily, and know that girls and goddesses alike are mighty.
The Goddess Power Tower and the #SheIsAGoddess campaign encourages us to make cultural learning fun and a part of your child's on-going educations, and it reminds us to celebrate that women are divine, they're fierce, and they're goddesses way beyond mythical tales. Women are your everyday superheroes.
[su_divider]

The following post is in partnership with Umani—a company whose mission is to create beautifully simple toys that make introduce aspects of Indian culture to new audiences with a modern twist. Their newest toy is The Goddess Power Tower—a set of stacking blocks that feature the most fierce female Goddesses from Hindu mythology. Buy your tower today just in time for Diwali presents! 
[su_divider]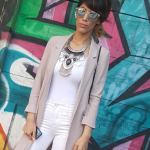 Sandeep Panesar is an editor, and freelance writer, based out of Toronto. She enjoys everything from the holiday season to the cold weather, and the warm beverages available in the winter months- a true Canadian, eh? When she's not binge-watching her favorite Bollywood movies, or sipping on tea and gorging on pakoras (or Timbits), she's keen on highlighting the pulse of community issues through her writing assignments. Sandeep is driven by her passion for fashion and writing, and uses both as catalysts to express her individuality; she's an avid believer in the power of the word.