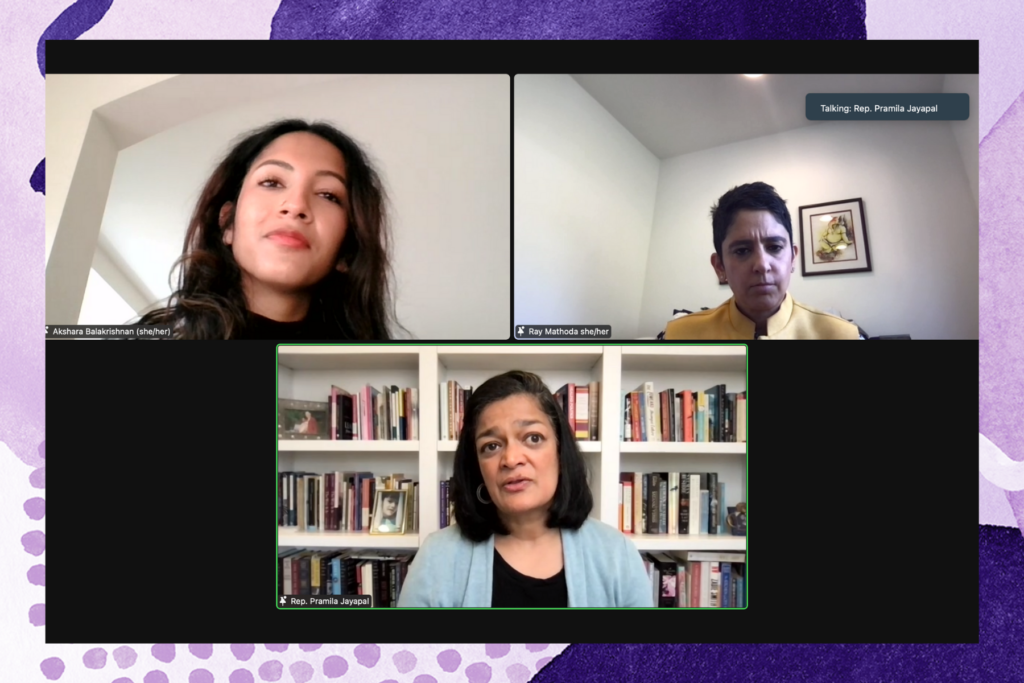 "Your child is your child. It makes me emotional just to say it."
On Jan. 30, 2022, Congresswoman Pramila Jayapal, the first South Asian American woman in Congress and the proud mother of a transgender child, delivered a message of love and encouragement to desi parents of LGBTQ+ children during a virtual event organized by Desi Rainbow Parents & Allies, a nonprofit dedicated to providing resources and a sense of community to LGBTQ+ South Asians and their families around the world.
"Nothing has changed," Jayapal continued. "This is the same child you gave birth to or brought into your home. This is the same child you have loved. Just try to focus on that, and all of the other things will work themselves out."
View this post on Instagram
In a conversation moderated by Akshara Balakrishnan (an activist developing support systems for trans women of color) and Ray Mathoda (a social entrepreneur and LGBTQ+ parent of a trans child), Jayapal shared how she has supported her child Janak throughout their gender identity journey. With Janak's encouragement, the Congresswoman went public with that journey in an emotional speech during an Equality Act hearing before the U.S. House of Representatives in 2019.
View this post on Instagram
While the Congresswoman noted that she has always been a champion for LGBTQ+ rights, she has embraced learning more about language, identity and affirmation, as she advocates for LGBTQ+ Americans in Washington. She is the co-chair of Congress' Transgender Equality Task Force and was a cosponsor of the Equality Act in the House.
"Anything that I can do as a member of Congress, but also as a mom — as a South Asian American mom of a trans kid — I want to do," Jayapal said. "We are bringing this issue out much more strongly for the entire LGBTQ+ community, and specifically, also for trans folks across the country."
Jayapal said she never had gender expectations for her child, noting the importance of accepting people's processes. Janak had previously identified as gender non-conforming but now identifies as a trans person. Jayapal admitted that she was worried about using the right language that affirms her child's identity — and that Janak has "lovingly corrected" her at times.
View this post on Instagram
Jayapal also addressed the journey of acceptance for parents and relatives of LGBTQ+ South Asians. She said desi parents have reached out to her for support, sharing concerns about societal reactions, traditional gender roles and expectations they had for their children.
"Talk it through. Sometimes, it just takes a little bit of time for somebody to process something and be able to accept it," Jayapal said. "People are uncomfortable, and I feel like it's sort of our job to continue to talk about it and to continue to use the right pronouns and to sort of share how we feel."
The Congresswoman admitted that she worries about Janak's physical and emotional safety as a trans person of color. Jayapal said it may be difficult for Janak to visit their grandparents in India, and there are many places in America where Janak would not want to travel or work.
"The fear of being a trans person of color in India is significant, just as it is even in Oakland," Jayapal said. "The main challenge, for me, has been being afraid for my kid — the same challenge that probably every parent has — but recognizing the increased risk that unfortunately trans people of color currently face."
Jayapal noted that South Asian cultures, historically, have been accepting of people with various sexual orientations and gender identities and expressions, but colonization "really ruined a lot of that." She encouraged desis to draw from those cultural roots as organizations like Desi Rainbow provide opportunities for learning and rediscovery.
"Our community needs to talk to each other, hear from each other, be supported with each other," she said. "We need these safe spaces and supportive spaces within the South Asian community."
As the conversation wrapped up, Jayapal offered words of encouragement and advice to both parents and their LGBTQ+ children.
"If you just allow that love as a parent to really open you up, there are amazing things that are possible, and a new kind of intimacy and relationship with your child is possible," she said to parents. "Be kind to yourself. Be strict on what love means, because that is the thing that will always carry you through."
Jayapal then turned her attention to the South Asian LGBTQ+ community, specifically, to young trans folks.
"I see you. I hear you. I love you. You are so necessary," she said. "You are fully able to be who you are. There is nothing stopping you from that. When you are, everyone will see that light that you bring."
Jayapal's message was the latest in Desi Rainbow's Proud Possibilities series, which invites South Asian LGBTQ+ advocates and allies to share inspiring personal stories of pride and acceptance.
"I will always fight for you," Jayapal said, as she said goodbye. "I feel like it's my responsibility, my privilege and my honor."