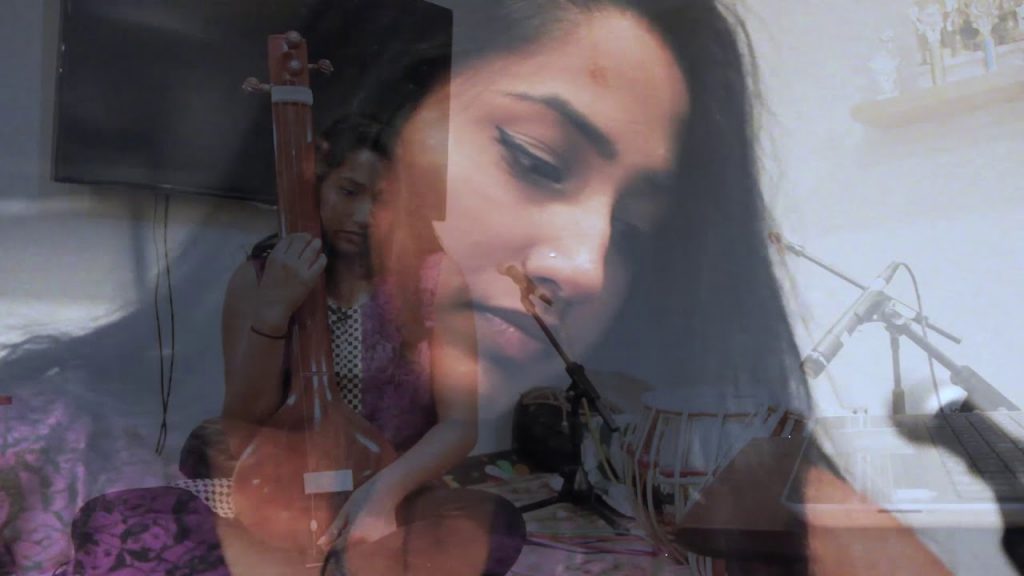 Hypokrit Theatre Company in association with Satwik Arts will present the World Premiere of THE MUSIC IN MY BLOOD by Sonalee Hardikar and Shubhra Prakash. This play about Indian music that spans generations and countries will be directed by Sonalee Hardikar. Previews begin June 6 at American Theatre of Actors.
THE MUSIC IN MY BLOOD crosses the boundaries of time and space to bring together Prema and Walter, two people bound by their love of Indian music. In 1934, Jewish Czech musicologist Walter Kaufmann (1907 – 1984) fled from the Nazis and temporarily resettled in India where he fell in love with the music of his new homeland. He became a noted scholar and composer of Asian music and even composed a signature theme song for All India Radio that is still used today. Meanwhile, Prema is born in India to parents from a musical dynasty. When she flees to Brooklyn in the 1980's to pursue a degree in history, Prema discovers the writings of Dr. Kaufmann. Soon, the unlikely pair begins to converse across time and space about music, tradition, culture and heritage.
The play features original music by Laxmikant Bongale, performed live by Amod Dandawate, Rucha Muley Jambhekar and Manoj Govindraj.
It stars Monica Sharma, Ariaki Dandawate, Michael Gentile, Toby Miller, Richa Rudola, Meera Narasimhan, Ashok Chaudhary, Gautam Gurnani, Sumend Wankhade, Anand Rao, Miriam Eusebio, and Aanya Rastogi. The production team includes Sonalee Hardikar (set and costume design), Hassan Khan (technical director), Priya Rohatgi (wardrobe and props), Shayonti Sahu-Chatterjee (lighting design) and Madison Hartke-Weber (projections).
Sonalee Hardikar's educational background includes degrees in chemistry and video production as well as an acting degree from the National School of Drama and a fellowship from the University of Maryland to study scenic design. She writes in three languages and her poems, essays, short stories, and analytical articles have been published in many Indian magazines, newspapers and performed at All India Radio. Notable theater credits include Associate Director for Berliner Ensemble's Indian premiere of Heiner Muller's Medeamaterial, a Hindi adaptation of Brecht's Caucasian Chalk Circle and a Hindustani translation of the Persian poem Conference of Birds that was staged by Polish director Mariusz Orsky. Her recent credits include design and direction for Shishir Kurup's Merchant of Venice, set and costume design for Rabindranath Tagore's Chitra, and a production of Kamli in Singapore.
Shubhra Prakash is an actor, singer, voice-over artist and theatre-maker.  Shubhra served as a voiceover artist for Priya's Shakti, a multi-platform project supported by Tribeca New Media fund and garnered over 400 press mentions. She wrote, directed and produced "For Our Own" at the Planet Connections Theatre Festival 2014 for which she received the Activist Award. She served as festival director of Hypokrit's South Asian International Performing Arts Festival in 2015. She also serves as co-founder of Random Fox Productions, her short Funny Faces was the Top 10 picks of Asian American Lab's 72 hour shootout. Her short film, Three Dates – a short film, which she wrote, directed and produced, was screened at New York Indian Film Festival (NYIFF) 13?.
Congressional Award-winning Hypokrit Theatre Company's mission is to provide artists from minority communities a platform for their voices and work. Hypokrit combines a dedication to new work with a passion for reimagining classics. Whether it is redefining the western canon using a contemporary sensibility or bringing classics from around the world to western audiences, Hypokrit believes specificity is the key to the universality of the human experience. Past productions include a Bollywood influenced Romeo and Juliet, Eh Dah? Questions For My Father at the New York Musical Theater Festival, Chokher Bali, Devdas, and the Off-Broadway premiere of How to Succeed as an Ethnically Ambiguous Actor. They have also presented work at the annual South Asian International Performing Arts Festival and Tamasha, a Festival for South Asian Performing Arts.
Satwik Arts, created and led by Sonalee Hardikar, is a multi-disciplinary art studio based in Fremont, California that serves the wider East Bay.
---
THE MUSIC IN MY BLOOD runs 

June 6 – 17

, Wednesday – Friday at 

8 P.M.

, Saturday at 

2 P.M. and 8 P.M.

, and Sunday at 

noon & 5 P.M.

 American Theatre of Actors is located at 312 West 54th Street between 8th & 9th Avenues. Tickets are $45, available at themusicinmyblood.com or at themusicinmyblood.eventcombo.com.