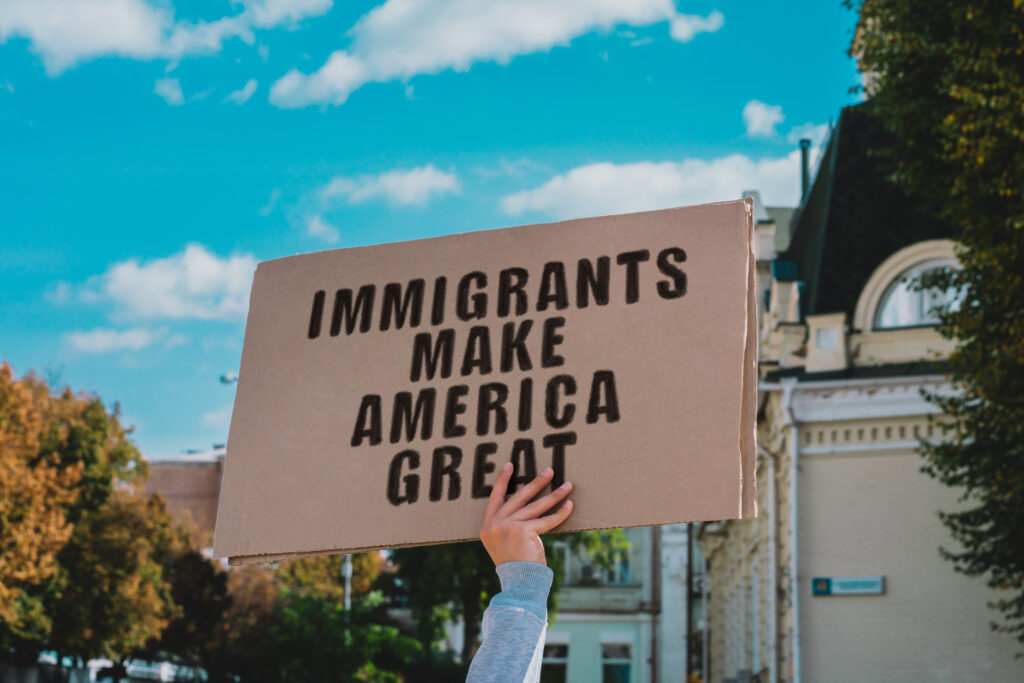 With the 2020 election results now pointing to a new president, immigrants across the country can finally breathe a sigh of relief. As CNN reported, for nearly four years, immigration to the U.S. was "gradually, and swiftly, choked off."  Policies implemented by the administration made it exceedingly difficult for people to come to the U.S. whether it be to study, work, or seek refuge.
Since taking office, Donald Trump and his administration have not only directed harmful immigration policies at the southern border but also tightened even the lawful ways that immigrants have been using to move to the U.S. What's more, the administration has bypassed Congress's lawmaking authority and used its executive powers to rewrite immigration policy — with little or no pushback from Congress itself, according to the American Friends Service Committee. The combination of these policies points to clear support for a white nationalist agenda. The result of these sweeping changes is a dramatic reduction in immigration to the U.S., particularly by people of color.
Several changes were made to various immigration policies during the Trump reign including banning people from majority Muslim countries, reducing refugee admission, undermining asylum, attaching the Diversity visa program, slowing applications for green card and citizenship, changes to the student (F-1) visa rules, changes to the work (H1-B) visa program, in addition to pushing more people into deportation proceedings.
Stories of the brutalities immigrants faced at the hands of Immigration and Customs Enforcement (ICE) and Trump's consistent attempts, since taking office, to end the Deferred Action for Childhood Arrivals (DACA) continued to put immigration at the forefront of the election. While the Supreme Court blocked Trump from ending DACA this year, his administration pledged to end it, should he be re-elected in 2020. Additionally, the Trump administration threatened to end humanitarian protections for people who were unable to return to their home country to due conflict or natural disasters. Such policies not only directly targeted people of color but spread more fear within immigrant communities already disproportionately affected by a global pandemic.
But on Saturday, Nov. 7, after unrelenting attacks, thousands, if not millions, of immigrants breathed a sigh of relief after Joe Biden was projected by CNN and other media organizations to win the 2020 election.
"Today, when I saw, the news, when I read the news, and my friends were texting me that Joe Biden had won, I had just a huge sense of relief. That impending doom and dread that I had been feeling for the past four days now has been lifted off my shoulders," Moises Serrano, a DACA recipient told CNN. Serrano added that this week was the most difficult time in his life as he awaited the election results.

"I feel like I can breathe. I don't have to worry about my family and my status every single hour of every single day," Serrano said.
Now with Biden's victory, there is light at the end of the tunnel and immigrants seeking to come or remain in the country can be hopeful.
"It feels cathartic. It feels like we're waking up from a nightmare. We're so excited," Bruna Bouhid, DACA recipient and communications director for United We Dream told CNN. "There's so much energy on what we can do in a Biden-Harris administration."
A Venezuelan asylum-seeker told me people at the immigrant camp along the border in Matamoros Mexico were very excited about Biden's win. I could hear cheering in the background.

"This is not only a Biden victory, we migrants also won and we are very happy," Mervin said.

— Adolfo Flores (@aflores) November 7, 2020
Democratic candidate Biden was announced as the 2020 President-elect on Nov.7. At the time of writing, the Associated Press called Biden to win at least 279 electoral votes including Pennsylvania, Michigan and Wisconsin, according to CNBC. The race, decided by narrow margins in a range of swing states, drove record turnout that saw both Biden and Trump garner more than 70 million votes.
"I am honored and humbled by the trust the American people have placed in me and in Vice President-elect Harris," Biden said in a statement Saturday after his projected victory, CNBC reported. "In the face of unprecedented obstacles, a record number of Americans voted. Proving once again, that democracy beats deep in the heart of America."
This is a historic election in multiple ways. According to The Washington Post, with Biden's win, his running mate, California Sen. Kamala Harris has made history — becoming the first woman, the first Black American and the first Asian-American to be elected vice president. Further, despite a global pandemic, voter turnout was projected to be the highest in more than a century; Biden has amassed more than 74 million votes, the most votes cast for any presidential candidate in history.
Among the millions of  Americans who voted are many first-time voters — individuals who have waited years to have the opportunity to vote, pending their immigration status. According to the Pew Research Center, the number of naturalized citizens in the U.S. has nearly doubled in the past 20 years.  Amid an economic recession, coronavirus pandemic, nationwide movements for racial equality and immigration reform a lot was at stake to drive people to the polls.