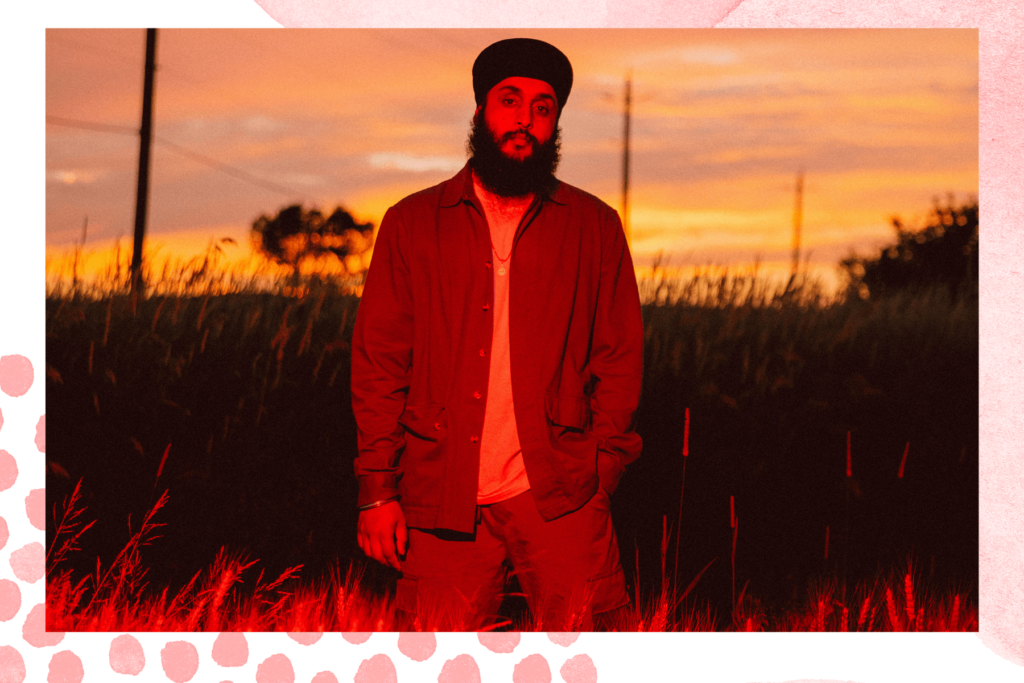 It's safe to say that many of us experienced name-calling and insults due to what we looked like growing up. This came from communities around us as well as within our own communities.
I could sit here typing out my favorites, but I would rather not torture myself and relive the past. Instead, I would like to describe what was going on in my head — how I was feeling and how I processed and came to terms with these nuanced experiences. 
Like any teen, I internalized all of these offenses at a young age and developed some distinct habits to cope with the status quo at the time. I would mispronounce my name closer to Aaron in order to fit in more or I would try really hard to fit a desi stereotype I saw on mainstream media. After consuming all of these examples, it got to a point where I was craving to see myself represented in the mainstream in a way that I found to be positive. 
This is where the journey for me begins. My sister let me borrow her iPod, which had a ton of South Asian musicians on it. I fell in love with how these artists created music fusing eastern and western sounds. I loved the way the music articulated personal experiences, thoughts, feelings and emotions in an authentic and creative way. Their music resonated with me as it sang to the diversity and inclusion of new ideas and personal struggles, which were barely talked about in our community at the time.
One of those artists was Fateh Singh better known as Fateh Doe, who I recently had the chance to interview virtually. He recently dropped an album during the pandemic called "Goes Without Saying."
Some lyrics from the intro track that stand out to me are, "Man they said that I fell off, guess it's time to cut some throats," and "I listen to Lehmber then I mix it with the Kodak." As fans may have assumed that he fell off, Fateh Doe solidifies himself by going back to his hip-hop roots with lines like, "How I'm I underrated got the crown on me, I'm 5'7 ain't no banda looking down on me," from his recent song "Outside Freestyle." 
We talked at length about representation, his discography, how musicians make money during a pandemic and more. I also got the chance to learn about who he would go bar for bar within a Verzuz battle, his influences as well as dream collaboration. A Verzuz battle I am sure fans would love to see would be Fateh going bar for bar with Raxstar or Sunny Malton and in terms of collaboration, Diljit Dosanjh would be at the top of the list. 
Fateh Doe, you've been making music for more than 10 years and you were one of the first South Asian artists to pioneer the YouTube movement. What does representation mean to you?
"My brand, in itself, is representation. There are artists who are in-your-face South Asian and there are artists who stay as ethnically ambiguous as possible to fit into their industry. Me — being myself, wearing a turban, and rapping — is representation in itself. I also learned a couple of years ago that women who wear hijabs really rock with me and my songs because we are connected through the experience of being a visible minority in North America. You never really know who you might be helping or affecting just by following your dreams."
I loved your points on how individuals look at representation differently. Why do you think many South Asians stay ethnically ambiguous in their respective fields? 
"Artists and figures stay ethnically ambiguous due to systemic racism and barriers of entry into their industries. A lot of times this can result in self-hate and a rejection towards their own South Asian Culture. When I was growing up I didn't have many role models to look up to who I thought were cool and I could emulate. I want to normalize what I look like in the industry, and say and do what I feel. I hope to pave the way for newer artists and instill confidence in the younger generations."
I really loved that you said you want to normalize what you look like in the music industry. Your music video for your song "Sardaari" was epic as it showcased representation for Sikh men. How did you come up with this concept for the music video?
"The idea behind the song and the word "Sardaari" is that we run this shit and we are respected. I linked up with a guy who produces aesthetically pleasing videos showcasing a lot of Sikh representation on a smaller scale. I asked him if we could take it up a notch and he loved the idea."
I was looking through your discography and you have four mixtapes, including ZOO Babies and four albums. Which one of these was your favorite in terms of self-development? 
"That project would have to be 'To Whom It May Concern.' The project was therapeutic for me as I was able to express how I was feeling at that time and I was able to be vulnerable with myself. My audience got to learn a little bit more about me and it was instrumental in providing me with personal development."
View this post on Instagram


A question on a lot of minds is how artists and musicians are dealing with the pandemic?
"It is definitely tough for artists and musicians. It used to be such a fast-paced life of travelling to different states and countries two weeks here and two weeks there so it has slowed down a lot. Artists are making money off of selling their merchandise, getting revenue from owning their own masters, YouTube revenue, and others through social media platforms. This is a great time to support an indie artist that you are a fan of. That support can go a long way at this moment."
Let's finish talking about your newest album "
Goes Without Saying
." What was the inspiration behind this project and merchandise?
"I really wanted to go back to my hip-hop roots my audience originally knew me for. I was being boxed in as a senti [sentimental] Punjabi singer and I really wanted to show my audience what I can do. An article had come out about the top Punjabi Rappers outside of India. I thought for sure I was in the 'Top 10' but I was in the honorable mentions section. My audience wanted more hip hop from me and that article really fueled the fire for this album. As for the merchandise, I really wanted something cool and loud so we went with the tie-dye colors and writing written in a west coast Cali style."
View this post on Instagram
Following my interview with Fateh, I had some time to reflect. I really understood why his music resonated with me 10 years ago and why it still resonates with me today. His music is a dichotomy of influence combining what he grew up listening to at home with his family and what he grew up listening to with his friends.
I feel that he understands the nuances of experiences I only considered personal, such as code-switching to act differently around different sets of individuals creating a hyper-awareness of issues related to identity. Fateh's music overall gave me a feeling of comfort. His musical forms of self-expression were extremely validating and gave me a sense of belonging. 
I was motivated to take the time to revisit his albums, mixtapes, and singles and I started to see myself as a part of a creative lineage and artists, such as Fateh Doe, who helped me form the person I am today. Throughout the years of following the careers of Fateh and various other artists, I developed my individual voice for poetry and music. In 2020, during the pandemic, I shared publicly my first spoken-word piece titled: "Brown Bodies." I can safely say artists such as Fateh Doe, Riz Ahmed, Heems and many more influenced my content and I cannot thank them enough for giving culturally invisible individuals a voice.