by Sareena Tailor – Follow @sareenatailor

"Just Promise Me This" is the perfect read for a girly night or weekend in that we all need every once in a while. The author, Krina Chauhan, transports you into the world of our leading lady, Neela Desai. The reader follows her through a humorous and relatable love story that any 21st-century independent woman would love to find herself getting caught up in.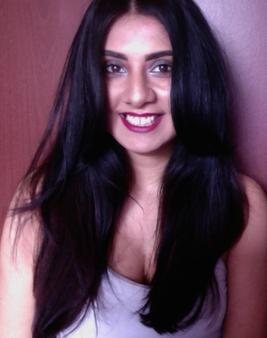 Successful Londoner Desai has had enough of being the showcase trophy girlfriend of a control freak and workaholic Dev, and at first, she struggles with letting him go. She excuses all the signs that are screaming to her indicating that they are not meant to be together. When she eventually comes to the conclusion that enough is enough, we see her conflicted with her decision. Surely she owes it to Dev to try and work things out after three years together? He can become the guy that she fell in love with again can't he? She tells herself,
"Of course, I'm happy/ thrilled/ excited to be sitting in this lavish restaurant, with this glamorous, over-the-top chandelier floating magically above our table. I mean, who doesn't love crystal beads and pear-shaped droplets? And it perfectly matches the mood of the dining area as it's filled with these faint sweet classical sounds coming from a grand piano outside in the foyer."
Struggling to gather her thoughts and decisions, Desai seeks solace in a local coffee shop where she encounters Neal who she immediately feels a connection to. Neal is a rugged, rough around the edges, blunt and confident kind of guy with access to good coffee — I mean what more could you want? As their friendship grows we, the readers, accompany them as they fall deeper into each other's world and you find yourself thinking is this too good to be true? Surely enough, like everything in life, things aren't always what they seem.
As a twenty-something London based working girl of Asian descent, I found that the novel really spoke to me. It echoed my thoughts that life never works out the way we planned and how you should strive not to lose yourself on your way through.
A beautiful point that you will hopefully take from this is that the right person in your life will encourage you to be inspired and be yourself, to follow your dreams no matter how frivolous they might seem to the other people in the world. If it makes you happy it should make them happy.
As Desai tells us,
"'In a stern tall voice, Neal says, 'Look at me' , as he grips my hands, stopping me from moving. 'You are fearing Dev's words and it's holding you back, but you know what? His words mean nothing.'"
Order a copy and fall in love whilst you lose yourself in her world!
---
Sareena Tailor is a twenty-something Gujarati girl living in London. Her degree and life's work is in Fashion and textile design and she has a love for all things creative. Bollywood romances are her kryptonite and she describes herself as passionate about her culture and heritage.