In April, I issued a call to action fuelled by my shock, anger, and sadness at the murder of Paviter Singh Bassi — a young man whom I never knew but will always remember. I wanted my community here in Brampton, specifically the Punjabi diaspora, to collectively acknowledge and fix our failings.
I highlighted the indirect (and direct) support of gender inequality and the promotion of toxic masculinity in the community as two areas where we must do better to prevent what happened to Paviter from ever happening again. We must do better at calling out and rectifying problematic aspects of our culture. It was all I could think to do at the time, and it's still holds true.
However, when I wrote that his death had "eclipsed everything for his parents and his older sisters" I was wrong. The devastation of his death did not eclipse his presence in their lives. Instead, it has given rise to the kind of courage that is incredible to see.
My all-time favorite, Maya Angelou once said,
"Without courage, we cannot practice any other virtue with consistency. We can't be kind, true, merciful, generous, or honest."
So, it is with this courage that his sisters, his family, have continued to fight for justice for their brother and son. It is with this courage that they created The Paviter Fund, to honor his dedication to community service and to continue his legacy of seva (selfless service).
The community launch of The Paviter Fund in Brampton was held on April 19, a month after the attack, during Sikh Heritage Month. The event titled "Celebrating Seva" celebrated Paviter's legacy of charity work. It included an art auction and donations from local businesses as well as a moving performance by Brampton's own, Rupi Kaur. The event raised $30,000 — a 100 percent of which will be given to those in need.
One of the speakers at the event, Rapinder Kaur, spoke of seva being the "self-affirming thing that helps connect us to the divine spark within all of this." Her words resonated with everyone there as we sat, overcome by his family's courage in the face of such grief.
Paviter, in Punjabi, doesn't just mean "pure" as it's often translated to, but by its more precise definition, "sacred." It is this sacredness with which his family holds and hopes to preserve the legacy of his short life, by taking their grief and funneling it into seva in this way, with such reverence and respect that is both so incredible and inspiring to see.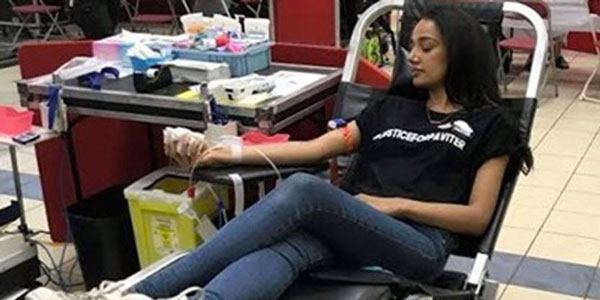 One of the first initiatives of The Paviter Fund is a month-long blood drive during the month of June, in Paviter's name. By doing so, the family hopes to "pay forward" the kindness of strangers who donated blood that kept Paviter alive for six additional hours, which allowed his family to gather by his side. After he was brutally attacked by a gang of young men (four of whom have been caught and charged with first-degree murder, but several others are still at large) on the early evening of March 19, Paviter was rushed to a trauma center in Toronto. He underwent an intensive six-hour surgery and was able to survive another six hours through the generosity of blood donors from the community.

The blood drive event began on June 1st, at Shoppers World Brampton, where many Bramptonians showed up to donate. The family is encouraging the community to donate throughout the month. According to Canadian Blood Services, 10,000 new donors are needed every year to meet the demand, and while half of all Canadians will either need blood or know someone who will need blood at some point in their lives, only four percent of them donate. If you are interested in donating, please email Pavitercharity@gmail.com to find out about eligibility and how to sign up.
To learn more, please visit justiceforpaviter.com or follow the #justiceforpaviter hashtag on social media.
**Update: As of this time, a fourth suspect was arrested and charged with first-degree murder.
If you have any information or surveillance video of the incident, please call the investigators at 905-452-2121, ext. 3205, or Crime Stoppers at 1-800-222-TIPS (8477).