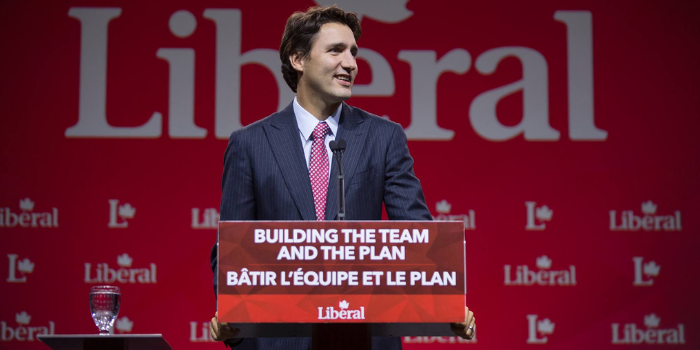 On Sept. 18, Canadian Prime Minister Justin Trudeau faced allegations of racism after a photo of him wearing brownface surfaced on the internet. Since then, two more photos and one video of a younger Trudeau were released depicting the politician in black and brown face and dressed in racist attire. The incident comes at a politically charged moment in Canada's history as candidates prepare for the upcoming federal elections on Oct. 21.
The revelations have placed Trudeau's reelection campaign under scrutiny, and the story has dominated Canadian media since TIME published the exclusive after obtaining a copy of the school's yearbook https://t.co/hcu2HrFzdu

— TIME (@TIME) September 19, 2019
The initial picture of a 29-year-old Trudeau was taken from a 2001 yearbook at West Point Grey Academy in Vancouver where he was a teacher at the time. In the photos, Trudeau appears to be dressed as a brown-faced Aladdin attending an Arabian Nights themed gala. After the photos were released, the Canadian leader came forward with a third incident in which he wore blackface for his high school talent show to perform a Harry Belefonte song. After the admission, a video of the prime minister wearing blackface was released from an unidentified event in the '90s. 
Trudeau held an emergency press conference on Wednesday evening and issued an apology.
I take responsibility for my decision to do that. I shouldn't have done it," he said. "I should have known better. It was something that I didn't think was racist at the time, but now I recognize it was something racist to do and I am deeply sorry.
Since the release of the photos, Jagmeet Singh, the leader of the New Democratic Party (NDP), has remained vocal about the issue of racism in Canada's politics.
I want you to know that you might feel like giving up on Canada," Singh said. "I want you to know that you have value, you have worth, and you are loved.
Other candidates have also made their feelings known in the wake of this incident. Conservative leader Andrew Scheer stated that he was shocked and disappointed. 
Wearing brownface is an act of open mockery and racism. It was just as racist in 2001 as it is in 2019," Scheer said. "And what Canadians saw this evening was someone with a complete lack of judgment and integrity and someone who is not fit to govern this country.
Green Party leader Elizabeth May tweeted that she was deeply shocked. 
I am deeply shocked by the racism shown in the photograph of Justin Trudeau. He must apologize for the harm done and commit to learning and appreciating the requirement to model social justice leadership at all levels of government. In this matter he has failed.

— Elizabeth May (@ElizabethMay) September 19, 2019
I am deeply shocked by the racism shown in the photograph of Justin Trudeau. He must apologize for the harm done and commit to learning and appreciating the requirement to model social justice leadership at all levels of government. In this matter he has failed," she said.
Many are speculating on whether this incident will cause Canada's leader to resign mid-campaign, which may have adverse effects on the Liberal Party as they trail a few points behind the Conservative party in the polls. 
When Trudeau was asked about the possibility of resigning, he said:
There are people who make mistakes in this life and you make decisions based on what they actually do, what they did and on a case-by-case basis. I deeply regret that I did that. I should have known better, but I didn't.
This answer is especially troubling as these allegations of racism are sure to cost Trudeau his moral high ground on the international stage. Canada will no longer be able to boast of its equality and diversity with nations like North Korea, Iran, Russia, China, and the United States. Furthermore, this is likely going to negatively impact Trudeau's goal of securing a place at the United Nations Security Council. 
Despite the controversy, it appears that Canadians are largely unaffected by the entire incident. In a poll by Abacus Data, 42 percent of Canadians indicated that they weren't bothered by Trudeau wearing brownface and blackface, which indicates that while the scandal changed the conversations being had in anticipation of the federal election, it did little to actually impact results.
Ultimately, this isn't a total surprise as Canada has a deep and long history of racism against black and brown people. There is recorded evidence of slavery in the country for 200 years which severely marginalized and disenfranchised the black population. There have also been instances of segregated business practices and the rise of anti-Black groups such as the KKK in the country. 
According to an expert, blackface has been recorded in Canadian history as far back as the mid-19th century, at one time the practice was a normalized part of sports, social clubs, summer camps, and school activities. 
Canada also has a specifically hostile past with their South Asian population. Starting from the early 1900s, Canadians lobbied for legal and social restrictions on South Asian immigration, employment, housing, education, and civic participation. In 1906, South Asians, mainly Sikhs from Punjab began arriving in Canada in large numbers, leading to anti-Indian sentiments and outright racism. Laws such as the Continuous Journey Regulation of 1908 prohibited immigrants from entering Canada unless they had arrived by the continuous journey, meaning that immigrants were "required to purchase a through ticket to Canada from their country of origin or otherwise be denied entry." Such laws and regulations largely ended South Asian immigration to the country at the time and these racist attitudes are in effect to this day. 
Trudeau's past actions are of no surprise to those that have suffered through the country's racism. It is also, sadly, no surprise that the surfacing of such serious allegations will ultimately have no effect on the upcoming federal elections. What it emphasizes, however, is that despite Canada's declaration of multiculturalism and diversity there remains hidden sentiments of prejudice deep within the nation.