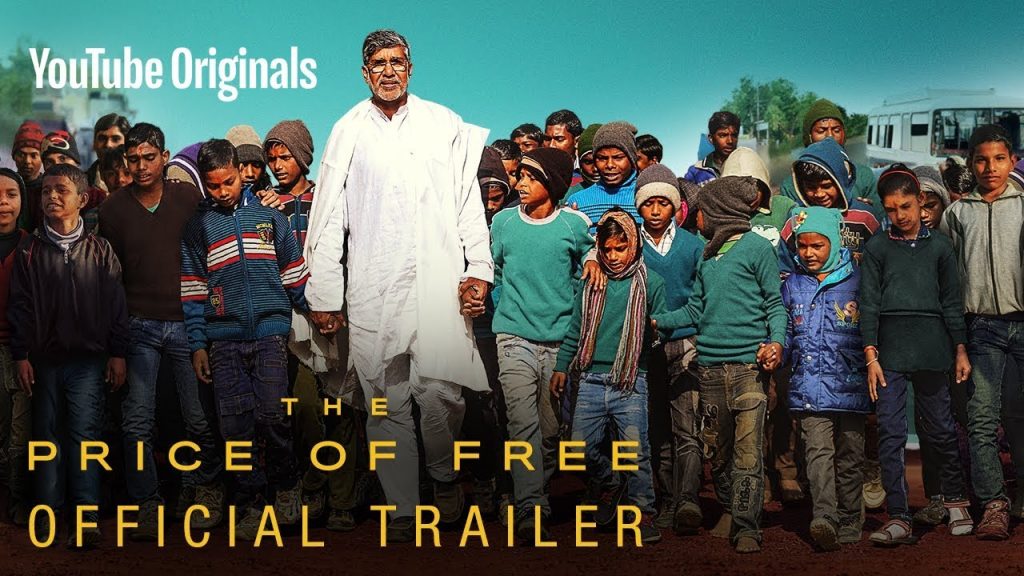 It all began at age five, when Kailash Satyarthi couldn't understand why he was able to go to school with new shoes, but another boy was stuck shining shoes outside that same school. His headmaster told him that it was normal for children from poor families to have to work to survive. This answer wasn't good enough.
Starting November 27th, you can witness the impact of this Nobel Peace Laureate's movement. Earlier this month, YouTube announced its acquisition of the award-winning documentary, "The Price of Free" from director Derek Doneen and producer Davis Guggenheim (who also produced "An Inconvenient Truth" and "He Named Me Malala") that shines light on the lifelong mission of Kailash Satyarthi to liberate children from the shackles of slavery and labor and help them reintegrate into society and develop their own sense of agency. The film originally premiered at the 2018 Sundance Film Festival and received the U.S. Documentary Grand Jury Prize.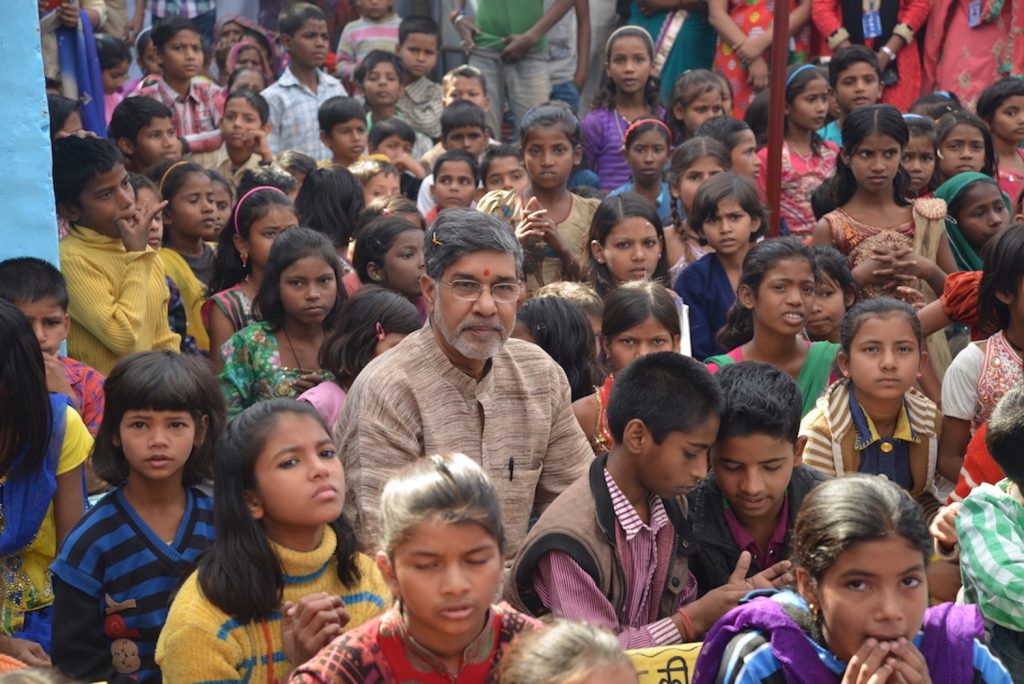 I had the privilege of speaking with Kailash Satyarthi Ji on his journey and upcoming documentary.
Me: Thank you so much for sitting down with me. I've been very touched by your mission and so has my mother.
Kailash Satyarti:
Thank you so much. Maybe we can just call her after this interview and say hello to her. (he laughs)
**For the record…he did call her and left a voicemail**
Me: I think one of the strengths of our generation is our ability to identify problems and build anger. Where I feel we sometimes lack, is how to constructively use that anger. In your TED talk, you use the phrase "Anger. Idea. Action." as your map for solving problems so I have to ask: What made you angry? Where did you get your ideas? How did you know what the productive action was going to be to actually help these kids?
He told me the popular story of the cobbler boy outside his school.
Kailash Satyarti:
He [my teacher] said that this is not uncommon. Poor children have to help [their] families. So I said, okay sir but went to meet the boy myself. I found the boy sitting under the open sky with no shade. And we were all wearing new shoes so none of us could give any job to him. Next morning and then the next morning I kept on watching him. Why are people saying that poor children have to work? Why are there poor children etc. etc. Many things came to my mind. And that made me angry. That was my first spark of anger I would say…but that was also my first spark of compassion.

One day I gathered the courage to talk to the boy. I asked him these questions. His father was sitting alongside him. He was shocked. He said, "Babuji mainne to khabi sochae nahin aysa." He had never thought about it because nobody had asked him such a thing. And then his father stood up and folded his hand and said babuji school jaane key leeay to aap loge hai hum to isi mazthuri karne kay lea pehdha hota hai. You are born to go to school but we people are born to go to work. I could not do anything for the boy but I started looking at the world with a different eye. The empty eyes of that boy filled my eyes and my mind with anger and ideas.
Kailash Ji spoke to the themes of generational complacency and the notion that his family couldn't understand his anger because for them, this was normal. He never knew much about the caste system but would notice his family practicing untouchability unconsciously because he belonged to a high caste family. High caste people would practically throw food at their sweepers because they didn't want to touch them.
Me: So, what was one of your first ideas?
Kailash Ji proceeded to tell me about his first "initiative" he put into place at the age of 11. He noticed that at the end of the school year, kids would be stuck with many books that they'd never use again. He wanted to find a way to repurpose these books and give them to poor children who could not afford them. He and his friend found a vegetable cart and went from house to house and asked all their aunties and uncles to contribute books. Within 4 hours, they collected 2,500 books.
Kailash Satyarti:
Every book that was put in the cart was almost like a new incarnation for me and my personality. I realized that if you are truthful and pure of heart that the world will support you but if you work with some sort of selfish interest and try to be clever of course people will support but that sense of accomplishment and achievement will always be missing.
Within 15 days, Kailash Ji had collected over 10,000 books.
Kailash Satyarti:
Let us create a book bank. Because I had an idea that my elder brothers go to the bank and withdraw money and deposit money so as an 11 year [old] that would be a good idea that there could be someone taking responsibility and needy children can borrow books for one year and they'd have to return with the guarantee that they are safe. My head master liked that idea so the book bank began. And that was a very strong foundation of my self-belief, confidence, and the belief in society. It did not matter whether they were Muslims, Hindus, and Christians; there was no low caste or high caste. Everyone just gave us books.
Kailash Ji had a very typical Indian upbringing. His parents wanted him to be an engineer, and he graduated into one of the most lucrative fields in India at the time. He told me a funny story about how he had once considered being a doctor but decided not to because he never wanted to have to dissect a dead frog. He eventually left his technical work and took up teaching at his university.
Kailash Satyarti:
I did that for one year but then I decided to follow my heart thinking that if you follow your heart then your mind will follow you. I was very clear that I am not going to remain an engineer or professor for all time. When I met Sumedha Ji [Kailash's wife] and then we have fallen in love. And when you fall in love sarai duniya apke dushman hai; the whole world is your enemy. So marriage was not easy but finally we did it. But we knew and she knew that she was going to marry with a crazy person not an engineer who wanted to do something good for humanity and children.
Side bar: Sumedha Ji is the sweetest woman I have ever met and is an EXCELLENT ping pong player. She also gave me a pack of Ayurvedic pills to help cure my cough.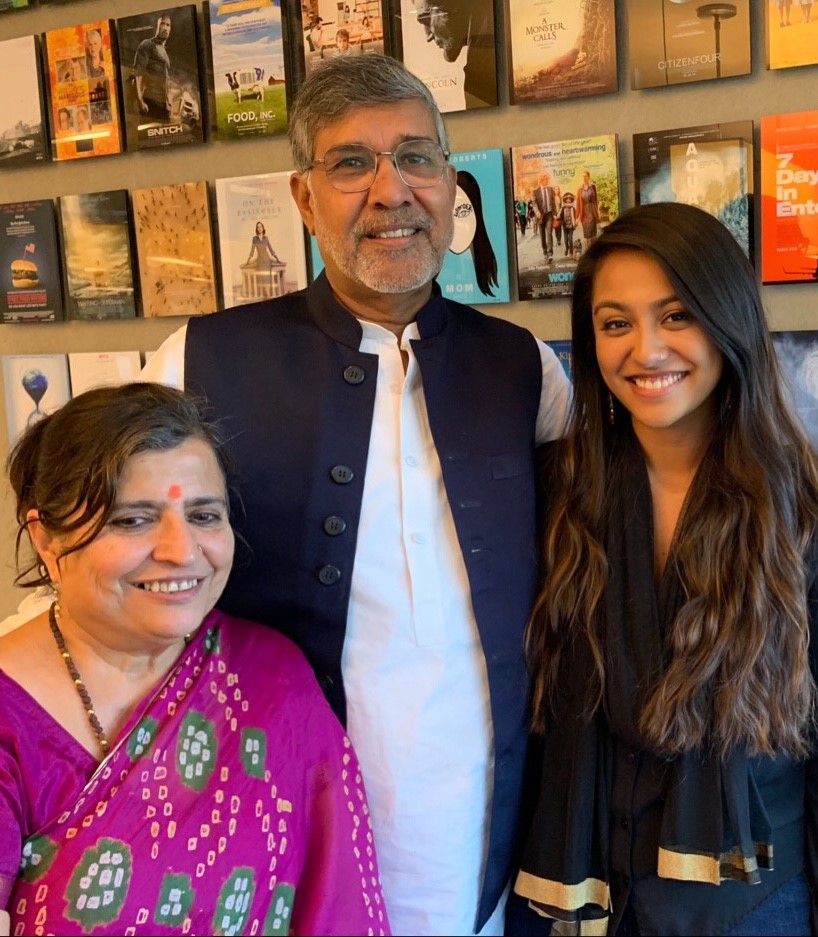 Me: At least with activism in the U.S. we're taught from a young age to call our congressman etc. But in India I imagine that's not the first step to sparking change. Did you ever bump into a situation where Indian politicians were either complicit, or chose to be ignorant in the fight against child slavery?
Kailash Satyarti:
Absolutely. They are connived in many cases. They themselves are sometimes responsible for these crimes and evils. Many of them are businessmen who fund the slavery networks. And it's not only in India. In most of the developing countries – I work in Pakistan as well, Nepal, Bangladesh, I've worked in almost 150 countries so I have this experience in most places where awareness is lacking most definitely due to lack of education. The politics is dirty, but politics is dirty in the whole world but when the people are very directly connived with criminal gangs and the illegally run businesses then it becomes more difficult and that forms a mafia kinds of a situation. And I've had to face it.
Me: I will be the first person to say that I didn't realize the extent of which child trafficking was an issue. Even growing up, I feel like issues with children were not always the most 'glamorous' to discuss and learn about, so they were often times glossed over. How can we change that?
Kailash Satyarti:
People living in any part of the world should realize that they cannot live in silo. Because not only does that mean you cannot solve the problems, but it is impossible to live in silo. We have to feel interconnected because every issue will have some sort of global implication. Young people need to start thinking like that. And that is what we are trying to do with this film.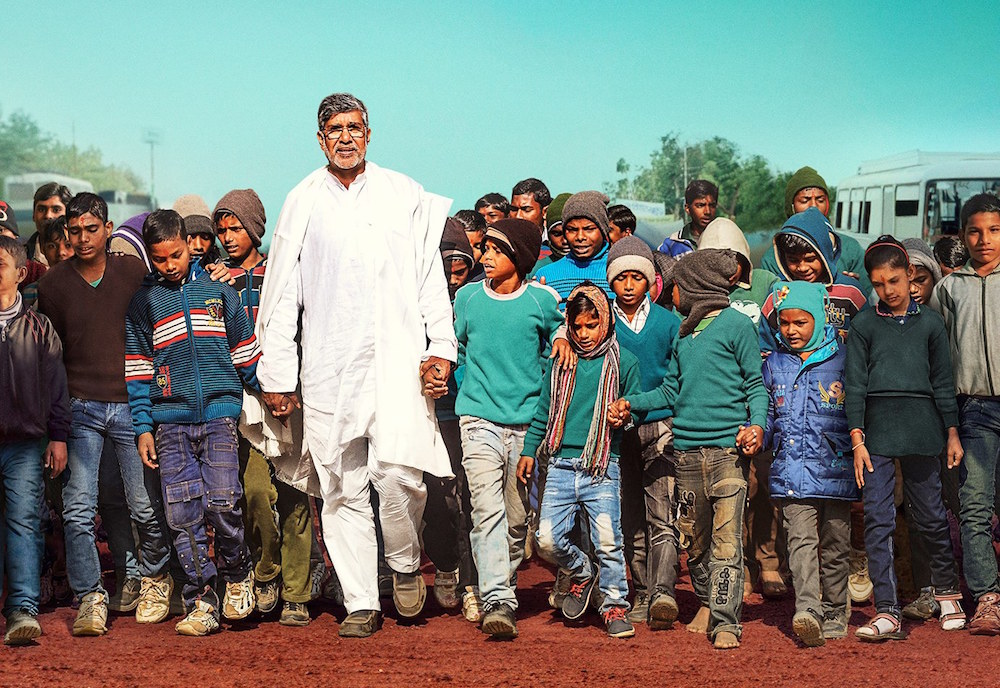 He also spoke to having teachers and educators encourage their students to become responsible consumers. Even when you buy "chocolate or sporting goods", we should practice passionate consumerism and ask brands about their labor practices. If everyone starts asking these questions then no brand or company will be able to ignore it.
These are small things we can do to protect humanity.
Me: When I watched this documentary, I realized that I had been living in a silo; you just get comfortable with your job, routine, and lifestyle that you forget that the world is so much bigger than your own.
Kailash Satyarti:
Exactly. And I'm using this film as a campaign tool for my 100 million for 100 million campaign. This is the human history's largest ever campaign that has been launched. I want to engage 200 million children in the world today in a practical way.
The idea behind his initiative is that 100 million young people are victoms of some iteration of violence. This includes slavery, violence, trafficking, denial of education, health, etc. But on the other hand, there are hundreds of millions of young people who are full of excitement and ready to make the world a better place. Kailash Ji wants to provide the means to channelize this energy and have 100 million safe children to be plight bearers and change makers.
Kailash Satyarti:
This campaign has already been launched in 31 countries. And we are calling on youth to sign and register and once they do they will receive some information regularly on how they can be involved in their neighborhood. Not necessarily about child labor. The whole idea is to create a free, safe, and educated childhood for everyone. We want to encourage volunteer work and we will help provide that platform. They can write blogs, speak in the media, use Instagram, Facebook. They can use technology in their own way.
Speaking with Kailash Satyarthi Ji was one of the most humbling experiences of my life. It's rare and refreshing to meet someone who operates on pure selflessness. The documentary clearly tracks how Kailash Ji identifies a problem, plans his course of action, conducts a raid, and most importantly rehibilites the rescued children. In a world where the resources for change have never been more accessible, he is an example to us all that there is absolutely no excuse to sit idle. Awareness is the first step but taking action is where the real change begins.
Click to learn more about 100 million campaign and make sure to watch this incredible film.