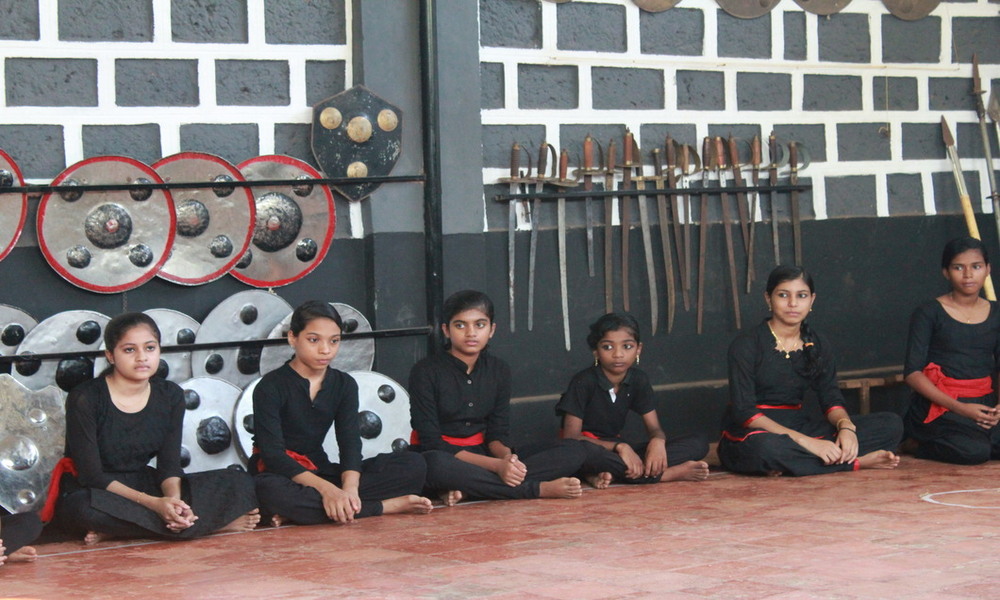 Edappal, Kerala—Arya Prathap, 9, twirls her Kuruvadi, or blunt wooden staff, on her right hand as she stares ominously into the eyes of her opponent. A few seconds go by before she leaps into the air to deliver a strike to the head, then lands firmly on the ground to aim for the feet.
Her opponent is her cousin Ardra, 11, who manages to avoid both strikes then grips Arya's right arm and swiftly takes the wooden staff for herself.
Arya and Ardra are demonstrating a fight sequence from one of the oldest forms of Indian martial arts—Kalaripayattu.
The art form originated in the south Indian state of Kerala. Translated into English, Kalari means place of practice and Payattu means defense.
Often referred to as the 'mother of all martial arts,' its fighting stances mimic the movements of animals in the wild and rely on balance, flexibility and stamina. K. Haneefa, owner and lead Gurukkal, or teacher, at HGS Kalari, a third-generation family-owned school in Edappal, Kerala quotes,
I can say that this is the Kalari which hosts the maximum number of girls in probably the whole of Kerala. 
Although Kalaripayattu was once a sacred art form taught to men and boys in the Kshatriya, or Hindu warrior caste, Muslims gradually began to train in it as well. While the art form involves several sacred rituals, Haneefa says its foundation is a practice that demands respect and makes it inclusive to people of all backgrounds and religions.
As a Muslim practitioner, Haneefa separates the religious aspect of the art form from its practice and sees it as a powerful way to prepare girls for the hardships of adulthood. He began training his daughters when they were just four years old and says that concerns over the rise in crimes against women in India inspired him to teach the art form to girls. Haneefa continues on to say, 
They need the courage to go out in society, they need mental strength.
While the rigorous exercises of Kalaripayattu strengthen the body, he says learning such a demanding artform instills a sense of responsibly and reinforces discipline, which also strengthens the mind.
A father cannot always protect her and there's no guarantee that her husband will protect her either. We should empower her in whatever way possible.
Challenging Boundaries
Nina Nayar, a Kerala-based anthropologist and member of the Raising Our Voices (ROV) Foundation, a nonprofit organization that helps prevent violence against women explains that in Indian culture, women are taught to be submissive and obedient, so in a way, Kalaripayattu is forcing women to challenge the very boundaries that they've been taught. Nayar explains: 
Kalari makes you have to use space, grab space, advance, lunge. I think it works better than a hundred lectures that I can do on empowerment because you're physically making that person break through the boundaries.
Nayar says that interest in self-defense among females has been on the rise throughout the state, especially within the last 10 years. She also notes how the practice picked up a lot of steam after the Nirbhaya rape in Delhi. 
On December 16, 2012, 23-year-old student Jyoti Singh was brutally raped by six men while on a bus heading home after watching a movie. Singh eventually succumbed to her injuries and became known as Nirbhaya, or fearless
While this event happened in Delhi, it sent a wave of shock and anger across the country which resulted in mass protests against India's laws against sexual offenses. Nayar reflects the impact that this shock had on one's safety and security:
People started re-evaluating because there were a lot of assumptions and presumptions about safety and comfort, so safety and self-defense became a very big piece of it.
Empowering the Next Generation
Dressed in black training pants and shirts with red sashes tied around their waists, Prathap, Ardra and their classmates sit on brick tile floors as they patiently await the commands of their female Gurukkal, Arifa Kodiyil. Kodiyil is a four-time state champion in Kalaripayattu and teaches the artform to girls three times a week alongside her father, Haneefa, and her sister Anshifa. Kodiyil says, 
Through Kalari, we get enough willpower and mental strength to defend ourselves against those who try to disturb us or say anything against us.
She continues the decades-long tradition of arduous training practiced by her grandfather and says that teaching helps her contribute to the next generation of physically and mentally empowered females. Kodiyil continues to say, 
My wish is that more girls should learn this. This is essential for them in the days to come.
Since the early 1960s Kalaripayattu's action-packed fighting sequences have been featured in several major Indian films, making the art form a popular fitness regimen and practice throughout the country. But for many young Indian women, the art form is much more than a practice; it is a source of strength, courage, and empowerment.
---
The opinions expressed by the guest writer/blogger and those providing comments are theirs alone and do not necessarily reflect the opinions of Brown Girl Magazine, Inc., or any employee thereof. Brown Girl Magazine is not responsible for the accuracy of any of the information supplied by the guest writer/bloggers. This work is the opinion of the blogger. It is not the intention of Brown Girl Magazine to malign any religion, ethnic group, club, organization, company, or individual. If you'd like to submit a guest post, please follow the guidelines we've set forth here.