*SPOILER ALERT
Cast: Kalki Koechlin, Revathy, Sayani Gupta, Hussain Dalal, Tenzing Dalha
Director: Shonali Bose
Duration: 100-minutes
Who are you? What interests you? What makes you happy? What is your sexuality? Who do you lust for? Are you even happy with yourself? These are a few of the many questions Laila (Kalki Koechlin) in "Margarita, With a Straw" helps us explore.
Shown at the opening night of the New York Indian Film Festival in May, Shonali Bose's film is a home run for this year's long-line of Bollywood star-studded releases. From a stellar cast to a captivating storyline that highlights a disorder with great sensitivity and realness, "Maragrita With a Straw" is worth the 120 minutes of your time.
Laila is a 19-year-old wheelchair-bound woman with Cerebral Palsy, but her inner strength, free-spirit and dynamic personality, she never lets her disorder come in the way. As the movie begins, we see how determined Laila is to be an independent young woman and go about her daily life, whether it is drinking a margarita through a straw at a pub (yes, the film's headline is literally seen in the movie) or traveling to New York City to pursue her education.
She lives with her caring mother, father and brother, who are fully supportive of Laila and her ambitiousness. She attends Delhi University, creates beats for a band and even has a make-out session in the back of a classroom (we bet you didn't see that coming in a Bollywood movie, but Bose doesn't hold back, especially in the friskiness department)!
Laila's desires and the people she lusts for or loves are integral to the film. Without giving too much away, she is also seen listening to porn, which surpsinngly or not, was portrayed gracefully by the ever stunning Koechlin.
A few scenes in the movie also show Laila on Facebook messenger and Skype, communicating as any millennial would.
After getting her heart broken by the "cool" boy (Dalha) she likes from her band, Laila learns about rejection, just like the rest of us have. She then decides to pursue college somewhere else and takes up the opportunity to accept a scholarship to New York University in NYC.
Here, she befriends Khanum (Sayani Gupta), a visually impaired woman she meets at a rally in Manhattan. After a sultry and beautiful scene of love-making and a growing friendship, Laila falls in love with her female friend, realizing she may swing  both ways, she does not hesitate to stop discovering her body and the feelings she has for Khanum.
Throughout the movie, the bond between her mother, Shubhangini (Revathy) and Laila is heartwarming, a relationship many of us have with our mothers or want. Needless to say, when Laila decides to open up to her mother about being bisexual, it's a pivotal moment in the film's plot, giving us more insight on the mother's emotions and thoughts. Whether she accepts her daughter's sexuality or not is something you have to wait and see.
One takeaway from the film is cast of brilliant actors who did not set any boundaries for themselves. Be it love-making or simple day-to-day tasks, the actors, especially, Koechlin, made sure they stayed true to their character's essence. Koechlin fully embraced the movements, speech and thoughts of a person with Cerebral Palsy. She did not hesitate to go the extra mile to look natural in her role.
(Shameless plug: We were lucky enough to chat with Koechlin and Bose during a Blog Talk Radio session, hosted by the South Asian Journalists Association and South Asians in Media, Marketing & Entertainment. Listen to the enthralling 58-minute episode here, conducted by SAJA board member Divya Singaravelu.)
During the screening post discussion, Bose was not afraid to share funny and intriguing anecdotes about where the idea for the film came from, (which is her cousin Malini, also a Cerebral Palsy patient) and moments from the set. Bose also shared a conversation between her and her son, Ishan, which surrounded self-discovery; about being your own hero and understanding that you need to be able to say "I have me!" But his passing caused Bose to look at this movie as a way to keep her son's spirit shining.
Bose went on to say that 70 percent of actresses who originally auditioned for the out-of-the-box Bollywood film said "no" to playing the role of Laila, simply because the character was bi-sexual. Koechlin, on the other hand, very bravely and brilliantly took this as an opportunity to unmask truths about a disorder not highlighted in mainstream culture, especially in South Asia. Not to mention, she received the Best Actress award at this year's NYIFF.
This movie clearly shows that even an individual with a disability feels the same emotions happiness and sadness as anyone else would because they are no different. Their hearts and thoughts are processed the same way; they too want to be accepted for who they are and struggle to not feel ostracized by society.
"Margarita, With a Straw" brings situations to light that are usually seen as taboo, including sexuality, disability and pre-marital sex. If you want to see a film that is unafraid to tell a raw, heartwarming story with a compelling cast of characters, then this film is the perfect dose of new-age Bollywood.
---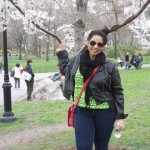 Sindhuri Bhimavarapu is a writer, lover of all things pure-hearted and a fan of exceptionally made coffee. She aims to inspire and motivate young women around the globe. Among her achievements are graduating from Stony Brook University with a degree in Economics and writing rap, which can be considered "Jay-Z" material. She enjoys light reading on modern economics, current events, and latest business ventures. Sindhuri finds happiness in the simple things in life, occasionally indulging in Chipotle. She's also responsible for updating Brown Girl's Instagram account daily.