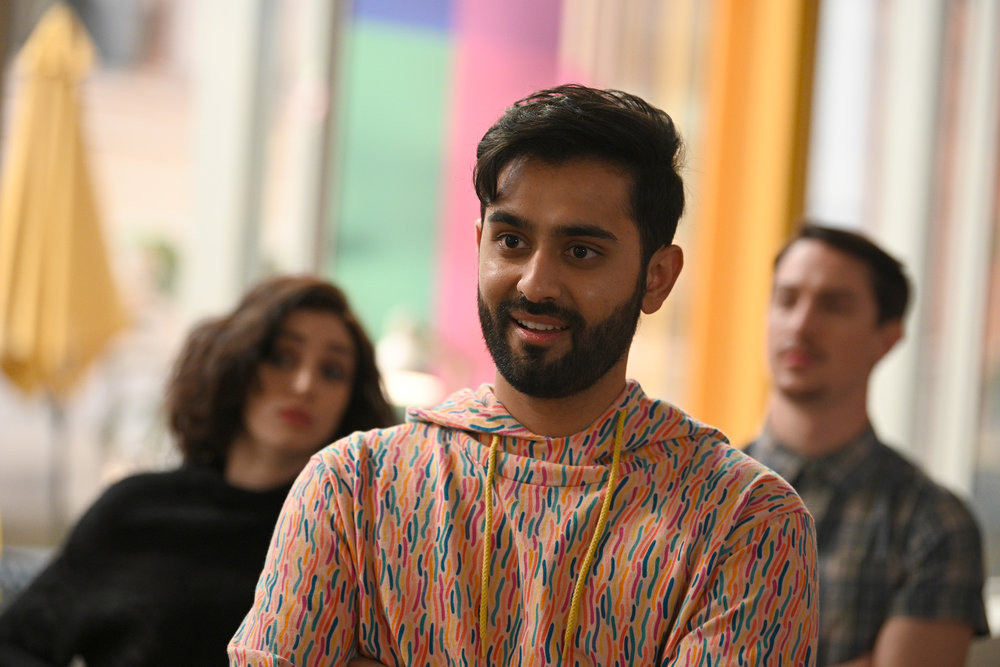 In the most recent episode of "Zoey's Extraordinary Playlist," Tobin Batra (played by Kapil Talwalkar) has a reality check on just how vital it is to speak out against systemic racism.
Last week, the series revealed that SPRQ Point's 'Chirp' watch tech doesn't recognize people of color. John Clarence Stewart's character, Simon, is asked to cover up and address this problem to news outlets. Instead of buttering up the press, Simon exposes the company for not having any BIPOC or women in leading positions at work.
Fast forward to "Zoey's Extraordinary Reckoning," Zoey (Jane Levy) has a company town hall to see if anyone else feels the same as Simon, and the results are anything but productive. When it's Tobin's turn to share how he's feeling, he makes a joke and laughs it off.
South Asians and people of Asian descent, in general, are conditioned to downplay racism that happens to them, or around them, much like Kapil Talwalkar portrays in the episode. We're taught to keep our heads down and work; don't get involved; get over it; it could be worse. Don't "stir the pot," as Tobin so painfully but honestly puts it.
https://www.youtube.com/watch?v=6xchVGfFM6s&feature=emb_title
When Tobin tries to show his solidarity to Simon later in the episode, Simon reminds Tobin that he laughed off the conversation and ignores him.
Tobin is hit with an all-too-familiar and unpleasant reminder that South Asians in the workplace know too well. We can't laugh shit off forever. We can't ignore our own feelings and experiences of racism, either. Consider, for example, how only recently the rise in Anti-Asian hate crimes in America has been covered by the mainstream media.
View this post on Instagram

Talwalkar serves an honest portrayal of first-generation Indian-Americans in "Zoey's Extraordinary Reckoning," written by Zora Bikangaga. In our interview below, Kapil talks about how Bikangaga, along with writers' assistant Karan Sunil, series creator Austin Winsberg, and the BIPOC actors in the cast, created an episode that tackles the issue of systemic racism in the workplace head-on with awareness, insight and at times, uncomfortable honesty. There may be some moments of levity, but the episode doesn't end in a neatly-tied bow. There is still work to do in the world of Zoey's, just like in the real world.
As a millennial desi-American, a conversation that keeps coming up in my friend group is that "we had to make a joke of ourselves just to fit in." Looking back on my school years, this is true. I did it and saw all my Asian friends do it constantly, just so we could fit in. If we fought back, we would just get in trouble or the jokes would be worse.
The "Model Minority" myth has a lot to do with this. 
This episode of "Zoey's Extraordinary Playlist" should be a message for more mainstream, network shows to follow suit and tackle difficult, important issues in more episodes. And we hope more people within the film/TV industry stand up against the systemic racism that continues to exist today. But my conversation with Kapil wasn't all serious; he talked about his introduction into music and experience with "Zoey's" audition process.
For anyone who has felt unproductive during quarantine, Kapil's time in COVID lockdown will either be an inspiration or more fuel for the unproductive fire, because apparently he's been recording a new album in this time. Kapil also shares his advice for South Asians looking to break into the arts, his love for Shahrukh Khan, and more.
Keep tuning in to see Kapil Talwalkar and more great stories on "Zoey's Extraordinary Playlist," airing Tuesday nights at 8 p.m. EST/7 p.m. CST.