by Natasha Sharma – Follow @BrownGirlMag
When the news hit earlier last week that Kendall Jenner is the face of Vogue India's 10th anniversary edition, I was dumbfounded. I clicked on the Twitter link on my newsfeed, only to see her dolled-up face plastered on the magazine cover. As I continued scrolling, I saw photos of the model and Bollywood hunk Sushant Singh Rajput standing together, striking poses in front of one of Jaipur's historic palaces. Upon viewing these images, like several others around the world, I was infuriated. Systemic racism reared its ugly head yet again, this time by reinforcing Eurocentric beauty ideals.
It is outrageous that Vogue India would select Jenner to represent their magazine in honor of their 10th anniversary. In a country of over 1 billion people, and millions of beautiful brown-skinned women from different walks of life, why on earth was it necessary to import a white celebrity to fulfill this task? There is a plethora of gorgeous and intelligent women across the Indian subcontinent and throughout the Diaspora. Vogue India's decision speaks volumes about the lingering preference for whiteness in post-colonial societies, not to mention the lack of societal value placed on women of color around the world.
It is equally important to note the gendered aspect of colorism within the South Asian media. Vogue India's use of Sushant Singh Rajput, a Bollywood actor, as Jenner's co-star for the photo shoot sends a message that, while Indian men are considered "acceptable," it is Indian women who must aspire to be as close to white as possible. This is not to say that Indian men do not feel pressured to be fair-skinned, or that they are not aggressively marketing products like "Fair and Handsome." Indian men certainly do face their share of skin color bias. In fact, Rajput's relatively fairer skin likely allotted him this opportunity, which he would have been denied had he been darker-skinned. The truth remains, however, that it is Indian women who bear the brunt of color-based discrimination. Vogue India's use of an Indian male model and a white, non-Indian female model is a slap in the face. It reiterates a harmful message that women of color around the world are constantly bombarded with—that we are not "enough."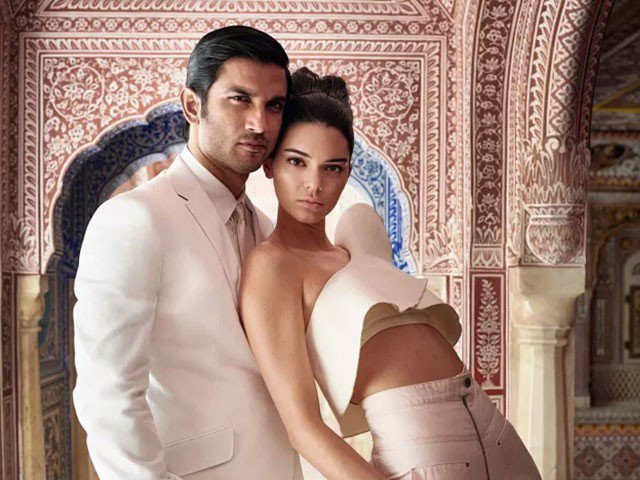 [Photo courtesy: tribune.com.pk.]
While we must acknowledge the inherent racism present in the fact that Vogue India decided to feature Jenner on its cover, we must also utilize this opportunity to reflect on the fact that even Indian film stars do not represent the vast majority of Indians. Though the magazine reached an all-time low by featuring a White-American celebrity in this instance, it is not as if the Indian media celebrates its country's diversity the rest of the time. Lead Bollywood stars who grace Indian magazine covers, such as Katrina Kaif, Deepika Padukone, Sonam Kapoor, Alia Bhatt etc. represent only a small subset of the Indian population. All of the aforementioned actresses, as well as countless others, are either naturally fair-skinned or possess some level of European ancestry. How often do we actually see the various hues of brown, hair textures, eye colors, and facial features present throughout India, celebrated throughout the media and by society? It is imperative that we recognize this layer of intra-community bias as we work towards combating the white standard of beauty present around the world.
There is no reason for India to sell itself, and its people, short. India is unique in that it is a heterogeneous, multiethnic country that is home to thousands of ethnic and tribal groups. From Kanyakumari, India's southern most tip, and Nagaland in the eastern region, to Jammu and Kashmir in the far north, and Gujarat in the west, India's diversity is unparalleled. There are stunning and powerful Indian women across various backgrounds who deserve to have their inner and outer beauty recognized. We must work collectively to make sure that all Indian women, across all walks of life, are represented in the media and throughout society.
Additionally, as a culture, we must appreciate what we have. We must recognize the beauty and strength that exists within our own community, and not go chasing after the likes of Jenner. The spaces we have created to affirm and cheer on Indian women must be used to do just that. It is up to all of us to take a stand against the belief that "white is right" and work towards creating a society in which all forms of beauty are celebrated.
---
Natasha Sharma is a recent graduate of the masters in social work program at Washington University's Brown School. Her area of focus is issues affecting immigrant, refugee, and minority youth. Natasha hopes to eventually pursue a career in the field of ethnographic research, human rights, and community development. Alongside her social justice related efforts, Natasha does some fashion modeling. She hopes to use modeling as a platform to increase representation of women of color in the media.