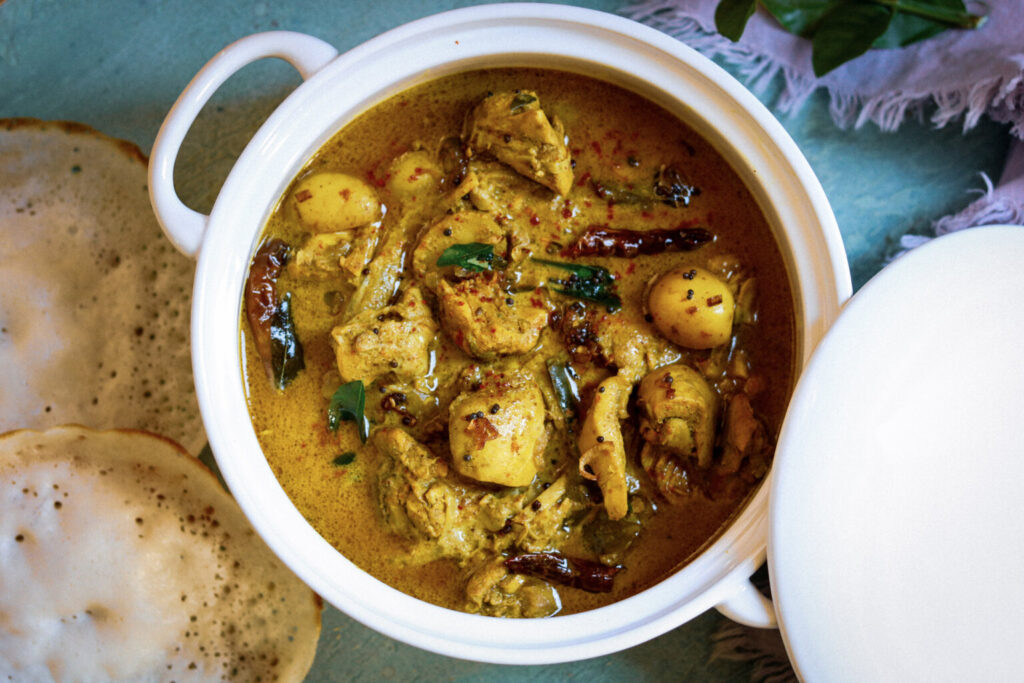 The following post was originally published to TheFamiliarKitchen.com and published here with permission.
It's here: the Kerala-style chicken curry recipe that gives off nostalgia-inducing aromas. The one that makes you crave some hot achaar, matta rice, and moru-soaked fingers (because you know we are going to eat this nadan chicken curry with our hands). This recipe is one my mom made for us quite often and it always tasted better when she made it special on Easter brunches with a side of appam.
There are many, many chicken curry recipes out there, but what makes this Kerala-style chicken curry unique is the sweet and smoky meat masala spice blend and the creamy tang that comes from thick coconut milk. It's a spicy but sweet stew that is instantly comforting.
Ingredients
Chicken thighs, 2 lbs, skin on, quartered
Lemon, juice from 1
White vinegar, 1/4 cup
Coconut milk, thick, 1 cup
Golden potatoes, 3, peeled, quartered
Salt, 1-2 tbsp
Marinade
Meat masala (roast all the ingredients below on a pan until aroma comes out then grind into a fine powder; this roughly makes 1/4 cup)
Cinnamon stick, 1
Fennel seeds, 2 tbsp
Green cardamom, 10 pods
Cloves, 6
Green chilies, 2, split with stem off
Ginger, 2 inches, minced
Garlic cloves, 6, minced
Curry leaves, 1 sprig (or 12-16 leaves)
White onion, 1, thinly sliced
Ground turmeric, 1 tsp
Ground coriander, 2 tbsp
Red chili powder, 2 tbsp
Seasoning Ingredients
Coconut oil, 2 tbsp
Shallots, 2, thinly sliced
Dried red chilis, 2, broken in half
Mustard seeds, 2 tsp
Curry leaves, 1 sprig (or 12-16 leaves)
How to Make Kerala-Style Chicken Curry
Clean the Chicken
Start by cleaning and prepping the chicken thighs. You can use boneless chicken breast, etc., but I like the tenderness of chicken thighs and "bone-in" is what gives the gravy its flavor.
To prep, remove just about all the skin (I leave a little bit on for flavor), and cut the thighs into quarters. I cut my chicken thighs by cutting off the meatiest side of the thigh first. Then, I cut the meaty piece in half. I leave whatever meat is left on the bone as is. Now, wash the chicken under cold water, salt, and the juice of one lemon. Drain the water, squeezing out any excess water, then pat completely dry.
Marinate the Chicken
In a large pot or dutch oven, place the chicken in along with only HALF of the meat masala (or 2 tbsp of meat masala) along with all the marinade ingredients. Mix well, cover, and refrigerate overnight or for at least 30 minutes.
Cook the Chicken/Prep Potatoes
After the chicken marinates, place the covered pot on the stovetop on medium heat, letting it slow-cook for 15-20 minutes. During this time, moisture should release from the chicken. Check it halfway to make sure it's releasing this water. If it's not, add 1/4 cup water, but ideally, you would add zero water to this.
While the chicken slow-cooks, peel the whole potatoes and boil them in a separate pot until tender. Cut the potatoes into quarters, then add to the pot of chicken after the 15-20 minutes are up.
Now, mix in the vinegar and coconut milk. Once you see the first boiling rumble, reduce the heat to low. (If you boil this too long, the coconut milk will curdle.)
Note: If your chicken curry looks too thick, add in a little water or a little more coconut milk.
Season It 
Now, in a small seasoning pan on medium heat, add the coconut oil. Once hot, add in the shallots and fry until lightly golden. Once lightly golden, add in the dried red chilis broken in half, mustard seeds, and curry leaves. Fry this until the mustard seeds pop. Turn off the heat and mix in the remaining meat masala (or 1 tbsp of Meat Masala).
Now, ladle in a little bit of the gravy from the chicken curry pot and add it to the seasoning pan to gather all the spices. Pour this back into the chicken curry. Add salt. Sprinkle a pinch of turmeric and red chili powder on top for color. Add a few more fresh curry leaves (optional). Check for salt.
Voila, it's done! Enjoy your Easter brunch to the fullest, Brown Girl Mag fam.