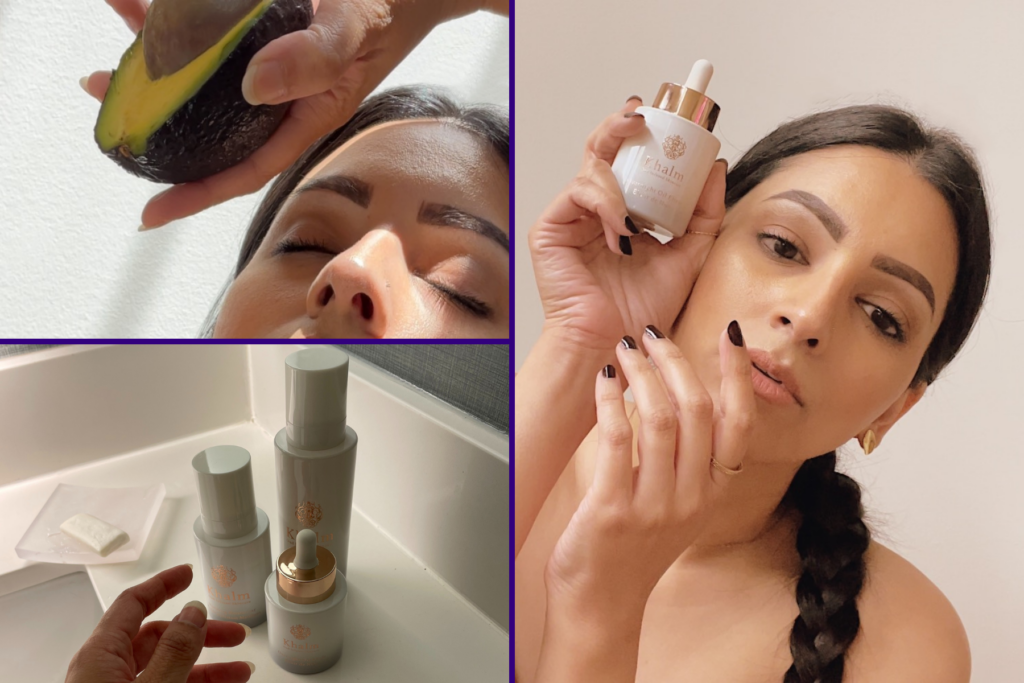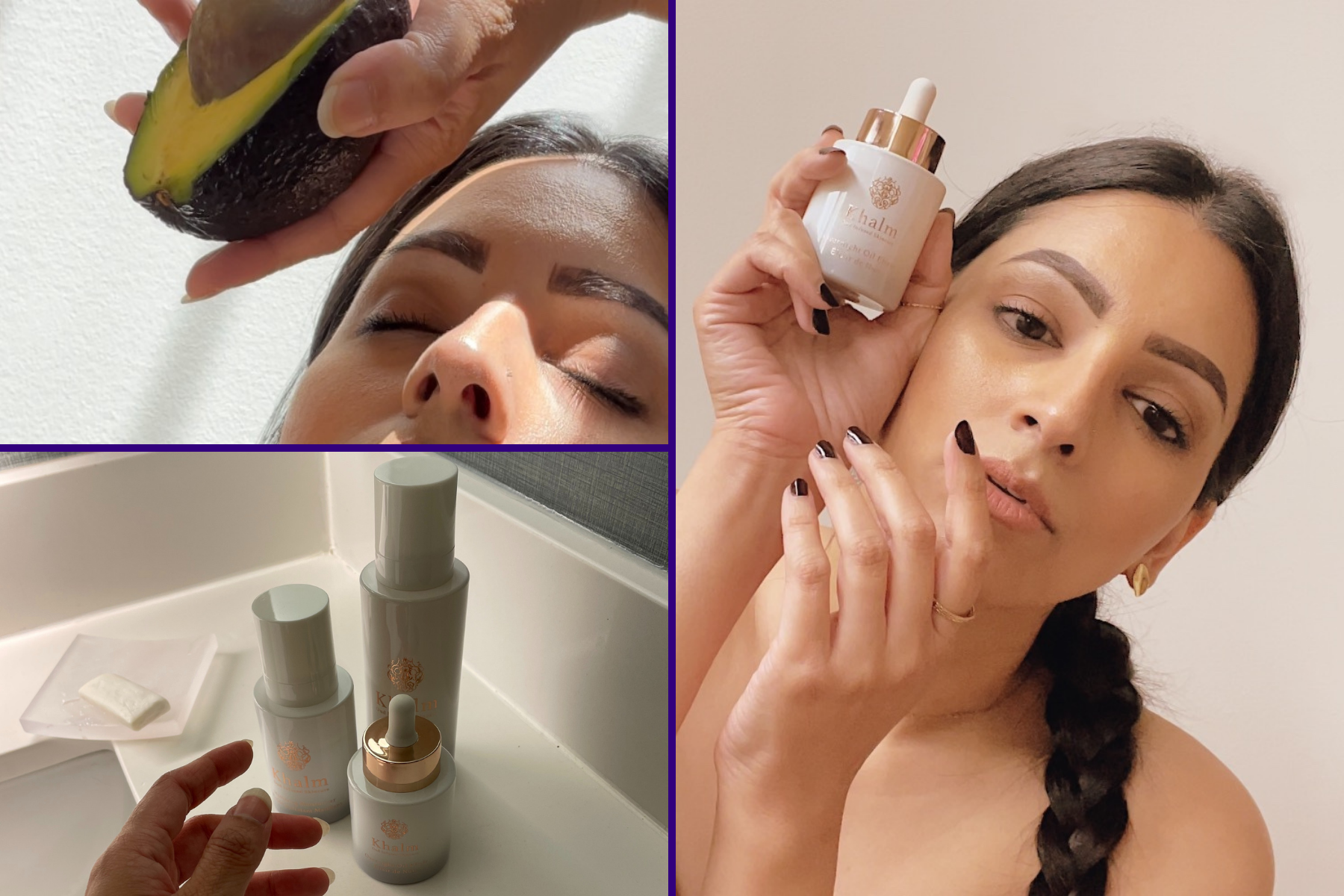 The following post is brought to you by Khalm Skincare — a South Asian-founded luxury oud-infused skincare brand made in France. Vegan, cruelty-free and EU regulated, the products are designed to address many skin concerns for oily & combination skin, and more specifically, South Asian skin types & skin concerns. Apply discount code BG10 for 10 percent off check-out at khalmskincare.com.
Possibly one of the hardest challenges in life is finding ways to silence chaos…for me at least. So when I stumble across little joys, I hold on tight and they become part of my daily practice. Khalm Skincare's trio of Oud infused ingredients and formulated with powerful antioxidants such as pomegranate extracts, Vitamin C & Vitamin E which help hydrate, balance and refine oily and combination skin.
Khalm Skincare's stunning line of products creates a luxurious experience! From science-backed formulas with soft, transcending notes to stunning packaging, the brand feels like an oasis through and through. Winding down with Khalm after a long day leaves me with a sense of relief. It's clear that each product is made with efficacious-intension and serenity in mind.
After two weeks of using Khalm's trio, I am already starting to see results – my skin appears more supple, even, hydrated and rejuvenated. And now having learned about the brand's thoughtful ingredients (with Oud as the star antioxidant), the positive results make perfect sense.
View this post on Instagram
Below are my thoughts on the trio:
Foaming Cleanser
I look forward to my nighttime skin routine beginning with the Foaming Cleanser. It gently, but effectively melts away makeup and tire from the day, leaving my skin refreshed and ready for the next products in my regime. I like to spend at least a few minutes on this step, softly applying the cleanser in a circular motion and letting it do the work. After a busy day, this process (with the help of the cleanser) somehow signals my mind to slow down. This product foams up just enough to wipe away stressors while leaving behind nutrients. Other cleansers I've tried in the past create so much foam that it's almost as if they're really only working at the skin's surface.
Mattifying Moisturizer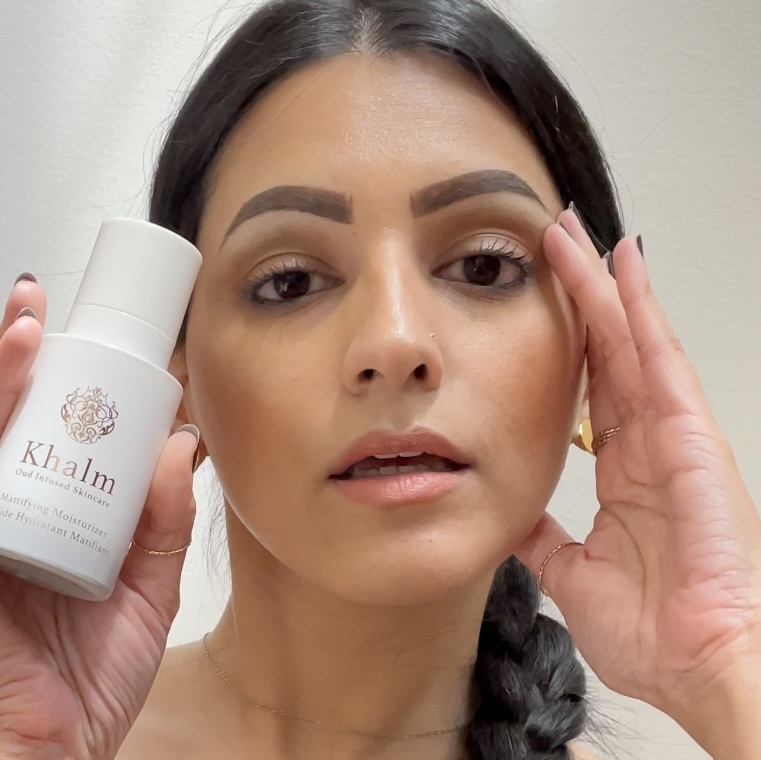 The Mattifying Moisturizer has quickly become part of both my morning and nighttime routine. The best part about this moisturizer is that it keeps my skin hydrated and healthy and controls oil production and it is so lightweight. So my skin feels well-hydrated, healthy and well-nourished. Plus, I love how luxurious this moisturizer feels on my skin and the calming scent of Oud can easily brighten up my food whether it is AM or PM. Additionally, I wash my hands and use sanitizer quite frequently throughout the day which can be extremely drying. I've recently started to use 1-2 pumps of moisturizer on my hands every so often as well. I love that it is power-packed, yet soft and locks in moisture without the greasy residue that other oil-based moisturizers sometimes leave.
Overnight Oil Elixir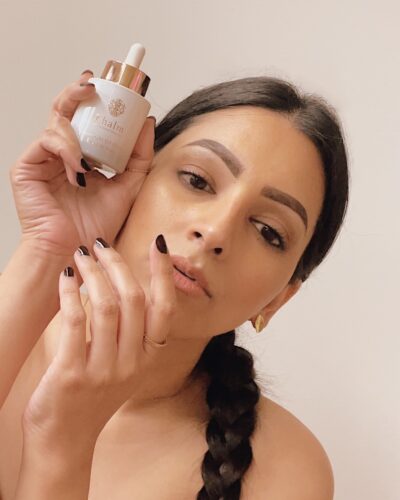 While it's hard to choose a favorite between these three products, the Oil Elixir has taken first place for me. I simply love the natural, yet radiant finish it leaves behind as it restores my skin. It's truly a feeling of luxe indulgence that's guilt-free. My skin tends to be on the drier side, and so this product gives me the right amount of hydration it craves while still feeling light.
Though created for overnight when I usually apply a few drops on each side of my face, I'm finding that a couple of drops as part of my morning routine further seals in moisture. The Oil Elixir also brightens my skin (thanks to Vitamin C) and gives me a lasting glow that's perfect for no-makeup days. And the soft scent is truly divine!
View this post on Instagram
Where spirituality + skincare meet, Khalm Skincare's Oud's calming, sensual scent invites positive energy, awareness, peace + balance. It's a must-try for all my skincare enthusiasts.