5
min read
KiranRai AKA KayRay is an actor, filmmaker, and YouTuber. Not seeing any visible Punjabi females in the industry motivated her to tell her stories through film, acting, and modeling. Graduating from Seneca College in Media Productions gave her the chance to work behind the camera as a creator, understanding the art of film and production.
Her training at Toronto Film School for Acting in Film, Television, and Theatre prepared her to create her own brand. She started releasing videos and short films through the digital media world and the response became infectious. Before she knew it, she was traveling to different cities all around the world to showcase her work as an actor and filmmaker.
YouTube helped her outreach grow exponentially, especially when she was collaborating with upcoming brown female artists like Rupi Kaur and Rakhi Mutta. This allowed her to gain more opportunities to be the lead actor of the hit web series 'Anarkali,' after the viral video 'Punjabi Mime Through Time' took off. KayRay also has recently been announced as Mani Jassal's first brand ambassador. KayRay is launching a new video podcast called 'Cha Da Cup With KayRay' and is in post-production for the third season of 'Anarkali.'
"My name is Kiran (the ray of light) Rai – which often also gets confused with the pronunciation as Ray. My father named me after my parents went to the gurudwara for the Naam Karan ceremony (Sikh ceremony of naming a child) and the letter 'Kakka' came up.
Why am I talking about this? Because for some reason, my name has become the source of how I identify myself, who I have considered myself to be, what others always have seen me as, and what my responsibilities are to ensure I continue to play this role.
'You're the sunshine in my life' was always a phrase I would hear when my friends and family would talk about me. It's something I started believing I had to be in order to make people feel like they could talk to me, listen to me, and be able to feel comfortable enough to work with me.
It also became difficult to play that role when I started to overcompensate. When I would be out in public; I was the sunshine girl and life of the party, lighting up an entire room with my energy. But at the same time, I was living a dual reality. In my room, I was the complete opposite. I was lost in my self-doubt, anger, and sadness.  And it wasn't who I wanted to be.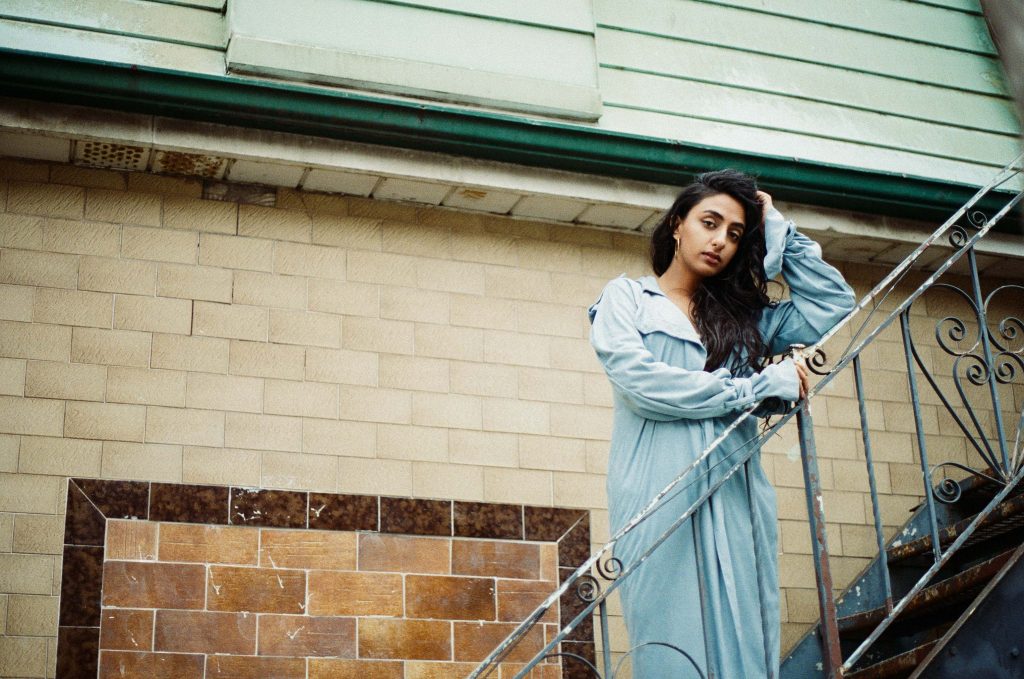 [Wardrobe by Bridge and Bardot. | Photo Credit: Baljit Singh.]
So I escaped. For hours and hours at end, I would push myself to work harder. The guilt of not working hard enough made me more angry and depressed. I started thriving off of receiving compliments off my work. But I also started believing that if my work wasn't doing as well as I intended it to. I started to put all my value and worthiness in my work.
This is the dark side of working for yourself. Being your own boss means you are responsible for yourself. You are responsible for the people that you work with. You have to hold yourself accountable. Quite often, I would lose myself in endless battles of trying to justify myself. I would talk down to myself in order to get more work done. It turned into a downward spiral.
This past year and a half, I started recognizing the words I was using to talk to myself. How awful and cruel I was to myself. How much I was holding myself back because of these words. Isn't that what we do? We begin to believe that we are only worth what people think of us.
We seek validation through other people's approval of us. As South Asians, that is how we are conditioned. 'Lokh Ki Kehn Gaye? What will people think?' It's why we hide so much of our hurting. Our pain.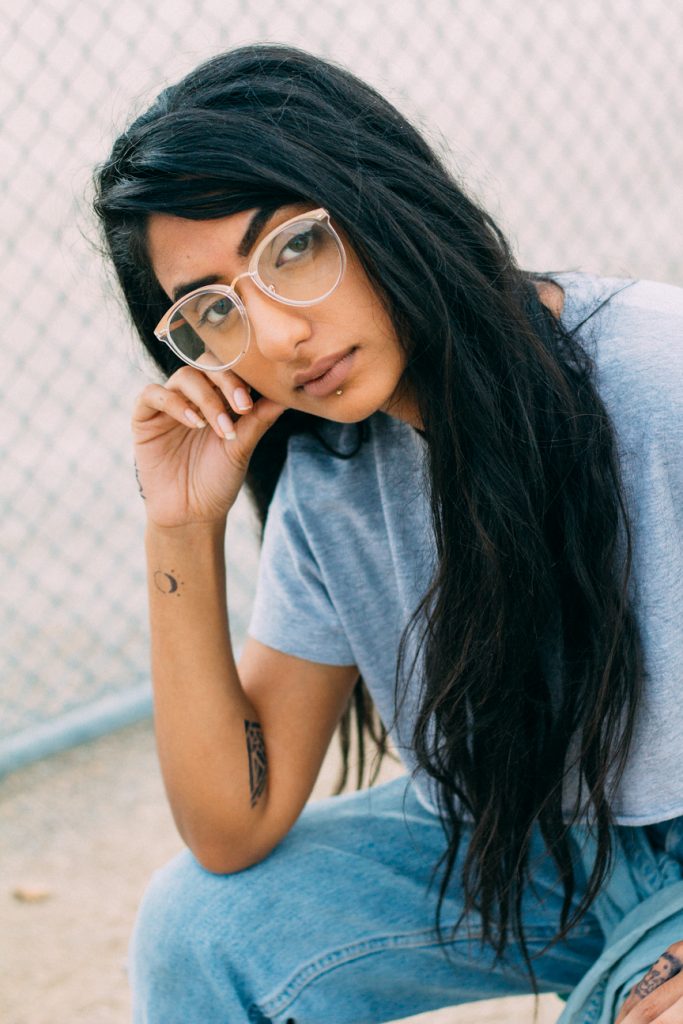 [Wardrobe by Bridge and Bardot. Temporary tattoos by Inkbox. | Photo Credit: Baljit Singh.]
I then began work with my Transformational Coach, Raz Soos. As a result, I started recognizing and breaking down my thought patterns and understanding that I am in control. And what a beautiful experience it has been. I have been able to understand my purpose as an actor, as an artist. I have been able to understand and know my power. That I am in control of my reality. It went deeper than healing my depression and anxiety. It was about growing and getting out of my comfort zone.
I am an actor. A model. A filmmaker. A podcaster. A community activist. All of these roles I have been able to play allowed me to share my stories authentically. Not seeing yourself enough on screen was always a challenge. This rise of brown artists merging in all fields has now made us feel like we really do belong here. And we are able to disrupt these spaces with our voices. Our bodies. Our work.
That is ultimately what I do. I want to challenge what people perceive a brown womxn to be. My short films Haneri (a young Punjabi womxn dealing with depression and anxiety while living with her traditional family), Ananke (exploring dating violence in the South Asian community) and Kirpa (a story about the generational gap between immigrant parents, specifically fathers and their children) allow us to see our narratives to be presented on screen.
I had the opportunity to play the lead in a short film by Gurjeet Bassi called '#TheLastCatCall,' which started the conversation of how prevalent sexual harassment is in the digital world. It highlights how cyberbullying is a growing problem and continues to be dismissed despite the  harm it causes to the person who is receiving it.
Along with all of that, my YouTube segment, 'Cha Da Cup With KayRay,' recently launched as an audio podcast in partnership with Entertainment One. I interview creators, influencers, artists, politicians etc. on the show and have honest conversations about our work and issues that are affecting the community. It also engages the audience to get a chance to connect with these influential people and make space for comedic relief.
I hope I am able to create space for people to tell our stories, push boundaries, and be culture creators.  And most importantly, to inspire others to be the person they needed when they were younger."
-Kiran Rai
Follow KayRay on Twitter, Instagram, YouTube and Snapchat (@kiranrai). Listen to her video podcast "Cha Da Cup with KayRay" here. 
---
Do you know a Brown Girl who is awesome at what she does? Send an email telling us why at Trisha.Sakhuja@0mq.349.myftpupload.com.