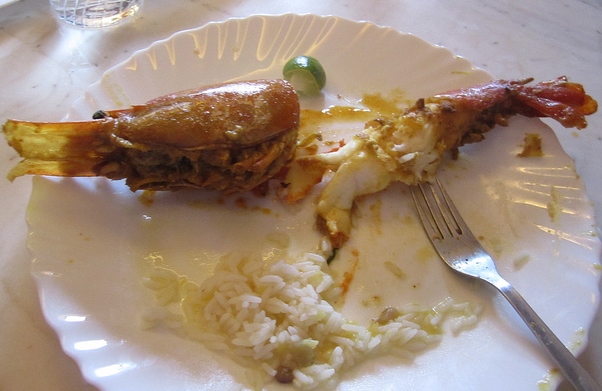 by Pia Chakrabarti  – Follow @PiaChakra
I decided to start off the year with a two-week trip to the motherland – Kolkata, India. Although my family thought I was crazy for snapping more pictures of food than of people and landscapes, I'm glad I have these mouth watering visuals to hold me over until my next visit. So I begin my Kolkata'r Khabaar (which means Kolkata's food in Bengali) series!
For those of you who have been involved in an Indian wedding, you may have noticed that depending on whether you are a part of the groom's party or the bridal party, the experience as a wedding guest can be completely different. North Indian weddings generally begin with the arrival of the baraat, with the groom riding in on a white horse, his friends and family dancing alongside him to the rhythm of the dhol as the bride's side greets them with offerings of sweets and blessings. Although traditional Bengali weddings are more low key and somber, we also share the concept of greeting the bar jaatri (or groom's party) and treating the jamai, or son-in-law, with extra hospitality. Lucky for the jamai, the special treatment often continues even after marriage and visiting the wife's family becomes an occasion to look forward to. My brother's wife's extended family happens to live in Kolkata and when we are there, I get to tag along with my brother to his in-laws' posh So-Cal (South Calcutta, get it?) flat to sit back and relax as we are offered a never-ending stream of cold and hot beverages, street snacks and homemade confections, and, of course, an elaborate multi-course meal. In this post I will attempt to highlight how awesome it is to be a Bengali jamai (or his sister).
The meal started with peyaji, which are made with onions, or peyaj, and deep fried in a flour batter, similar to onion pakoras.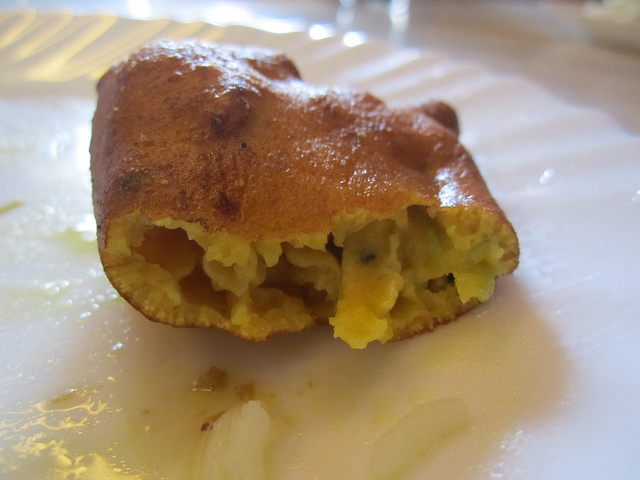 Then we moved onto the vegetarian course – white rice, masoor dal (lentils), and a delicious mixed vegetable dish made with spinach, potatoes, peas, and black gram lentils (bori, in Bengali). Additionally, I squeezed fresh Gandharaj lemon, which is similar to lime, on my rice and dal.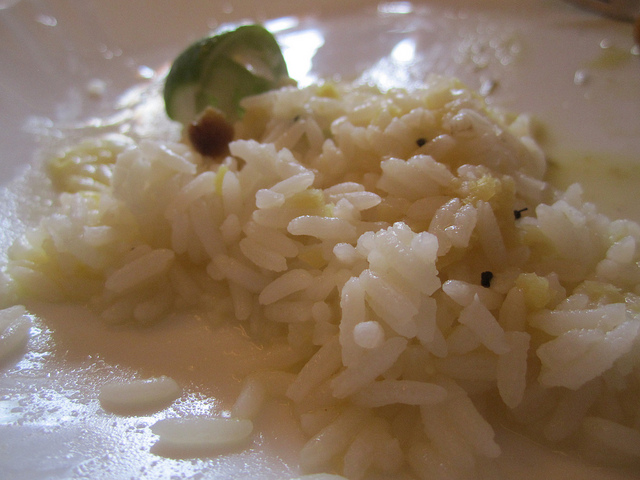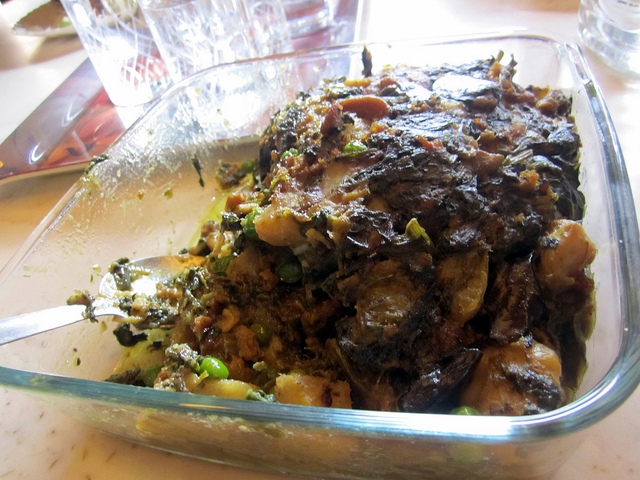 Next we were served the biggest shrimps I have ever seen in my life, they must have been approximately 10 inches! Due to the size, we wondered if it was lobster, but the texture was as thick and the flavor as rich as shrimp. The shrimp was cooked in a spicy malaikari (malai meaning cream, and kari meaning curry), flavored with the staple Indian spices – garlic, ginger, turmeric, coriander, cumin, chili powder, and simmered in coconut milk. We were also served shaboor papad, a papad made of tapioca pearls, a crunchy contrast.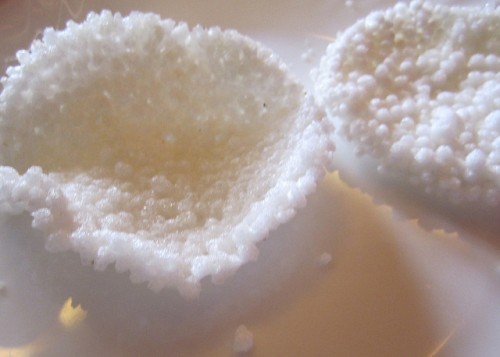 For dessert we indulged in a cool chutney made with stewed tomatoes, sugar, and black peppercorn seeds.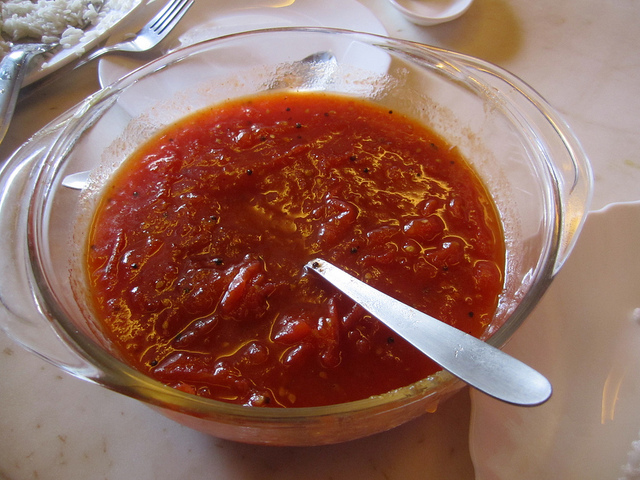 After lunch we probably sprawled out on the living room couch and fell into a deep slumber and fantasized about the next meal. Or maybe that was just me…