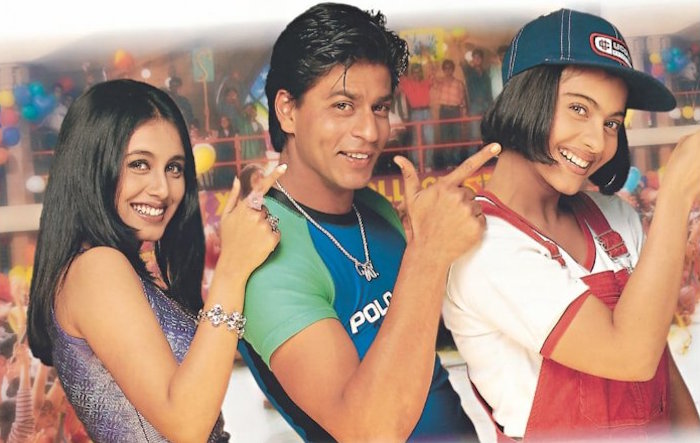 If anyone ever needs to know why I tolerate such fucked up relationships in my life, I urge you to look no further than "Kuch Kuch Hota Hai." It's with a lot of love and a considerable amount of shame that I tell you this film, which turns 20 this year, has formed the basis of everything: my love for Shahrukh, for cinema, for my friends.
Despite all that, my relationship with "Kuch Kuch Hota Hai," and its relationship with the larger cannon, is tumultuous at best. It is filled with missing pieces, entire emotional arcs condensed to song sequences, two distinct halves trying to make one storyline – in part because Karan could not pick between his two stories, instead combining them to form a narrative.
The plot of "Kuch Kuch Hota Hai" is relatively straightforward, if we ignore for a minute the fact that an 8-year-old Anjali has apparently been diligently reading her mother's letters every year and somehow has the ability to comprehend and fulfill her mother's dying wish (Again, at the AGE OF EIGHT). Rahul and Anjali are best friends and an integral part of their college social order. Rahul, the shameless and oft dickish flirt, is kept in check only by his overenthusiastic and vehemently tomboyish companion, Anjali.
Enter Rifat Bi, Anjali's mother-like support system at school who nudges her gently to recognize just how deep her love for Rahul runs. And then there's Tina, the short-skirt wearing, bhajan-singing girl of Rahul's dreams. As Anjali realizes her love for Rahul, Rahul and Tina fall for each other, culminating in a silently heartbroken Anjali leaving the school, and Tina understanding she may have come between two of the very best friends. Tina and Rahul marry, but Tina dies shortly after giving birth to their daughter Anjali (named so at Tina's request). Eight years later, little Anjali learns of her namesake and decides to reunite Rahul and Anjali.
Twenty years later the story still rings true – a friend who didn't get her first love (Karan made a whole other movie about it), but it remains highly problematic. From what I can gather, there are two pressing concerns.
The first that Rahul is a fuckboy from start to finish. Whether it's the douche-y outfits, the millions of friendship bracelets, or how conveniently Anjali becomes a part of the background when Tina enters the picture; even I'll admit he's kind of a trashcan. That's something that can be corrected by just giving the audience a stronger picture of how he treats the most important relationships in his life. I need more than just basketball to believe Rahul and Anjali are best friends. I need a set up like "Jaane Tu Ya Jaane Na." I need their friendship in action. I need to know he cares more about her than just when she's thrown on dumb lipstick and when she's crying. Rahul is emotionally constipated and has unwittingly deeply hurt his best friend.
But the moment at the train is telling (why is it always a train with you Shahrukh?). There's such bluster and grief packed into that scene. How resolutely he refuses to accept she's leaving, how a brief flicker of hurt is seen on her face when he doesn't try to stop her because she just wants him to care, the whistle blows and it hits him, and he cares, and it's too late, and –
Ugh, that scene always gets me!
And there are many scenes like that. No music dancing in the gazebo, the shooting star and, my personal favorite, "I only bow my head in front of three women." They remind me, too, of another one of my favorite Karan stories. As is common knowledge, the role of Tina was offered first to Twinkle Khanna (Tina) and Karan is always quick to remember how he narrated the script to her in her bedroom, becoming so emotional over the story he began to cry. Twinkle just blinked back at him. The rational part of me is there, rolling my eyes like Twinkle, but the filmy bachchi in me lives on strong and is super emo every time Shahrukh and Kajol smile sadly.
https://www.youtube.com/watch?v=ZmORYQdtxUk
Which brings me to the pastel pink sari-clad elephant in the room. My biggest gripe with "Kuch Kuch Hota Hai" is that besides being irrevocably in love with Rahul, Anjali has only two traits: She's a raging tomboy in the first half and a demure pretty little thing in part two. Look, there's nothing wrong with being a tomboy, there's nothing wrong with preferring basketball over lipstick and the lot. But why does that suddenly disqualify her from being a girl? It hurts me that she only gains relevance once she becomes stereotypically "beautiful." I hate that that is what kickstarts Rahul's buried love.
And I get that we're supposed to understand Rahul and Anjali would've found their way together, I get that he loves her as his best friend and not just as this "pretty thing." At least, I get that this is what Karan wanted to get across – that the Anjali that falls into Rahul's arms after his realization that he has always loved his best friend. But once again, there's just not enough there.
Then again, this entire article reads as a defense against an indictment, and isn't that telling? I think a lot of "Kuch Kuch Hota Hai" is in the inference. It projects meaning onto small ticks and facial quirks – understanding that the awkwardness in their older interactions is understandable because of all that has happened and remained unsaid between them, reading their basketball fights as a representation of how simple and true their love for each other is. The thing is, does that make this a good film? Does the format hold up to scrutiny – has Johar delivered us enough emotion to connect the dots and give the film enough meaning? I think for the most part, yes, he picked an emotion that we've all felt and trusted that we'll identify that emotion in his characters. I don't know about you, but I certainly do.
All of these questions play in my mind as Anjali weeps helplessly on the steps, eyes glued to Rahul's. Aman has loved her unconditionally, and perhaps you feel he is a better option – that Anjali deserves better than Rahul. But, at the risk of exposing myself, I'll urge you again to see the helpless tears, the infinite love on her face as she stands frozen. Does she swallow her own heart to prevent heartbreak for Aman? Or does she finally, finally get her happy ending – the thing that she's waited for her whole life?
For all his shortcomings, Rahul never demands this of her. Yes, he is bitter. Yes, he feels betrayed. But at the end of the day, he simply crosses as much of the bridge as he can, he gives her his heart and lets her make the call. He owes her that. We owe her that, too, to determine for herself what she wants, and accept what she chooses.
At the end of the day, I'll say this: "Kuch Kuch Hota Hai" today pulls off its emotional moments – it still leaves me weeping and smiling, still fawning fondly over iconic moments from my childhood. What doesn't hold up now is the conviction in the content. I want there to be more, and I fill the gaps by reading too much into single looks, by keeping the faith that Karan knew then what he was doing, but that his execution was just a little lacking.
Context is everything. Twenty years later, after this film has reached icon status and beyond, I feel it's time we let "Kuch Kuch Hota Hai" ease off the pressure, and remember it as the first in a long line of Dharma ventures. Iconic yes, but still learning, still growing, but always loved – without needing to be revamped in pastel colors, please!