by Zara Husaini
Pooja Bajaj is, quite literally, in the business of recreating childhood memories.
As a child growing up in a South Asian family, Bajaj loved eating kulfi—an Indian ice cream dessert. Now, as a 31-year-old New Yorker, she has built a company around her love of the dessert she spent her childhood enjoying. Bajaj founded The Kulfi Co., a company that makes and distributes different flavors of kulfi.
"I grew up loving [kulfi,]" Bajaj said. "My aunt made the best version from scratch at special family parties. My cousin and I would always fight over [and] negotiate what food coloring we should add to the accompanying falooda , which is vermicelli noodles served alongside the kulfi, traditionally. I tried making kulfi myself one day. I thought it was a very special dessert that no one outside of the Indian community knew about. I wanted to be able to share it with others and the inspiration to create a brand followed."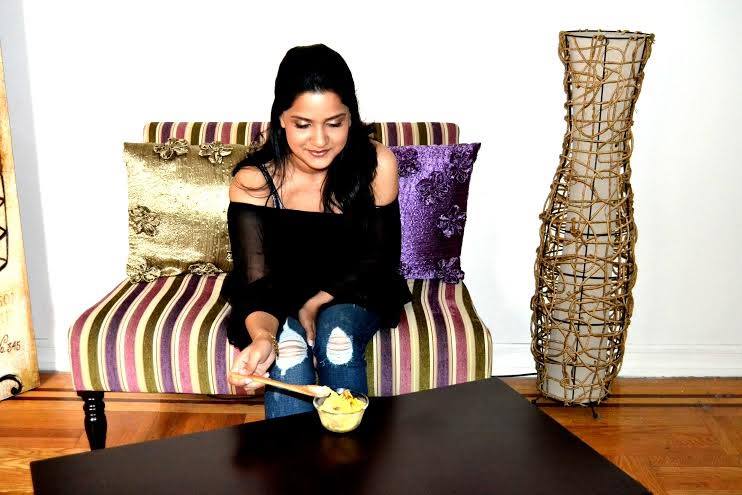 [Founder of The Kufli Co. Pooja Bajaj.| Photo by Kamini Ramdeen]
The Kulfi Co.'s roots may date all the way back to Bajaj's childhood, but the idea grew and developed while she was a graduate student at Columbia University. After graduating with undergraduate degrees in psychology and English, Bajaj enrolled in Columbia's organization psychology graduate program.
"The wheels [for The Kulfi Co.] started turning while I was in my first semester at Columbia," she said. "I was determined to get into consulting and took a strategy class among others at CU Business School. Over the next two years, The Kulfi Co. was a side project, something that was always in the back of my mind and that I worked towards slowly, not even knowing what to do or where to start."
While Bajaj said she has "put [her] graduate degree to very good use," she also acknowledged that she learned so many lessons by simply running her own business.
"I got a lot out of my education but to be honest, I learned a lot by getting out into the real world post-grad school and trying and failing with The Kulfi Co."
As an entrepreneur, Bajaj has learned that this process of trial and error is the thing that teaches an entrepreneur how to negotiate, network and execute ideas.
"Management is in part knowing when to delegate, that you can't do everything on your own," she said.
The decision to focus on kulfi, a distinctly Indian food in America, is two-fold. On the one hand, Bajaj offers a novelty item that is not found in too many places. On the other hand, a lot of Americans are unaware of what kulfi is – after all, it is not a common dish like naan, which is very well known even outside of South Asia. Bajaj sees this as an asset to her brand, though.
"All you can do, according to me, is make people curious to hear what everyone is buzzing about – [to think] 'what is the big deal with this kulfi?' Once they taste it I hope they'll see what all the fuss is about," Bajaj said. "Anything is possible as long as you position it the right way."
Bajaj refers to herself as someone who thinks about the short-term and the long-term. Because of this, her vision for The Kulfi Co. extends quite far into the future.
"Right now, I want to focus on getting as many people to try kulfi and build a presence as an official company in New York. I have to put in the work there before focusing on the more long-term goal of having up to 15 flavors and going regional, then to the west coast, then having a foundation end of the company once it's profitable," she said.
Expect to see The Kulfi Co.'s products stocked at Whole Foods if all goes according to plan, she said. And so far, it looks like everything is on track for The Kulfi Co.'s success.
"People have been very responsive to the product and also to the branding. It feels great," Bajaj said.

She added: "Who wouldn't be excited by ice cream? I've never met such a person!"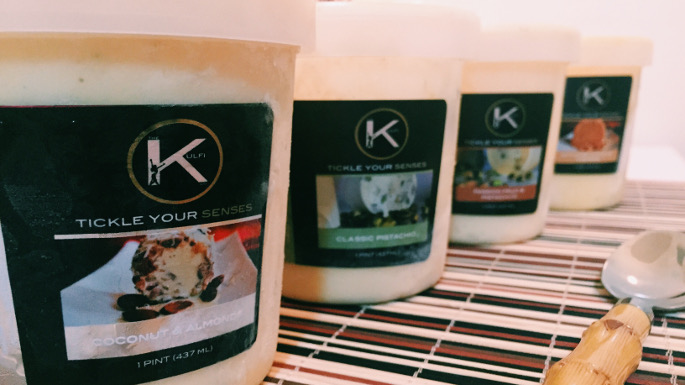 [The Kulfi Co. flavors.| Photo by Grishma Patel]
Don't expect to find only the classic kulfi recipes you enjoyed as a child at The Kulfi Co. While the company does whip up a classic pistachio flavor, it does not end there. The Kulfi Co. currently offers passion fruit and pistachio; alphonso mango and cashew; and coconut and almond varieties.
"I think people should be open-minded when it comes to different foods and cultures—it truly makes a difference in how you see the world, that's certainly part of it for me," she said. "I've taken a more versatile approach to the classic version (with milk and pistachio) by creating fruit versions—so there's something to suit everyone's tastes."
Bajaj also promises we can expect to see more flavors coming soon. In fact, she has already developed 10 more flavors.
"It's just a matter of timing," she explained. "Fall will certainly be a good time to debut some new flavors. You will have to wait and see what they are!"
Until then, help Bajaj get a legendary dessert from the Indian subcontinent to a store near you. With 10 days left to go, Bajaj's Kickstarter campaign hopes to raise $5,000. Contribute to the campaign today, visit the website and follow The Kulfi Co. on Twitter.
This post was originally published on our partner website India.com.
---
Zara Husaini is a Chicago-based writer/editor who has covered everything from fashion to breaking news. She's a graduate of the Medill School of Journalism. You can find her personal blog at statementscene.com.