Hi Brown Girl Beauties,
Mother's Day and Memorial Day weekend have officially passed, so this only means one thing: Summer is officially here! So, before I share this perfect red lace dress with you all,  I want to take a moment to share an anecdote about my mom.
Recently, I saw a new side of my mother. She showed me how to let your children become their own person and support them, even if you don't agree with them all the time. She has always been a tough mom but not one to pass her judgment or impose her opinion on anyone and that includes her kids as well. I hope that I will be able to do same with my daughter, Serena, so she can grow in her own way, and I am there to support and love her.
And on that note, flaunt the confidence your mom passed on to you by rocking this lacey number at your next outdoor party or rooftop date. For more daily fashion inspiration, visit my blog  Zunera&Serena.
Shop the similar look here:
[Lace Dress – Similar here]
---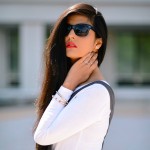 Zunera Mazhar is the highest earning fashion blogger in Washington D.C. Her blog, Zunera & Serena, is about fashion, inspiration, confidence and she occasionally includes photos of her five-year-old fashionista, Serena! The blog has been featured on ABC, FOX and she is a featured guest on CNN. She has worked with some of the top designers and retailers in the fashion industry and is the international brand ambassador of "Labels." She contributes/writes for Self Magazine, AOL's Stylelist. and POPSugar. When she is not blogging, she works as a program manager for Refugee Asylum and International Operations for the U.S. Immigration Services.