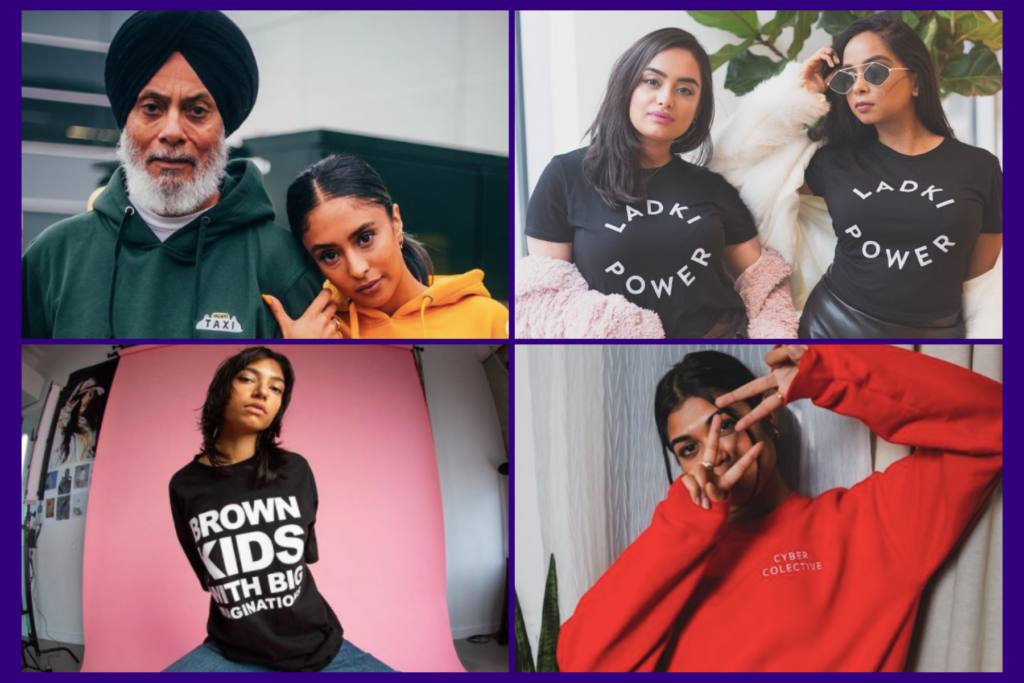 It's safe to say we've spent the better part of 2020 in loungewear. Matching sets, oversized hoodies and tracksuits are filling wardrobes near and far. If 2020 has taught us anything, it's the importance of buying from our communities and supporting their endeavours. This December, we're getting cozy with high-quality comfort wear from the diaspora's best. 
1. TuffBanditz x Vacant Taxi collection
View this post on Instagram
TuffBanditz is the brainchild of educator, stylist and Toronto native, Sandy Kaur Gill, better known as 'The Sandy Lion.' If her 'Sandy Suits' were any indication of quality, fit and intentionality, her newest tracksuits are sure to please. Her foundations permeate the fabric and the design. She sews in the story of her dad's time as a taxi driver, being a daughter of immigrants whilst harnessing the power of apparel. 
2. 5ivepillars
View this post on Instagram
From headgear and eponymous pullovers to symbolic jewellery, adding that finishing touch to your loungewear look. This Islamic culture-wear brand — 5ivepillars — is bringing the best of modern-day, Muslim identity to the forefront. 
3. HYFN
View this post on Instagram
Founders  Humai and Atif are redefining form and function in fashion with HYFN. Channeling their love for being "Brown Kids with Big Imaginations" into apparel. If their content is any indication, the quality of the product is bound to be a 10. Also, they just dropped a reversible puffer jacket! Winter isn't coming, it's here. 
4. Ladki Power 
View this post on Instagram
It's time you hit refresh on your stay-at-home style. With everything from mugs to beanies, hoodies, cropped tees and hats, Ladki Power is a labor of love by Brown Girl Magazine, offering an empowering range of loungewear to the world. Not to mention, the colour palette is a whole mood.
5. Cyber Collective
View this post on Instagram
Cyber security made comfy? Check. We clock more hours on the internet than anywhere else, but do you know where your data is headed? Tech with Taz is bridging the gap in privacy education through her community-engaging initiative, Cyber Collective. So, don't get got, get CyCo…
6. Rootsgear Official
View this post on Instagram
As one of the first South Asian-focused apparel brands, Rootsgear has been supporting South Asian artists and community since its inception. Tanmit's multifaceted genius draws inspiration from heritage, music, textiles and social impact.  
7. SANI
View this post on Instagram
After a successful launch in February with Rent the Runway, the Sani sisters' intended roadmap for the year expanded on their formalwear business. When the pandemic hit, they knew they had to adjust. So how did they go from formalwear to loungewear? They went back to their mission — to create approachable-luxe, culturally inspired clothing made for special moments.
8. holiCHIC by Megha Rao
View this post on Instagram
We all know and have loved holiCHIC for years, they've revolutionized the South Asian American fusion game and now they're on the forefront with chic masks, graphic tees and comfy crop hoodies worth styling in and outside your homes.
It's never too late to give the gift that keeps on giving, especially if you're gifting yourself. In order to grow the South Asian small business community, we must spend our dollars with purpose. Before the longest year of our life wraps up, tell a friend, get cozy, and support a small business from our list or comment below with one we should add.