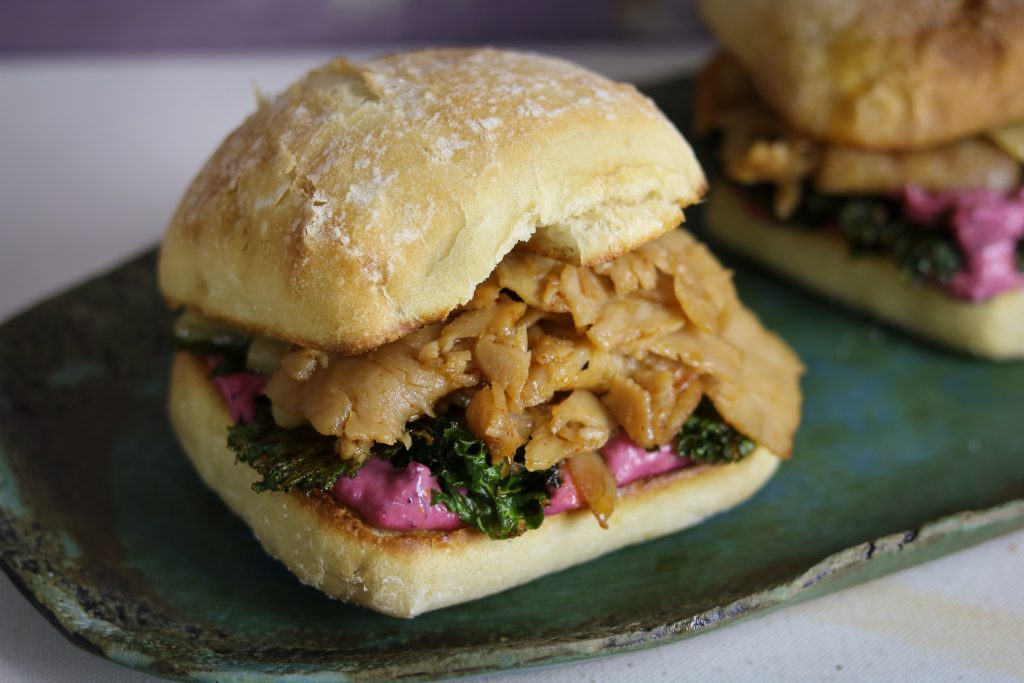 I present to you my Thanksgiving Turkey Sandwich with Cranberry Aioli & Kale Chips! I love Thanksgiving Day recipes, but the day after is where it's at! Every year, we end up with an overloaded fridge full of your classics. There's mashed potatoes, cranberry sauce, yams, stuffing, and, of course, turkey. How much of it can you really eat all week? That's where this sandwich comes in.
Every year when we do Thanksgiving at my house, the day after is this fun game of turning leftovers into new dishes. One of my favorites is this shredded masala turkey recipe my mom makes. I'll have to share that recipe one year.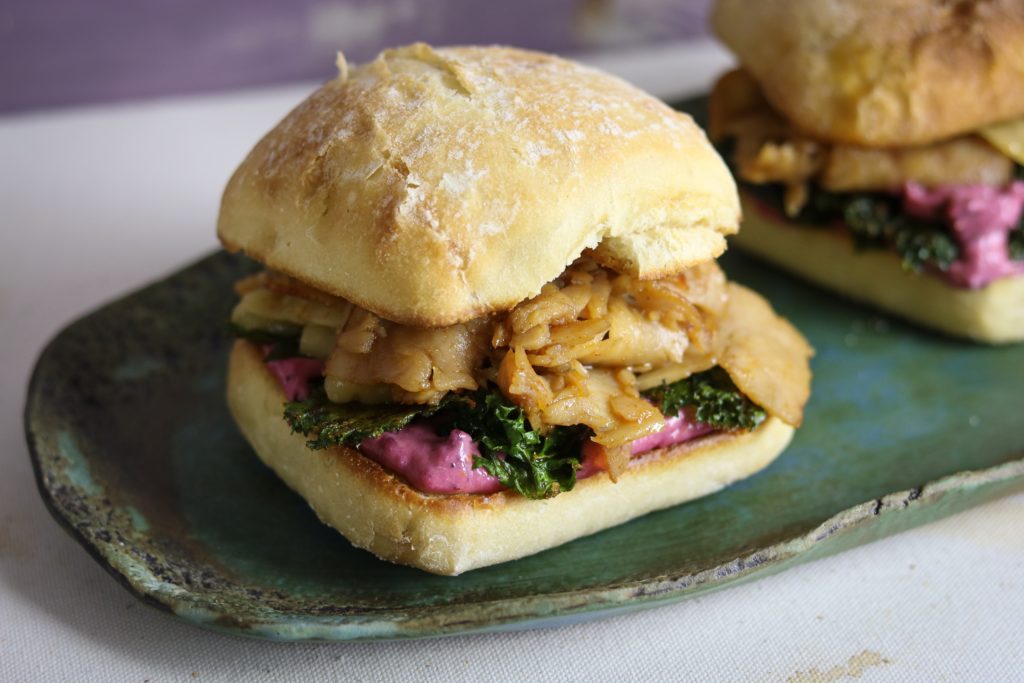 This Thanksgiving Turkey Sandwich is something you can customize many different ways. Don't like cranberries? Maybe mix in some of those sweet yams with some mayo. Hate kale? Add in sweet potato or real potato chips. There are so many ways to make this sandwich your own.
Like this Thanksgiving Turkey Sandwich recipe? You might also enjoy my Shenisha Sandwich (pulled pork eggs benedict) or Spicy Fried Chicken Sandwich! If you have any questions when making this recipe reach out to me @thefamiliarkitchen on instagram. I'd LOVE to see how it turns out for you and answer any questions you might have! Also, please tag me on IG if you make this! I definitely want to see it!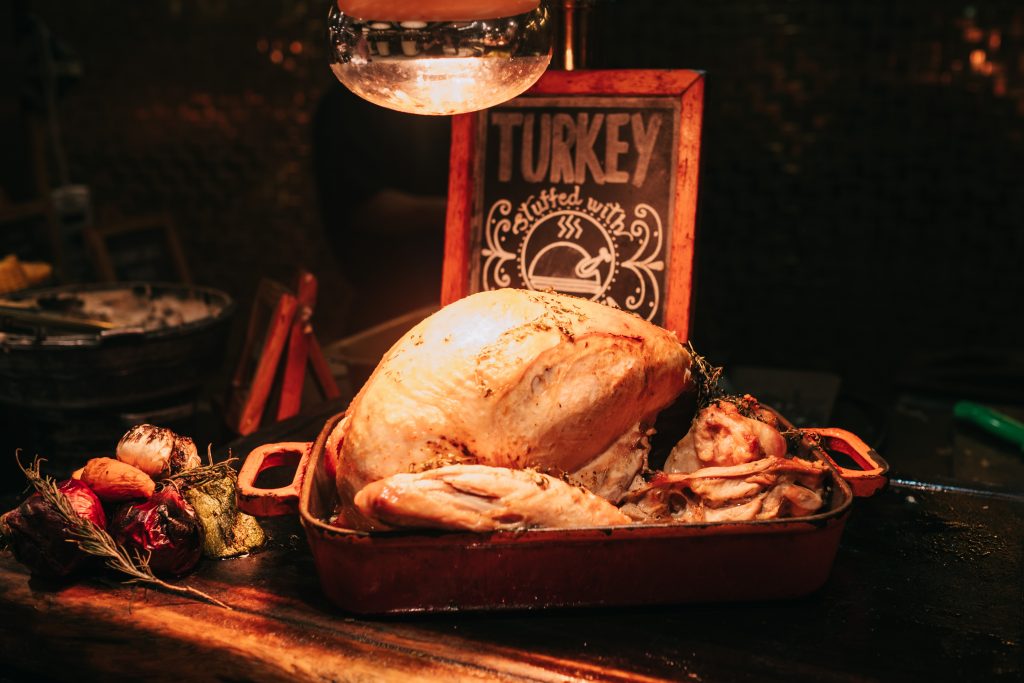 Thanksgiving Turkey Sandwich with Cranberry Aioli & Kale Chips
Prep Time: 10 mins
Cook Time: 20 mins
Servings: 4 servings
Ingredients
Ghee, 1 tbsp
Turkey Breast Deli Slices, 3-4 slices per sandwich, cut into wide strips  or use leftover Thanksgiving turkey, shredded
Brown Sugar, 1 tbsp
Cayenne Powder, 1 tsp
Provolone, 4 slices, cut into wide strips
Ciabatta Bread, 4 rolls
Mayonaisse, 1 tsp
Kale Chips
Kale Leaves, 2 cups, chopped, stems removed
Olive Oil, 2 tbsp
Salt, 1/4 tsp
Garlic Powder, 1/4 tsp
Onion Powder, 1/4 tsp
Paprika, 1/4 tsp
Black Pepper, a few cracks
Cranberry Aioli
Cranberry Sauce, 1/3 cup use leftover Thanksgiving cranberry sauce or you can use canned cranberry sauce
Mayo, 1/3 cup
Garlic Powder, 1/2 tsp
Onion Powder, 1/4 tsp
Orange Zest, 1 tsp

Instructions
Make the kale chips.
Preheat oven to 300 degrees.In a large mixing bowl, whisk together all of the kale chip ingredients before adding in the kale. Once combined, add in the kale and use your hands or spatula to massage in the ingredients to the kale. Line a baking sheet with parchment paper and spread out the kale chips so they are in one even layer (not clumped together). Bake for about 20 minutes or until browned/crisp. Set aside.
Make the cranberry aioli.
Mix all of the aioli ingredients together. Set aside.
Cook the turkey.
In a saute pan on medium-high heat, melt the ghee. Once the ghee is hot, add in the cut turkey slices and add in the brown sugar and cayenne. Saute until the turkey slightly browns then toss in the sliced provolone. Cook until the cheese melts. Set aside.
Assemble the sandwich.
Toast the ciabatta bread with a little smear of mayo on the top and bottom. Place a dollop of the cranberry aioli on the bottom slide of ciabatta. Then place a few kale chips followed by the turkey. Place the top of the ciabatta roll on top. That's it!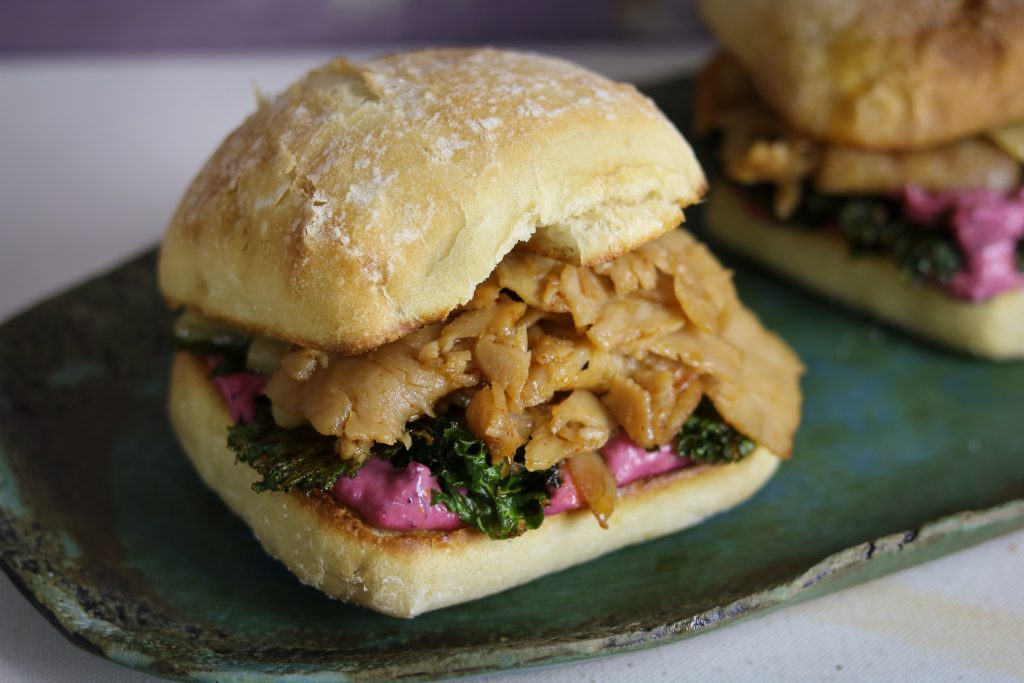 Notes
If you don't like kale chips or don't want to make them, you can skip this and add in arugala, real potato chips, radishes, or something else to give this crunch Any type of bread roll would be great If you don't like turkey, you can definitely use other meats Not a fan of cranberry? Mix in your favorite jam instead! Orange marmalade or strawberry would be great!