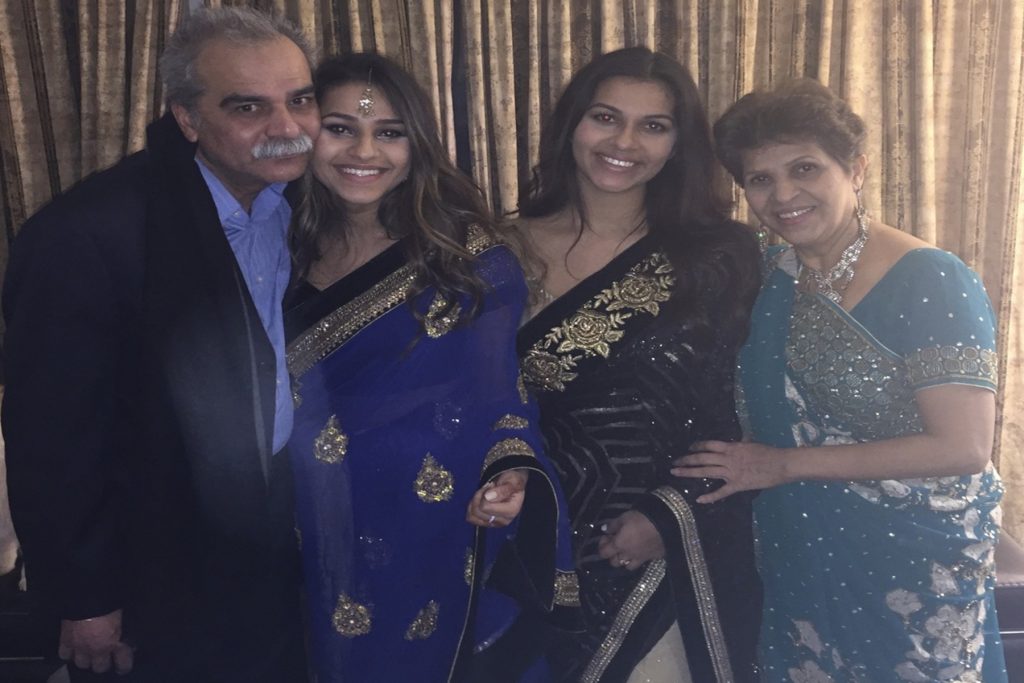 All the courts in India were closed. There were Hindu/Muslim riots and all the market workers had left for the day. What day might you ask? The day my Hindu father and Muslim mother tried to get married the first time. I say the first time because, well, it took a few tries, but the third time's a charm, right? Talk about the universe sending a signal! In 2001 I moved to the US with my sister and mom with my dad coming five years later. Both well-educated and outcast from their communities and families, my parents struggled a lot being an interfaith marriage in the '80s in India. 
I often found myself trying to prove myself to be worthy of being one religion or the other to those around me, as I felt I did not belong to either community. Not understanding the weight and scarcity of my situation, I always struggled when family members would treat my father differently because he wasn't Muslim. I was taunted by kids and teachers at a religious Saturday school in New Jersey calling me a half-blood Muslim as I, at the time, identified as Muslim. I mean come on, what even is that? This is not Harry Potter! This drove me away from religion entirely and I felt a lack of identity. I didn't belong in either bucket, but I started to entertain the idea that maybe that was okay.
This situation caused a multitude of misconceptions like I was half Indian and half Muslim, which obviously makes zero sense. My favorite is the idea in desi culture that the family follows the man only. I would have people tell me it was alright I was "Muslim" because my dad was a Hindu. Or that I'm not Muslim entirely because my father is Hindu, but that is another issue.
Cue the lessons: 
You are not what others say you are; you and

only

you can define who and what you become. 

Keep an open mind in life, especially about topics that make you uncomfortable and scared. These are the topics that will get you thinking outside of the box society created for you and allow you to truly accept others. 

Ever think where you got your opinions? How do you know they are right? Rewiring your brain can be difficult but sometimes it is important. 
One invaluable thing I learned is that circumstances do not dictate your growth and who you are. I decided to explore what I liked and disliked about religion and social constructs. I also began to understand that the same people that ostracized my family and I were simply misinformed, uneducated on the topic, and frankly close-minded.
View this post on Instagram
My parent's decision to love and help one another caused them a lot of financial and emotional setbacks, and I'm sure a lot of regret and pain. To this day, some topics are still too painful to talk about. But luckily for me, the result was two parents who only want the best for my sister and me, who irrespective of color, creed, gender, origin, or economic status, accept all people for their good and bad.
I didn't have much of a relationship with either set of my grandparents, another price paid at the expense of customs. My grandparents eventually came around, maybe a little late but something is always better than nothing and for that I'm grateful. It takes a deep level of understanding to acknowledge that they will always feel differently due to their upbringing and the stigmas of Indian culture, but I can take solace in the fact that without these experiences I wouldn't be who I am. 
Coming from a diverse background and growing up around two resilient immigrant parents who had to make ends meet, I know a thing or two about not feeling like you are heard or understood. Sometimes I wonder, am I going to do a traditional Muslim Nikkah when I'm married or a Hindu Mandap? Are my kids Hindu, Muslim, or none? There isn't a clear path here which shows me that I have the best gift—the ability to make my own choice. Fortunately, I was not pigeonholed early in life with the idea that every woman and man must be made uniform to be worthy of respect, love and community.
As tumultuous as our world seems right now, just remember there are people like my parents who push beyond boundaries. People like our friends and family who pushed past some of these barriers and accepted us as human beings first to break the cycle of confining societal norms.
---
The opinions expressed by the writer of this piece, and those providing comments thereon (collectively, the "Writers"), are theirs alone and do not necessarily reflect the opinions of Brown Girl Magazine, Inc., or any of its employees, directors, officers, affiliates, or assigns (collectively, "BGM"). BGM is not responsible for the accuracy of any of the information supplied by the Writers. It is not the intention of Brown Girl Magazine to malign any religion, ethnic group, club, organization, company, or individual. If you have a complaint about this content, please email us at Staff@0mq.349.myftpupload.com. This post is subject to our Terms of Use and Privacy Policy. If you'd like to submit a guest post, please follow the guidelines we've set forth here.