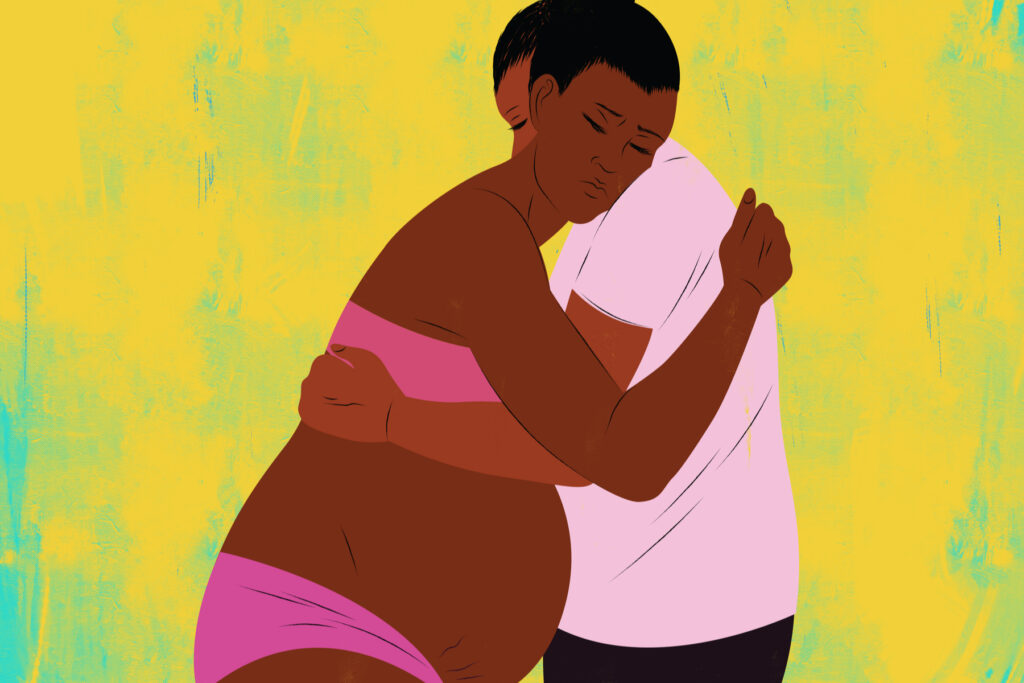 The racial and ethnic disparities around maternal health continue to run rampant in the US. It is estimated that 50-75 percent of new mothers experience baby blues and that 10-15 percent of those women will go on to develop a more severe case of postpartum depression. As a postpartum doula, I have seen how hard and isolating parenthood can be for new families. I constantly hear "I had no idea it would be like this." With all the books and apps out there, new parents still need face-to-face community support and someone to guide them through one of life's biggest transitions. 
What is a postpartum doula?
A postpartum doula is someone who provides physical, emotional and evidence-based-informational support to new parents during the postpartum period. The postpartum period covers the 12-month period after the baby is born.  While they are not medical providers, they fill a much-needed gap in a broken healthcare system. Postpartum doulas are trained to assist new parents with the overwhelming demands of parenthood, such as feeding issues, routines, bonding and sleep (for both baby and parents). Support is different for every family and doulas come from every background and have different areas of expertise. Many doulas are also trained lactation consultants. Postpartum doulas help replace "the village" that everyone tells you that you need but no one tells you how to obtain. 
What a Doula Can Do for You: 
Process your birth story

Feed support (chest feeding and formula feeding)

Sleep conditioning/guidance for shaping healthy sleep habits

Meal prep/Laundry (basic needs)

Teach newborn care (swaddling, bathtime, soothing techniques) 

Telephone/text support 

Explain normal newborn behavior 
There are over a dozen training and certifying organizations for doulas. Currently, there is no U.S. regulation on birth or postpartum doulas, meaning you don't have to take a training or certification to call yourself a doula. There are currently three states that have passed legislation for third party reimbursement for doulas services through Medicaid.
Alternatively, there are state-funded programs like the volunteer-run, NY Doula Project. Doula fees vary across the US in markets; for example, NYC postpartum doulas charge $35-60/hour based on experience and training. 
Getting Started: Doula Training Organizations 
When hiring a doula, it's a great idea to interview several people and ask about training and certifications. You can also ask about adjacent services such as lactation, babywearing, infant massage and childbirth education.  The site https://doulamatch.net/ has a comprehensive list of doulas in the U.S. and Canada. Welcoming a doula into your home during such a vulnerable time can seem stressful at first.
I always say to trust your gut and seek out someone with a personality that you want to be around and a specific skill set that you can benefit from. Word of mouth and recommendations from friends and your community are some of the best ways to find support!
Questions You Should Ask Your Potential Doula: 
Are you trained/certified?

What are your COVID-19 pandemic protocols and precautions? 

Are your immunizations up to date?

Do you have references we can call?

Do you have a backup in case of illness or emergency?
How can postpartum doulas help new parents experiencing postpartum anxiety or postpartum depression?
Postpartum care in the U.S. is underwhelming and disappointing. Most new parents are seen for the first time 4-6 weeks postpartum. During the COVID-19 pandemic, I have seen these appointments being pushed out by months. Mothers deserve better care. We aren't meant to do this alone. Many new families are desperate for information and validation that they are doing it right, that everything is normal. This is where a postpartum doula comes in, this is the person you can call and text to see if something is par for the course. If you are wondering why your baby doesn't want to be put down or if you are not sure if it's gas or colic, you can reach out to your doula.  You can go over all of your questions, challenges and fears. I always go back to the phrase "you don't know, what you don't know." The unknown can cause so much anxiety and so much fear. Having a doula who can help ease those fears and prepare you for what to expect, what stages are coming next, what you can anticipate week to week is so valuable. 
Postpartum doulas also connect you with local support groups, mental health professionals, pelvic floor therapists and lactation specialists who can round out your care team. 
I have heard the first year postpartum described as the longest and shortest year of your life. When you look back on how fast your child's first birthday rolls around at the same time wondering how you ever made it through the sleepless newborn stage or the teething stage. It's overwhelming but such a milestone! 
What is working with a doula like? 
Every family's needs are unique. Some families want support during the day and typically that would be a 4-6 shift where the doula would come in and chat with you about challenges and goals, teach a skill such as swaddling, tummy time or bath time. The doula can then fix a meal for the new parents and tend to the baby to allow parents to nap or shower. Doulas with lactation training can also spend day shifts helping parents with their breastfeeding relationship. Many families choose to use a postpartum doula overnight. Overnight shifts are typically 8-10 hours a night. Overnight shifts allow parents to catch up on much-needed sleep. Overnight doulas will watch over newborns while parents sleep, bring the baby in to nurse or handle bottle feedings. They can also help throw coffee on and prep a meal for the next day. There is so much value in both day shifts and overnights. Many choose to utilize a combination of the two. There is no time limit on how long you can have a postpartum doula, but I typically work with families during the first 6 months. Many families opt for support several days a week and some choose just one week of care as soon as they are home from the hospital. 
A question to the community: What was your postpartum experience? What do you wish you had more info on? If you are expecting, how are you creating a support system?
If you or your loved one is experiencing signs of postpartum anxiety, depression or psychosis please reach out to your healthcare provider.