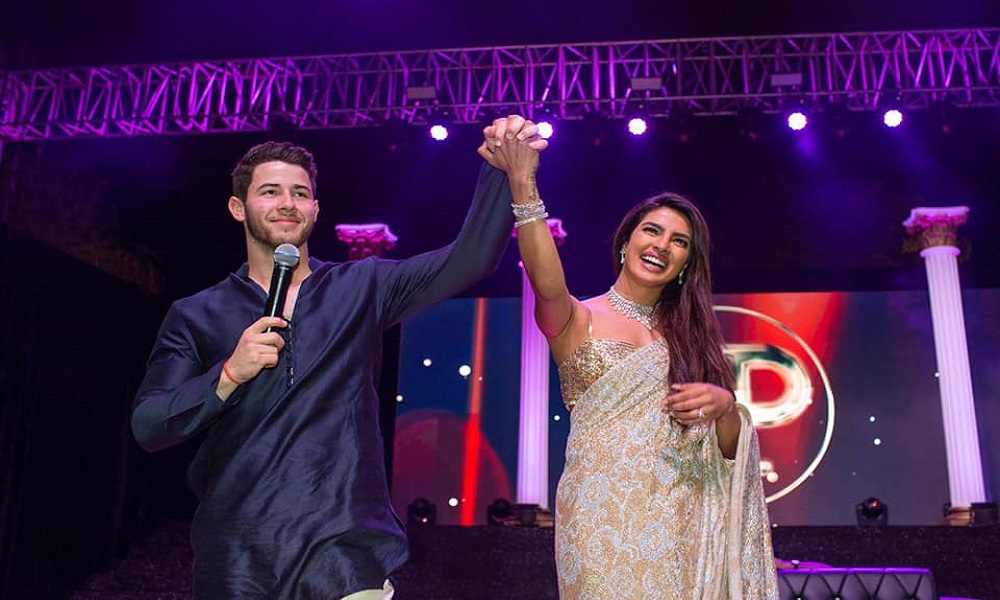 Bollywood icons are filling our Instagram feeds with wedding pictures, giving us major FOMO by making us believe in Bollywood type love all over again. Last weekend officially marked one of our favorite couples' wedding festivities. The most unexpected but insanely adorable crossover from your childhood—Nick Jonas and Priyanka Chopra—are MARRIED.
Let me just say, I grew up watching (and crushing on) Nick Jonas as a child and simultaneously dancing to Laal Dupatta. And now, here I am, an adult watching their love story unfold (as much as they share on social media, of course) and they're couple goals.
View this post on Instagram
Their whirlwind romance has sparked a lot of conversation. From their sweet comments during interviews about each other to their heartfelt posts on social media, we at Brown Girl have loved every minute of it! However, although their relationship has drawn a ton of positive attention, there has also been a surprising amount of criticism. Many were quick to point out that Priyanka is a bit older than Nick. But is the age gap truly a big deal?
All my life I've always heard girls talk about how they like older men (guilty as charged). Honestly, it's kind of crazy how people perceive age gaps in relationships. I don't think I've ever heard any criticism for a man being with younger women or being with older women. On one hand, you see guys brag about how they were able to "get with" attractive older women as if it's kind of a prize or something. On the other hand, you also see men (usually much older men) talking about how many young girls they prey on – I mean date.
But is the appeal truly based on the age of the person, or how well you get along? What makes age so important in a relationship? Is it something instilled in us from the day we can understand what a relationship is? Something we see, so we continue? Or is it really just a preference? Why do we treat age gaps differently based on who in the relationship is older?
I'd say in most cultures, it is considered normal for women to be with someone who is older. I'm sure we've all been there – you meet some of your mom's friends at some desi party and in casual conversation, it may come up that their husbands are five, 10 maybe even 13 years older than them. And it's not weird because that's what everyone's used to.
I'm sure they're out there somewhere, but I've personally never come across a situation where the auntie is that much older than the uncle. Even in celebrity culture, we see George and Amal Clooney, a 17-year difference, Scott Disick and Sofia Richie, a 15-year difference, Ranbir Kapoor and Alia Bhatt, an 11-year difference. It might lead to some raised eyebrows, but generally, it's accepted.
The problem is that relationships between an older woman and a younger man are typically perceived as taboo. As I mentioned before, Priyanka and Nick's relationship has become the topic of such scrutiny. 
View this post on Instagram
People say "she's babysitting" or "it's not going to last she's way older than him." And not just speaking on their relationship, but relationships, in general, where the woman is older than the man, are never given the respect they deserve. They're perceived as a phase to most.
An older man in a relationship with a younger woman is seen as something to aspire to, by both men and women. It's a general consensus – there's nothing wrong with a younger woman dating a mature, respectable, older man, whereas an older woman with a younger man is seen as odd. The woman is viewed as "promiscuous" for having a "boy toy."
A traditional relationship suggests that the man must be older, as the caretaker of the wife and breadwinner of the house. However, we don't exactly live like that anymore. As long as two people connect on a mental and emotional level, what does it really matter how old they are? Some may tend to get along better with a certain age demographic better than others because of their individual preferences, but at the end of the day what really matters is how comfortable and at peace two people are with each other. Nick and Priyanka's quick engagement and marriage, to me, proves that nothing matters in a relationship except how two people make each other feel.
Even though there will always be people with their own negative opinions on anything, the general Indian response to Nick Jonas has been really warm and welcoming. This shows that the desi community is making (slow) progress on moving forward from outdated taboos, which I think is something we can all look forward to.