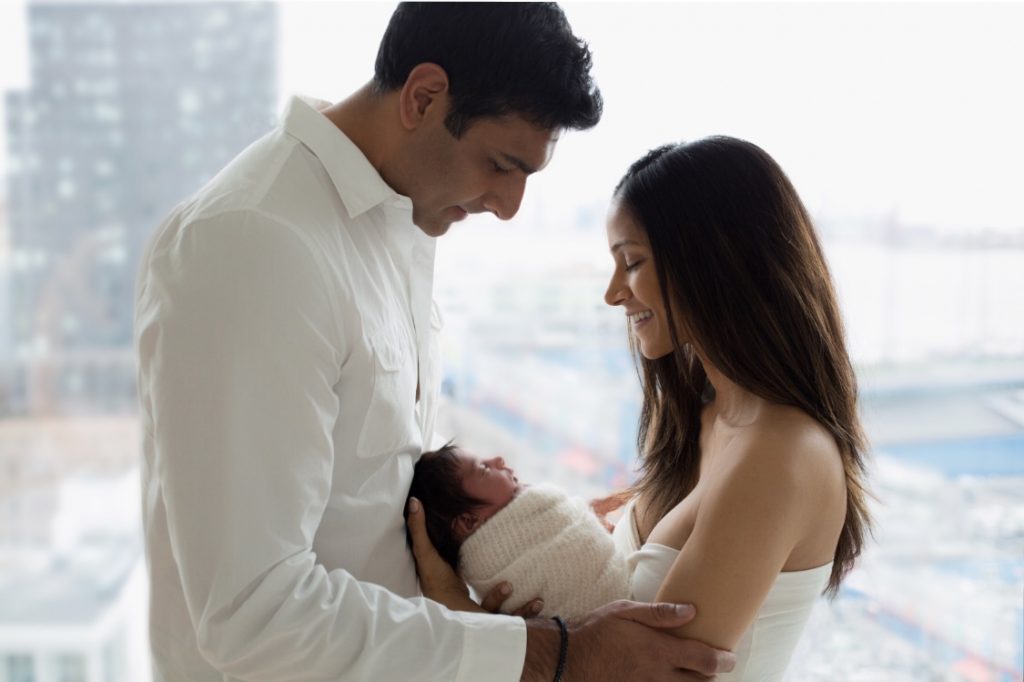 This Mother's Day, we are sharing a series of letters written by mothers for their daughters and sons as they share hopes and dreams for the next generation. Our second letter is written by an Indian-American actress, model, and co-founder of Hospital for Hope, Melanie Chandra. She recently had a baby daughter, Arya, and we've fallen deeply in love with her family. 
My dearest Arya,
I'm writing this letter on the day you turned 11 weeks old.
Arya, in a few years from now, I hope you're continuing to stay curious, kind, and that you never lose your sense of play. You've been learning everything so, so quickly, I feel like you learn a new trick every day. For example, today, you attempted to sing Moana's "How Far I'll Go" with me, trying to move your mouth like mine and letting as much as your baby voice come through.
As you grow older, I hope that you feel empowered to be anything you want to be —hopefully I will always make you feel that way, but hopefully, the world will too. I want you to know that the journey ahead is full of adventure, twists and turns. What's important is no matter what you do, if you have a dream, something you truly believe in, you have to give it your all. Take nothing for granted. Work hard. And please make sure to always say thank you to those who helped you along the way.
Every Christmas holiday, I hope we can continue making your grandma's special "healthy" chocolate chip cookies together, and that your sweet tooth will always be as big as your moms. I'll also never stop brushing your hair (did you know you had a full head of hair when you were born? And that I am able to tie it into a ponytail already??) I'm also going to keep giving you my special series of quick, tiny kisses on the cheek before you go to sleep every night, for as long as you let me.
One thing I will always cherish is the expression on your face when I wake you up at 7 a.m. every morning. No matter how sleepy you are, you always greet me with a big smile. It makes my heart melt.
Arya, no matter what you do in life, please continue practicing what my mom always taught me: Lead with love.
Love you,
Mom