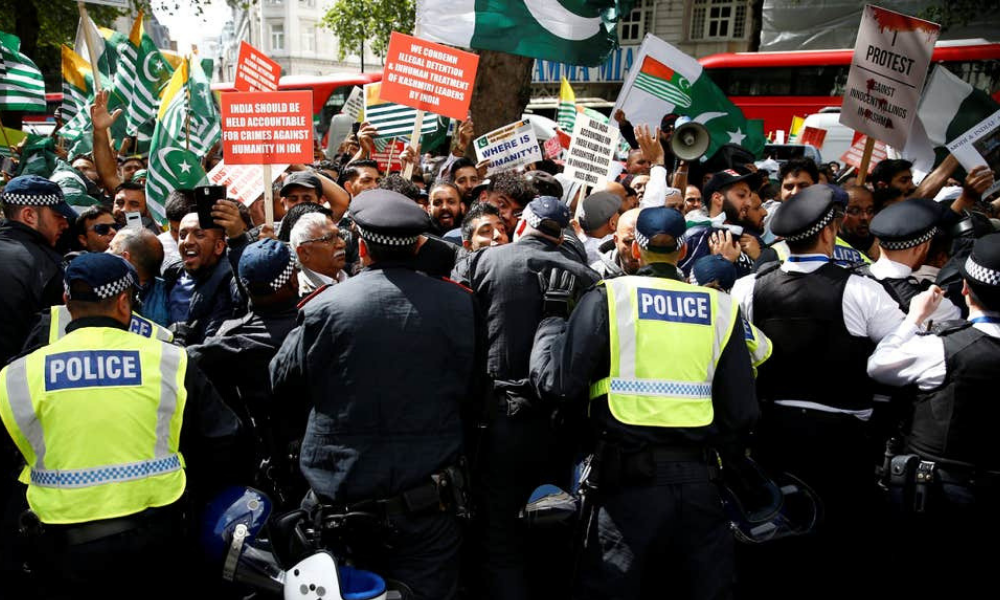 At a time in the U.K. when all we seem to be exposed to is Brexit doom and gloom, it is refreshing to see other issues taking centre stage in Parliament Square. On September 3rd, demonstrators marched through London, starting from outside Westminster and reaching Aldwych. But they weren't shouting "stop the coup" in protest to the UK Prime Minister Boris Johnson's plan to prorogue parliament. Nor were they chanting "this is what democracy looks like" to a jaunty tune. Instead, this march was solemn, calling for the UK government to intervene in the crisis currently happening in Kashmir, India.
London is no stranger to protests, with frequent demonstrations from all sides of politics — demanding the government stop Brexit, demanding the UK leaves the EU immediately, and united protests came from Extinction Rebellion about the climate emergency. However, unsuspecting tourists were faced with a march from Westminster to the Indian High Commission, with brown faces and unfamiliar flags, it was a sight that many will not forget. But given the larger population of South Asians in the country, it's no surprise that Kashmir is such a contentious subject.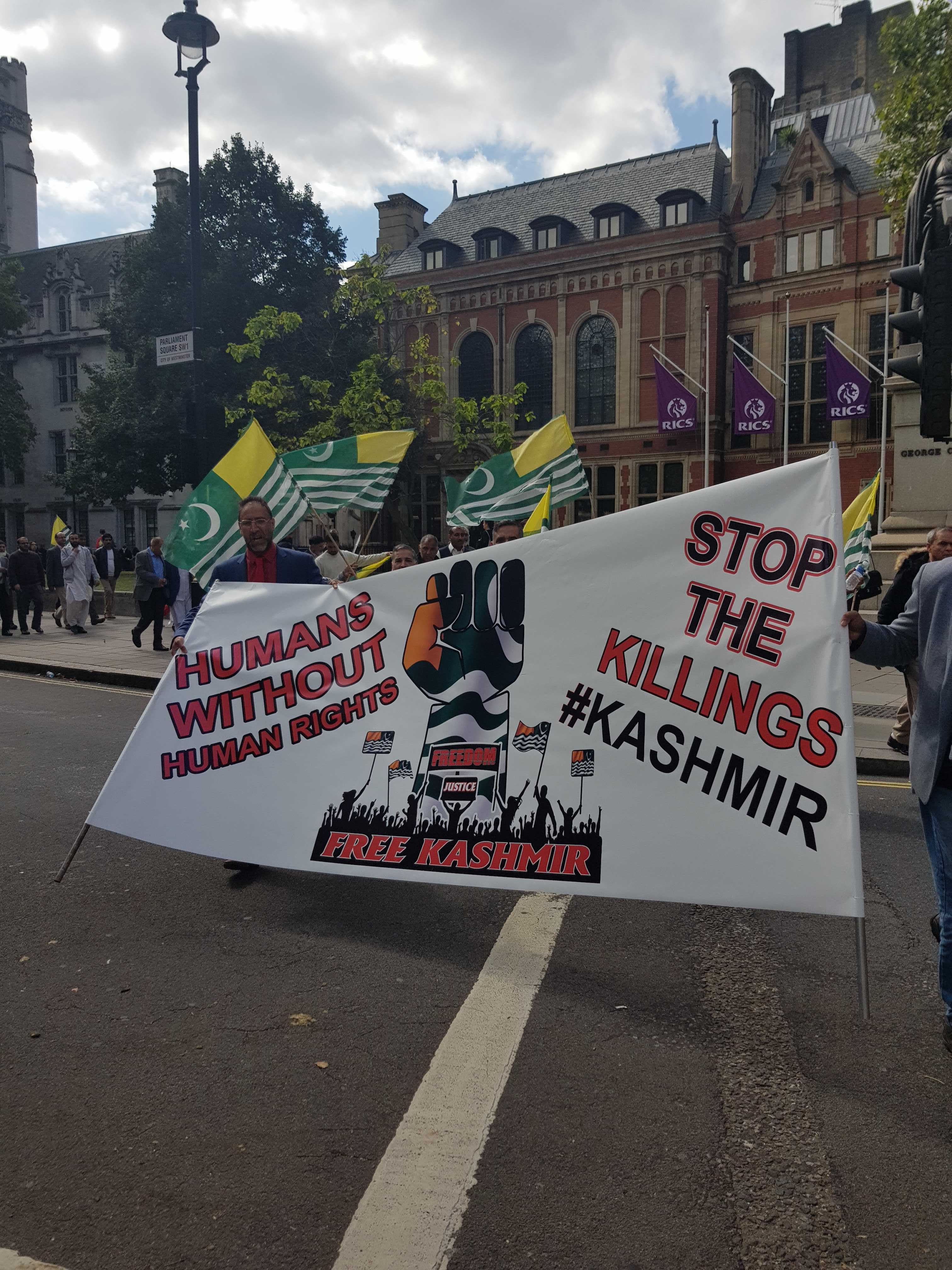 What's happening in Kashmir?
If you've been hiding under a rock for the last month or so, you might not know that Kashmir has now officially been stripped of its special status. For some context, both India and Pakistan have fought over the state of Kashmir since partition in 1947. Both sides control areas of the state, with a particular ceasefire line, agreed between the parties. Since then, Indian-administered Kashmir has been allowed certain privileges under a piece of legislation known as Article 370. This means Kashmir has a certain level of autonomy, with its own constitution, flag and the ability to make laws relevant to the state. At the beginning of August, just before Independence Day, India revoked much of Article 370, leaving citizens in Kashmir unsure of their status.
Why is it important?
This action disproportionately affects Muslims in the region, with the state of Kashmir being the only Muslim-majority state in India. The people there are now facing a media blackout which has been ongoing for more than 30 days. There have also been reports of Indian military abusing their powers and effectively committing war crimes. Kashmir is now set to appeal to the International Court of Justice to try and get some normalcy back for the people there. The question of Kashmir is no longer just about drawing lines in the ground and living in a place, it has become an issue of human rights. The U.K.'s Foreign Secretary, Dominic Raab, admitted on the day of the London protests that Kashmir has become "an international issue," and rightly so. When human rights are under threat, the international community is morally obligated to sit up and take notice, and none more so that the British, who conquered half the world and pretend there were no repercussions.
This comes at a very volatile moment in history. The USA and Mexico are at some sort of immigration standoff, the U.K. is set to leave the European Union — the main reason peace has prevailed for so long in Europe, China was previously looking to revoke Hong Kong's special status and bring them into an authoritarian state. Global politics is having a field day, and we seem to be entering the second wave of revolution — where the people know they deserve better and are willing to demonstrate for their rights to get it. The problem? Governments don't care and are willing to use brute force if necessary.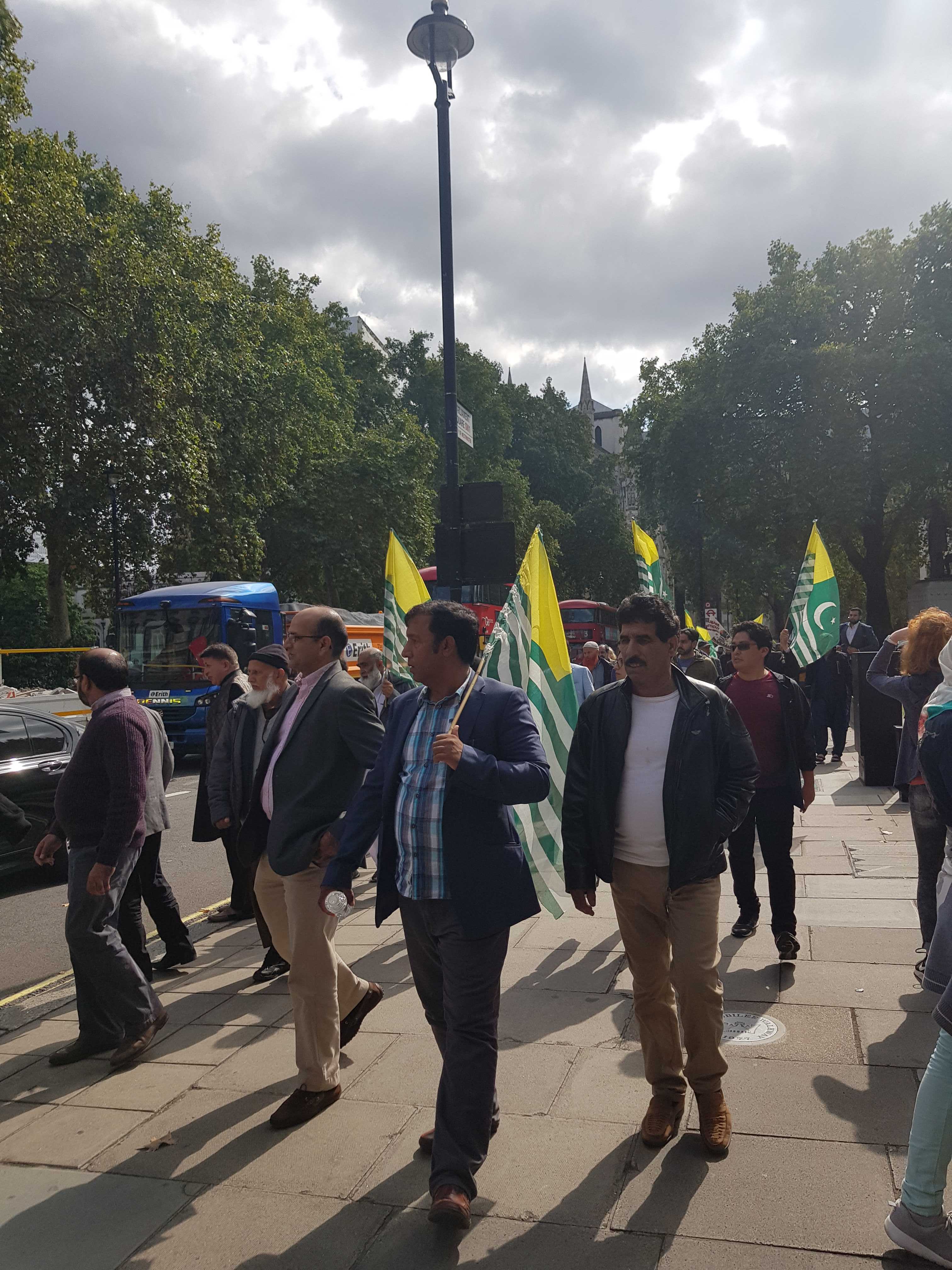 The protests in London were not only to raise awareness of the severity of the issue but also to demand that the U.K. government look at something other than Brexit for a moment. Liam Byrne, MP for Birmingham, Hodge Hill, which has a large South Asian population, marched in London with members of his constituency. He has also been pressuring Parliament to "publish their assessment of human rights abuses in Kashmir." He says the best way to broker peace would be to use the UN Security Council Resolutions as a guide — this would promise self-determination to the people of Kashmir. Effectively, Kashmir would be able to have autonomy again.
Why should Britsh South Asians care?
Remember, Partition was a mess left by the British, who encouraged faith-based division throughout the subcontinent, to make it easier to leave after the Second World War. The subsequent conflicts that we're seeing in Kashmir are certainly related to these tensions. What's more, Britain is embroiled with its own problem of nationalism, with Brexit just a symptom of the desire for "the good old days," i.e. the empire.
The issues in Kashmir might be halfway around the world, but they matter. And they should matter to British people. MP Tracy Brabin joined her constituents from Batley and Spen on the march through London and said,
I fundamentally believe that this is not just the struggle of Kashmiri people, but a struggle for all those who believe in democracy and human rights.
While British voters are more apathetic than ever to parliamentary processes, and many have claimed that democracy is dead, the issues of Kashmir cannot be ignored. While Britain is a victim of its own making in the Brexit debacle, at least the people can sleep safely in their beds.