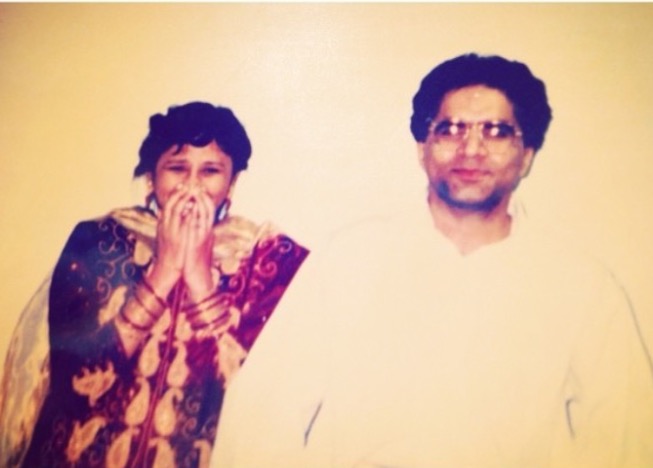 This Valentine's Day we look back at some South Asian love stories from simpler days of our previous generations. For some, the union might have been arranged but the love that evolved was based on mutual respect and affection. Do you ever imagine your children telling your love story some day?
A smile for a broken heart
New Delhi, India – "My mom had just taken a huge exam the day after her father had passed away and after the exam, she was sitting outside of the room crying because she was so emotionally drained. My dad who was attending the same medical college in Delhi, saw her crying, and started joking and flirting with her to make her laugh and cheer her up. They ended up dating and a year later they were married!"

– Mayura Iyer, Washington, D.C.
Young love
Patna, India – "Growing up in a small town in America with little diversity,  I would never tell people my parent's marriage was arranged out of embarrassment. Due to their deep affection and compatibility, I was fortunate enough to never have to. My parents met at their engagement. My dad was 27 and starting to worry about getting married before he was 'ineligible'. My mom was 20 and picked the doctor over the air force man based off of their pictures. Despite being strangers in a traditional marriage, they've both evolved into the best versions of themselves through each other's unconditional love and support.

My favorite thing about their relationship is how my Dad knows what my Mom is capable of and makes sure everyone else does too. People would say, 'Your wife is just an office manager, right?' He would furiously correct them. 'I didn't finish my residency until I was 40 and we weren't well off. We had two young kids. Even then I kept telling her to go to medical school and it's never too late. She's the one who deserved it. It's all because of Anju.' Their marriage might've started traditionally, but now understanding how we came from a patriarchal society, it always gives me hope."

– Archana Singh, Gainesville, Fl.
The portrait that won his heart
Pouderoyen Village, Guyana – "My paternal grandparents had an arranged marriage. When my grandfather's parents went to my grandmother's home to propose to her parents, they asked them for a photo to take home to show their son. My grandmother, being one of 14 children, did not have any individual portraits. There were only large and expansive family photos with all of her siblings. After the proposal, her father took her to get a picture taken. They made a day of it—she didn't know why he was taking her to get her photo taken professionally, but she didn't mind having a day alone with her dad as that was a rarity in a home with so many children.

While they waited for the film to develop, they went to see an old cowboy movie at the cinema and killed time walking around the city. When they finally got the photo back, they were floored. It was stunning. In fact, it is still framed in the homes of her children and grandchildren today.

Naturally, upon seeing the photo, my grandfather thought she was beautiful and agreed to meet her. They were very pleased with each other after the first meeting. My grandmother thought her suitor was handsome and was happy with his job as an accountant. Their wedding was a grand Muslim ceremony that took place on Valentine's Day 1960. My grandfather's 'baraat' arrived with sixteen cars. They fell in love slowly—affection lived in the small things.

My grandmother recounts with glossy eyes that while my grandfather grew up eating with his hands, she grew up eating with silverware. And then, one day, over dinner, the husband she was just getting to know and love, picked up a fork at the dinner table.

When he died in a tragic accident a few years (and five children) later, he died with the same photo of her in his wallet that he was given before their marriage. The same picture now sits on my desk in a dark oak frame. To this day, she has kept his favorite fountain pen in her possession, even 50 years since his passing. Happy Valentine's Day."

– Elizabeth Jaikaran, New York City, NY

Two worlds, one heart
Chicago, Illinois – "My parents grew up in completely different environments which is perhaps what makes their love so great: it is truly unique.

My mother was a 25 year old from Hyderabad, India. She was studying to become a Physician Assistant through cold Chicago bus rides and raising my uncle's children while their mother was away at hospital rotations. My father was a 26 year old medical student from a small village in Sindh, Pakistan. He was working days at a clothing store that sold fake Michael Jordans and at nights studying in the bathroom of a one-bedroom apartment while his six other roommates slept. They met through mutual friends and were happily wed in an elementary school gymnasium.

Together, they struggled through deaths, compromises, dirty diapers, first paychecks, and four kids. The best part of this story? They'd do it all over again in a heartbeat."

– Duriba Khan, Austin, TX
Do you have a favorite love story about your parents? Share with us in the comments!