6
min read
By now, most of you who have clicked on this article have seen the second season of Netflix's hit reality series "Love is Blind" and witnessed the rise of Deepti Vempati by choosing herself over blind love and continuing to be better than her ex-fiancee Abhishek "Shake" Chatterjee. I had the chance to sit down with Deepti right before the Season 2 reunion and now after devouring and digesting the special episode, Deepti's words hit harder than ever before. The 31-year-old Chicago native shared her experiences and feelings about the process of being selected to be on the show, participating, and after it was all over. Deepti is the definition of a strong, independent brown woman who doesn't need a partner, especially not like the partner she ended up with onscreen.
"No man is ever going to give me the independence that I know I can give myself."
When we first met Deepti in the pods on Season 2, it was clear she would leave a mark on the show and undoubtedly on everyone who participated. In the first episode, we saw her bond with fellow castmates and have great conversations in the pods. She took Shake, the one person who asked the most superficial questions, and made him start questioning why he began the "Love is Blind" process with the least "blind" mindset of them all (an evolution that sadly didn't take place, it was still pretty amazing to see at first).
I asked Deepti what surprised her the most during her time on "Love is Blind," she said it was how quickly she became vulnerable throughout the show and how quickly she began to care about other cast members on the show. While she developed a deep and caring connection with Shake, she also found herself connecting and befriending other members of the show, people she calls some of them her best friends today.
Those friendships Deepti made were clear and on full display at the Season 2 reunion episode, as was Shake's apparent narcissism and disrespect of the "Love is Blind" cast mates and process.  We often saw Shake interrupting the other cast members as they shared their stories or answered questions asked by Nick or Vanessa Lachey. Shake portrayed his commentary as representative of the thoughts of viewers watching at home, which was  far from true. We caught Deepti smiling when cast member Shaina advised her:
"Stay quiet and let him talk, he thinks he's making himself look good."
Good advice, considering when I spoke with Deepti about her emotional effort spent during Season 2, she mentioned that she was often emotionally numb throughout some of the harder parts of the show and interactions with Shake. Thankfully, Deepti's family and friends were her rock – her sister, brother, and his wife were always checking in to help her process everything, much like her cast mates did during the reunion episode.
The reunion episode made one thing perfectly clear: Shake was on the show for all the wrong reasons. He consistently focused on wanting physical chemistry and made comments on the reunion episode doubling down on his original pod comments about wanting a girl to be small enough to get on his shoulders at a music festival. He even said that the only woman he found himself attracted to at the reunion was co-host Vanessa Lachey, with her husband and co-host Nick Lachey sitting right next to her.
When I spoke with Deepti about her relationship with Shake, her feelings during the show were very different than what happened when the episodes starting airing. While "Love is Blind" viewers saw Shake's frequent commentary on the lack of intimacy between him and Deepti, she mentioned that we didn't get to see many of her reservations about Shake as well. Shake was not her ideal body type either, and Deepti discusses how because she cared about him so much as a person, she was more committed to the development and growth of the relationship. To Deepti, physicality didn't matter to her as much versus the personality and the potential of the partner.
According to Deepti, there were moments where she felt like Shake was really growing, which added to her hope for the relationship to be successful. Shake would tell Deepti that she was helping him grow and become a better person, but sadly his words never aligned with his actions. Deepti mentioned that it was hard to be vulnerable with Shake because she had trouble not internalizing his criticisms, seeing as he was the closest person to her on the show at the time. That's why when she watched the episodes and the comments he made to other people about her and their lack of chemistry, she said:
"I was so hurt and disrespected. It's one thing to say that there's something lacking or chemistry is lacking, but how you say something makes a huge difference."
That was a sentiment she echoed again in the reunion episode to Shake directly.
"It's okay to not be physically attracted to somebody. Guess what, there's a million other people who are. It's how you do it and how you say it that's extremely disrespectful. It's degrading to women and I'm so happy for every single person sitting on this couch today because they have my back and they call you out."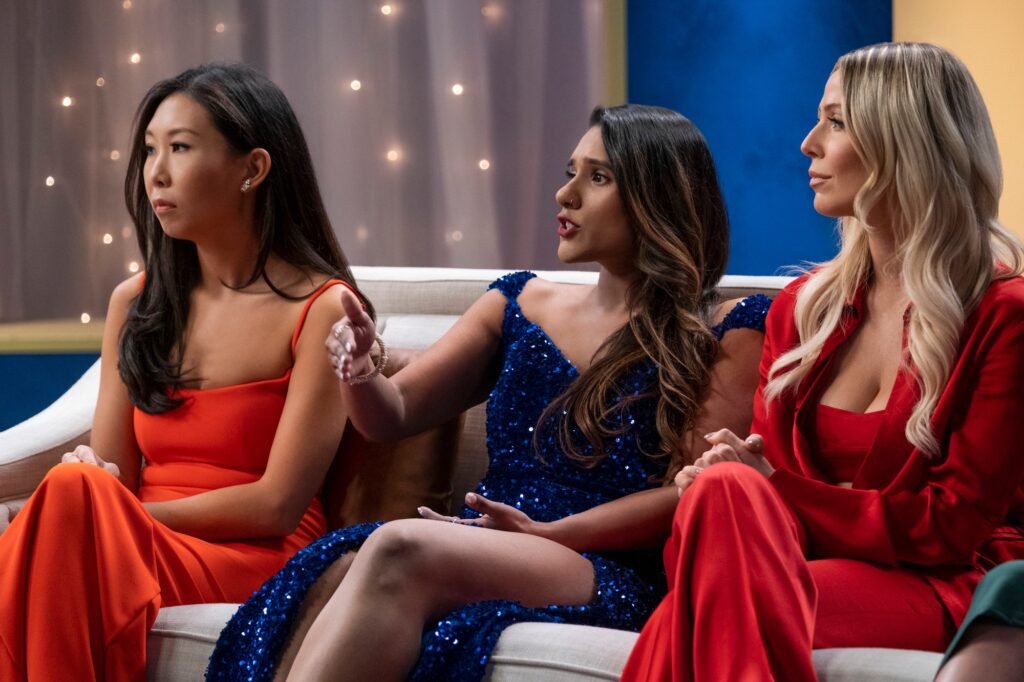 She mentioned that multiple cast members told Deepti before her wedding day with Shake that he was not the kind of man she should marry. She then pointed out that everyone at the reunion had a problem with Shake and that he lacked the self-awareness and remorse to confirm that he did something wrong. Fellow cast mates Natalie and Iyanna even shared that Shake's comments on the show were a watered down version of how he was actually speaking. Deepti stood her ground further and stated that a friend that cared about you would never do what Shake did. She also mentioned the sadness and disgust around the fact that her family welcomed Shake into their home and later had to watch his negative comments towards Deepti and their physical connection. In our interview she said that while her mom was strong, watching her dad get upset and sad was the hardest thing for her.
Personally, too, the words had affected her. Deepti shared that Shake's criticisms about her body would at times lead her to wonder why she wasn't worth it or why she wasn't enough. But thanks to the self-work Deepti had been doing prior to joining the show, she was able to remind herself that Shake's comments were likely projections. These were not an actual representation of her, because as Deepti shared (and all of us Brown Girl agree), she is a true badass.
After the "Love is Blind" reunion aired, Shake recently finally apologized to Deepti on his Instagram page for his comments and how he treated her, but it's hard to believe how genuine the apology is, given the backlash he received from his reunion appearance.
View this post on Instagram
Watching the reunion show, I thought back to one question from my interview with Deepti: if she had to do it all again, what would she do differently?
Deepti made it clear that she doesn't see the "Love is Blind" experience as a failure or mistake, but as an opportunity for growth. She shared that she often sees the good in people first, and that's where she saw the potential for Shake to improve and grow, despite the red flags that were apparent. Because of their strong emotional connection in the pods, Deepti mentioned she forgot how hard it is for a person to change and how long it can take. She also said she knew she was meant to go through this experience with Shake, but wished she would've been more open to other possibilities with different cast members with whome she could've moved forward. While Deepti heard all the right words that she wanted to hear from Shake, the actions never lined up.
And that's where we end, with the biggest question left to answer: will Deepti and Kyle become a thing? Fellow cast mate Kyle Abrahams, who originally proposed to Shaina, mentioned towards the end of the "Love is Blind" reunion that his biggest regret of the show was not fighting for Deepti harder and how much he loves her. He also makes the point of what an opportunity that Shake wasted. We all agree with that sentiment, but at the end of day, we're glad that the queen chose herself.