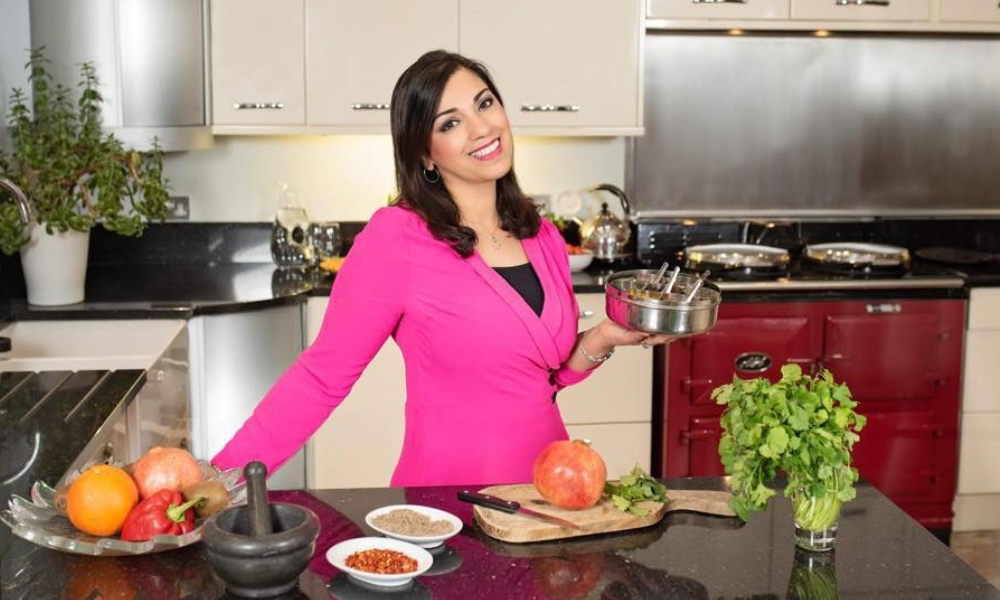 How many of you South Asian females, even on International Women's Day, when we celebrate gender equality, have heard the phrase that has been around for generations, and is almost a very coming of age saying for young girls?
You're ready for marriage when your rotis (chapattis) are round!
For second-generation immigrants, growing up either side of the Atlantic paired with a fast-paced way of life, staying connected to our heritage and balancing a fusion of cultures is something we probably put to the back burner. However, Parveen Ashraf is changing this with her TV show "Parveen's Indian Kitchen," which airs on U.K.'s ITV on Sunday mornings. 
View this post on Instagram
Along with well-known, deliciously easy recipes, Ashraf takes us on a journey around India to get a feel for regional dishes and traditional methods of cooking. Not only does this give people an authentic insight, but it also injects a sense of nostalgia for South Asians who are all too familiar with this cuisine.
For Ashraf, her relationship with food started at a very young age.
My relationship with food began in my childhood. I am a child from a very large family and meal times were the only real chance we got to sit down after a busy day and connect with one another. There were 7 of us, including mum and dad, we were like the Asian Walton's! I now realise that my mother was an extremely passionate cook and everything she made just tasted amazing – even if it was simple roti and daal!
Despite hearing complaints about the mounting housework, the one thing Ashraf remembers is her mother never complaining about cooking.
She never complained about cooking for nine people! In hindsight, I realise that it was her passion. So to mum, it wasn't a chore, it was a pleasure and she always cooked with love. I have inherited mum's passion for cooking, plus I always add that one essential key, ingredient -love.
Her fondness for food is evident to see and for Ashraf, the series is important to her for a number of reasons, not least because it's a dream realised.
In the series, I have kept it as real as I possibly could. Obviously there are some constraints like not using my hand on an open flame to cook a roti (which is what I do in real life) but I didn't want the viewers to burn their hands.This is the first time many people have seen me on national TV so, I wanted to represent all that I am – an amalgamation of my vibrant Asian culture, my northern roots and my very British upbringing.
Ashraf is also aware of the wider community and diaspora that will no doubt connect with her.
I am also very aware that I am representing women of colour and I am very proud to do that. To the Asian community, the things I talk about in the series are common knowledge. However to the wider community they are not. In the series, I talk about having a chapatti bin that holds 20kg of flour and having raw onions with meals. This gives the wider community a tiny peek into the life of an Asian housewife. I feel it is breaking down cultural barriers.
This is exactly what the diaspora needs right now — considering the tense and at times sensitive social and political climate we're living in. To be able to turn on the television to a positive, uplifting show is at the very base, a nice change.  
View this post on Instagram
Along with this, is the pace at which modern society is moving in. Everything is at the touch of our fingertips, which leaves us susceptible to gaps in our own identity — like learning how to cook those dishes we've grown up on. Ashraf has also noticed this and hopes to take back the reigns a little.
We live in a very fast paced society with fast lives and fast food. I feel we just need to slow it down a little. One way to do this is to cook food from scratch and eat as a family. In this modern world, many young people prefer convenience and fast food because they simply do not have the time – I want to try and change that.
It's already worked — at least in my household. I've already made some of her dishes with my own mother, who is often too busy to sit patiently through an entire show. But she did with "Parveen's Indian Kitchen." Perhaps it's relating to seeing someone like herself on television, as well as that passion for cooking. But the feeling of spending time and learning together is something I definitely don't do enough of and I can see why this is one of Ashraf's missions with this series.
I would love second and third generation British Asians to re-connect with food that our mothers and grandmothers made and that's what my show celebrates. As a British Asian, I grew up living in two cultures (as are my children) and I can see how they are becoming more and more British and I know that their children will eventually lose their heritage, such as language, dress etc. But hopefully, with the food from their culture, they may just stay connected to their roots.
The support of her family has been the most important, however, Ashraf has also gained the love and adoration of the public. She's appreciative that people are able to resonate with some aspect of her offering.
I feel touched by personal messages I have received and people have connected with me about their own personal journeys because it all relates to food and family. For example, one young lady told me how she has been inspired to cook again as she lost her mother at 19. I feel blessed and humbled and truly privileged to be in this position.
Ultimately, I think Ashraf will definitely achieve what she's set out to do. There may be a lot of distractions around us, but this show has gone beyond the basic expectation to showcase a love for cooking. It's demystifying the art of Indian cooking and showing South Asian women in a positive light. It's also incredibly educational for audiences outside of the South Asian community, which can sometimes get forgotten in the midst of wanting to represent our own diaspora.
In celebrating the food she grew up with, as well as some insight into regional dishes, geographical and cultural knowledge about the origins of Indian food, Ashraf is building bridges. She says, 
I get to do two things I love, talking and cooking!
"Parveen's Indian Kitchen" airs on ITV on Sunday's at 9:30 am GMT.