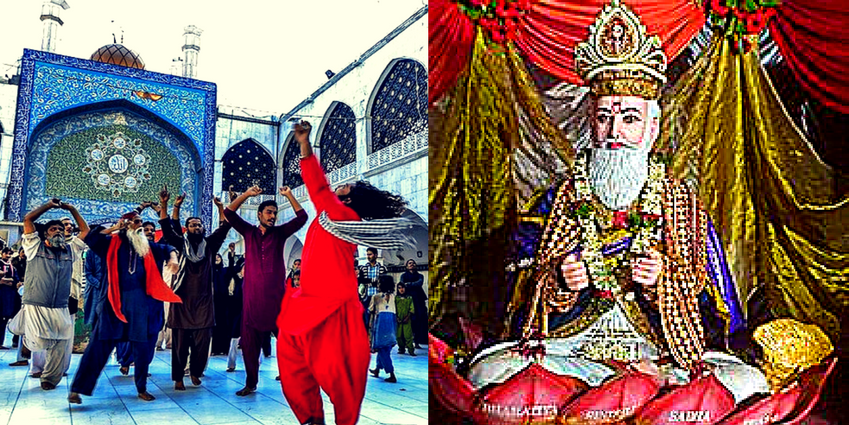 Born Syed Muhammad Usman Marwandi, Lal Shahbaz Qalandar earned his name from public reverence for his trademark dressing of red attire (lal) and his nobility as a philosopher and poet (shahbaz is a term used to refer to a noble spirit). He is known as one of the most prominent Sufi saints—a contemporary of Rumi—and his celebrated life is memorialized within volumes of prose and poetry penned over centuries.
He lived in Sehwan Sharif, which is in present-day Pakistan (Sindh) and where, according to longstanding South Asian oral traditions, he arrived seeking refuge as a young man. Shahbaz also serves as an incandescent symbol of religious intersectionality in South Asia, with Hindus of pre-partition Sindh worshipping him as an incarnation of their patron deity and adoringly invoking him with the name Jhulelal.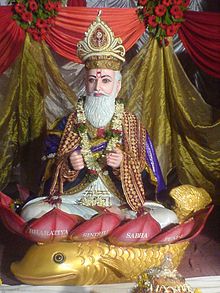 [Hindu depiction of Lal Shahbaz Qalandar as the Sindhi deity of Jhulelal/Photo Source: Wikipedia]
In examining the wealth of written history about Lal Shahbaz Qalandar, three things become abundantly evident even after a precursory glance:
1. He was steadfast in his commitment to standing with the poor and with other marginalized communities.
2. While a Muslim, he united people of all ethnic and religious backgrounds through his teachings of inclusivity and acceptance.
3. He was fundamentally and very vocally opposed to the establishments of his time.
Since his death in the 13th century, the legacy of his life—rooted in love for all and complete devotion to God—has been kept alive at his burial site in Sehwan Sharif, known as the Shrine of Lal Shahbaz Qalandar. It is at this shrine that devotees continue to pray and light rows of glistening oil lamps each day in exaltation of the Sufi saint. Aside from the grand sight of history being actively preserved through worship, the shrine itself is a spectacle to behold. Built in 1356 and decorated with a mixture of fine kashi tiles, gold and dazzling mirror work, Shahbaz's grave sits in the center of the shrine beneath a silver canopy. In the evenings it is often found glistening with bright lights draped between its four minarets.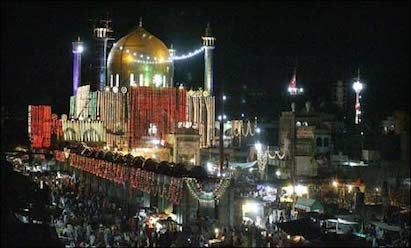 [The Shrine of Lal Shahbaz Qalandar at night./Photo Source: Pinterest]
 In addition to daily prayers, devotees, by the thousands, visit the shrine each Thursday for dhamaal—a Sufi ritual of dance during which men and women move to the sounds of commanding drums. It is a practice that represents physical devotion to God and contributes to the enchanting atmosphere of the Sehwan shrine.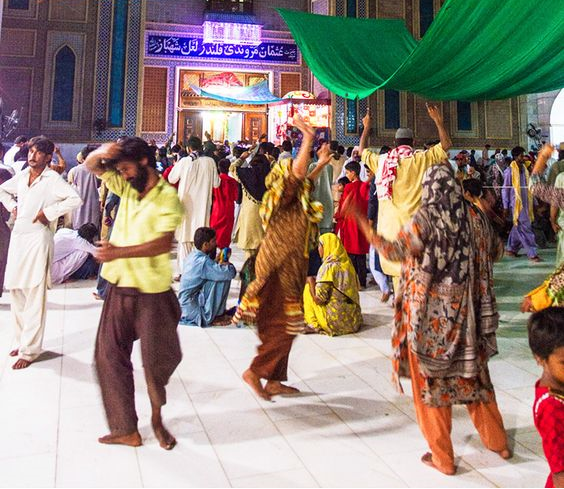 [Thursday dhamaal at the Shrine of Lal Shahbaz Qalandar../Photo Source: Pinterest]
It was on a Thursday like the one described that a suicide bomber attacked the Shrine of Lal Shahbaz Qalandar, killing 75 people in the process. This attack, claimed by a faction of ISIS, was a clear assault on the ideals he represented—ideals which threaten the severe, puritan perversions of Islam that the terror organization seeks to normalize. Furthermore, this was an attack on the centuries-old manifestations of worship through song, dance and poetry, that contributed in great part to the spread of Islam throughout South Asia and continues to inform much of Pakistan's cultural traditions.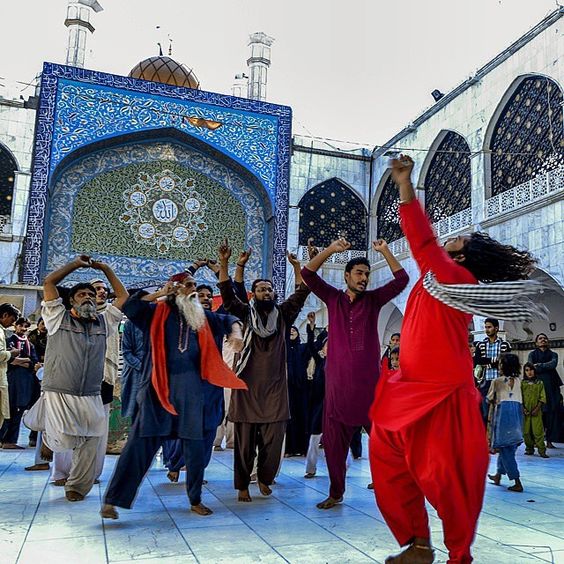 [Thursday dhamaal at the Shrine of Lal Shahbaz Qalandar/Photo Source: Pinterest]
However, ISIS is not the only perpetrator of puritan aggression to impact Pakistan in recent news. The month began with an order issued by the Islamabad High Court prohibiting any Valentine's Day motivated advertising or marketing, as well as any celebrations in public or government spaces. The reason? Because of the holiday's supposed contravention to Sunni Islamic teachings. As a matter of initial import, it is already exceedingly problematic for the court to impose Sunni religious interpretations upon a population that is Islamically diverse. Sunni supremacy has regularly inhibited the religious expression of Muslim minorities throughout the country, thus leaving Shi'as, Ahmadis and Ismailis (among others), in social dispositions of severe vulnerability.
As an additional matter, it is incredulous that believers of the sunnah, narratives of Prophet Muhammad's (pbuh) life, would rule that a holiday devoted to romantic love conflicts with Islamic teachings, as the sunnah contains numerous stories of the Prophet's (pbuh) open and notorious expressions of romantic love. These narrations are often glossed over by religious scholars aiming to minimize their significance, thus leaving accounts of how the Prophet (pbuh) grieved for nearly a decade after his wife Khadijah passed away, or of how he would deliberately drink from the same part of the vessel that Ayesha's lips touched, or of how he died in Ayesha's bosom, vastly under-studied and under-valued. These are all part of the sunnah from which Sunnis derive their name, yet they are wholly dismissed (often with historically baseless claims of questionable authenticity) by institutions which wish to combat expressive love in its countless forms—whether that means a Valentine's Day teddy bear sold at a small stand in Islamabad for ten rupees or the act of ecstatic dhamaal at the Shrine of Lal Shahbaz Qalandar.
The High Court order and the attack on Lal Shahbaz Qalandar, though two completely different manifestations of violence, are both violent nonetheless. They are both attacks on the expressions of love that are so deeply rooted in Pakistani materializations of performative culture and religion.
* * *
In a popular South Asian legend, recently re-introduced on a larger scale in Al Jazeera opinion coverage of the attack on the Shrine of Lal Shahbaz Qalandar, Shahbaz is remembered seeking refuge in Sehwan and being greeted with stinging rejection. The high ranking fakirs, in response to learning of Shahbaz's arrival to the city, sent him a pot of milk, filled to its capacity such that droplets dripped down the sides in overflow. Along with this oozing pot, a message was sent which said that, just as the pot was filled, so was Sehwan, thus leaving no room for Shahbaz to remain and live there. In response, Shahbaz sent the pot back with a flower floating on top of the milk to suggest that there was, in fact, room for him in the city, along with a message reading that he would remain among them floating just as the flower floats atop the milk.
It is in this very way that the spirit of Pakistan remains afloat despite the institutional and political directives that seek to expel certain beloved ideological camps. The next day following the attack on the Shrine of Lal Shahbaz Qalandar, dhamaal resumed in all of its glory of drums and dancing and worship, after the shrine's caretaker vowed that morning to be undeterred in the face of terror. Just as the flower once continued to float atop the pot of milk, and just as Lal Shahbaz Qalandar remained committed to supporting marginalized communities and opposing injustice, Pakistanis remain steadfast in their commitment to upholding their traditions of affectionate expression and pluralism. And much like the red robed and adored Sufi saint, their resistance is nothing short of magical.