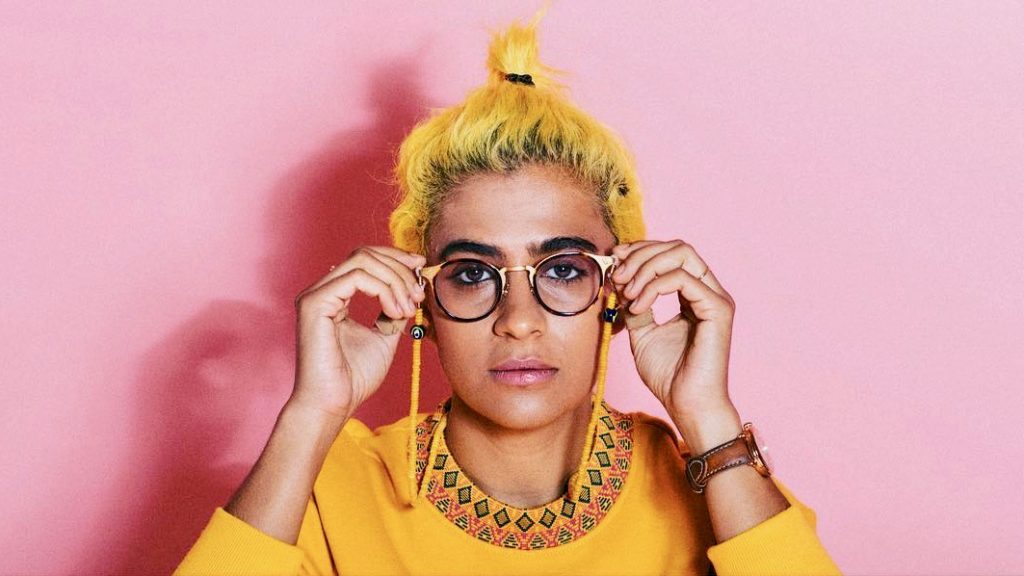 Kiran Gandhi, better known as Madame Gandhi is enveloping us in her new "Visions" energy. Full of kindness, emotional intelligence and representation, Kiran is redefining how we view power and what it means to manifest it. Having just returned from India, shooting with an ALL female Indian team for her song "Waiting for Me," we sat down to talk about where the Madame gets her motivation, and what's next musically…and you can come to kick it with us at her show on Tuesday, March 10th, at Elsewhere in Brooklyn! Get tickets here!
View this post on Instagram
Visiting India, everybody is referred to as "Madame" little (choti) madame, elder (badi) madame, baby madame, though its roots are in a problematic classist, colonialist structure, musically and sonically I like the way "Madame Gandhi" sounds together percussively. It references my Indian roots and creates space for a feminine style of leadership which traditionally was exclusive to the home but, I wanted to explore leadership outside of that. So often we teach women and girls to masculinize in powerful roles or the workplace but leading in the femme is powerful and rare.

In India pronouncing 'Gandhi' is easy but in the states the countless number of times people butcher my name professionally is frustrating. 
From Bombay to NYC, you split your time between the states and India, what impact did that have on your views on culture and social mobility?
It taught me how to recognize my privilege in the world and how to be a responsible and empathetic person. Seeing kids in the street in Mumbai growing up, seeing poverty in downtown L.A. in skid row, it's always been important to me to understand what privilege means, acknowledge it and use it for good, in both music and my day to day life. Each month we  take sanitary products down to the skid row because giving back matters and access to healthcare resources should be a global right. 
From the album "Visions," Gandhi has a track called "Young Indian" that explores being raised in a cultural melting pot, and criticizes elitist education, breaking down the work of self-improvement. Here's a little snippet.
Went to school to see what they are really teaching kids. Seems like making money is the only thing there is. Not to say that being in class is not a privilege. But I would rather take that knowledge and be changing things. Patriarchy kept stopping me so I drew a map. Ways to navigate the boy's club, the bros and the frats. Ways to ease my mind so I stay fine cuz I can't deal with that. And if this degree's in misogyny, well you can have it back.         
How did an internal Interscope Records meeting result in the opportunity to drum for M.I.A on her "Matangi" tour?
It was my second year as a digital analyst at Interscope records and in a product planning meeting I pitched a brown female drummer, and her manager gave me a chance to submit it, the rest is history. After I got into Harvard Business School, I ended up going on tour. 
What was the biggest or least expected take away from your time at Harvard Business School?
The heightened commitment to emotional intelligence that is embedded into the curriculum, they want you to be your best self holistically, we would have to practice having real-world tough conversations, talking about fears and goals, asking for feedback, giving it, being constructive in real-time. Being empowered with those communication tools has served me personally and professionally. 
A woman running while bleeding should not be a topic of conversation, seeing a woman bleed should no longer have the same shock value. Have you seen a shift in the stigma associated with women's menstruation since you ran the London Marathon free bleeding?
Yes, since the marathon went viral and Rupi's story bleeding on Instagram, Google saw a spike in the words "period and menstruation" searches exponentially increasing. Even if it was how people looked at their own bodies, it's been beautiful to see them interact with themselves in an educated way.

We have seen an increase in companies providing great products for those of us who bleed. We're moving away from candy wrapper concealing packaging, and owning our healthcare products.

Some companies are committing to safer materials and being more honest. Apps, tracking our cycles, the innovation has been incredible. I love being able to understand my body, my emotions and what affects me with the help of those tools, I'm more in touch with myself. 
How did your internal network of family and friends react to the marathon?
They loved it, ironically my Irish grandmother was the one who was done with the discussion fairly quickly, stereotypically people assume it would be my Indian relatives.
"Top Knot Turn Up" is one of me and Hitha Palepu's favorite songs of all time.  Where were you in life when you wrote it?
I love that she loves this, it makes me so happy every time she tags me. I was in the desert and channelling my fearlessness and freedom, my power has never been this 'boss bitch' vibe, but for me, I would prefer that somebody sees that I enjoy leading from empathy, kindness, awareness and emotional intelligence. The ability to positively reinforce. I am not aspiring to be this femme fatale, but I lead from love, perhaps it's my 'Madame' archetype. That is the 'Top Knot Turn Up' energy. 
Often times womxn are booked, hired, promoted based on tokenism or specific parts of their identity, i.e. being queer or South-Asian, how does that make you feel and what can we all do to do pivot towards true equality and representation? Is it all about focusing on the merit?
Intentional affirmative action efforts make a difference and are important but with anything it needs to be genuine, we can't do it to checkboxes. Most industry structures have been designed by men for men, for ages that's how things used to be, if we think a doctor or drummer looks like X, we won't be able to judge them effectively until we change that. 

When I was at Harvard, I felt imposter syndrome, I wondered if I earned my spot or If I  was a diversity candidate, even though my GMAT scores were 97% and I earned the right to be there. There's a huge part of me that believes the best and most effective future will come from us being in the positions that we are not represented in, and making us feel safe enough to stay in them and be retained and nurtured. Folks should realize how lucky and what an asset someone who is of color, queer, trans, etc are, their contributions are incredible and worthy of having beyond a diversity check.

         
View this post on Instagram
What's next for Madame Gandhi's music?
'Visions' has a song called 'Young Indian' on it, it includes my criticisms of elite education. It also has a song called 'See me Through,' which is this queer R&B love song directed by and featuring my friends because if we don't tell our stories, somebody else will tell them for us and they won't be right. 
For the young folx making covers of your songs, where can they send their audition tapes?
Direct message me on Instagram. I consider myself pretty active and would love to see it.  I've learned so much especially during the CAA, from my followers and community and I want to stay engaged, informed and educated. Hit me up! 
"Visions" is an introspective lens on the layers of Gandhi. The different intersectionality of purpose, presentation, and emotions. Its spoken word and diverse percussive nature are almost as though all the thought processes we go through as humans are being shared out loud. My #2020 vision isn't crystal clear yet but, with this album as my soundtrack, and a little love from Gandhi and Resistance Revival Chorus on March 10th, all of us will be feeling the Madame Energy.