by Fatima Ahmed
When I was growing up in Pakistan in the '90s, Pakistani cinema, or Lollywood (Lahore + Hollywood), was almost non-existent. We had only five actors and five actresses playing out clichéd storylines with subpar performances and low production values. Other than the odd Hollywood blockbuster that came to town, Pakistani theaters were not doing a lot of business.
Bollywood movies, the main source of cinematic entertainment in Pakistan, were banned by the Pakistani government. Legally, you could not watch them in theaters, but we all watched them anyway in the privacy of our own homes.
However, in the following decades, Pakistan developed a booming soap opera (or as we call them, "dramas") industry. Pakistani dramas are complex, interesting, realistic and gritty. They tackled class struggles, poverty, gender inequality, familial relationships, motherhood, fatherhood, religious soul searching and more. Pakistani dramas are in a league all on their own. They prove that there is a market for Pakistani entertainment in Pakistan, despite tough competition from Bollywood. Pakistani dramas gave birth to a new generation of creative actors, writers and directors. And so, began the revival of the Pakistani film industry.
Even though the industry is still in its initial stages of rebirth, Anjum Shahzad's "Mah-e-Mir" showcases the amazing talent and potential that Pakistani creators and artists truly possess. I had the chance to attend the sixth annual Vancouver International South Asian Film Festival where the movie was played for a largely Pakistani-Canadian audience. The film depicts a contemporary Urdu poet, an 18th-century Mughal poet, the struggling literary community of Pakistan,and a debate on classicism vs. modernism. Jamal is a witty, creative, cynical poet who is fighting the shallow media "circus" modern Urdu poetry (a.k.a
Jamal is a witty, creative, cynical poet who is fighting the shallow media "circus" modern Urdu poetry (a.k.a shayeri) has become. He also denounces classic Urdu poets, namely Mir Taqi Mir, for being outdated and irrelevant. Through the film, he goes on a journey where he realizes the true meaning of being a poet and learns to respect the poets that came before him.
Anjum Shahzad's portrayal of Pakistan in "Mah-e-Mir" is breathtaking. On par with any big budget Bollywood movie, Shahzad has created a rich visual tapestry with patches of a vibrant city, dirty old buildings, a kaleidoscope of flowing colors and gritty streets. The imagery is superb, as it is edited together like a visual poem. The artsy coffeehouses, indie bookstores and bustling streets of Pakistan create a setting one would imagine could only exist in Paris.
The dialogue is so quick and witty that I can't help but equate it with the most intense rap battles. The slight of the tongue is remarkable. Despite certain pacing issues in the film, I couldn't help but marvel at its uniqueness.
Even now, I fail to think of a Bollywood parallel. And that is because there isn't one. "Mah-e-Mir" does not borrow from Bollywood too much. There are no filmy songs, no overly dramatic storylines and the movie is completely in Urdu – so much so that even I found myself reading the captions half the time. On top of that, the movie tackles a subject that Bollywood would not be able to effectively execute. Urdu poetry is close to the hearts of all Pakistanis.
In a theater that almost only contained Pakistanis, I witnessed the audience generously give out their loud and audible "wah wahs." And that only means one thing: applause at the artistry.
---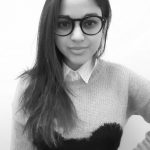 Fatima Ahmed is a 1.5 generation Pakistani working on her degree in English Literature in Vancouver, Canada. She has an interest in human rights activism, social justice affairs, literature and art as well as excessive chai drinking. You can find her on twitter @FattyA123 or read more of her articles at schemamag.com.