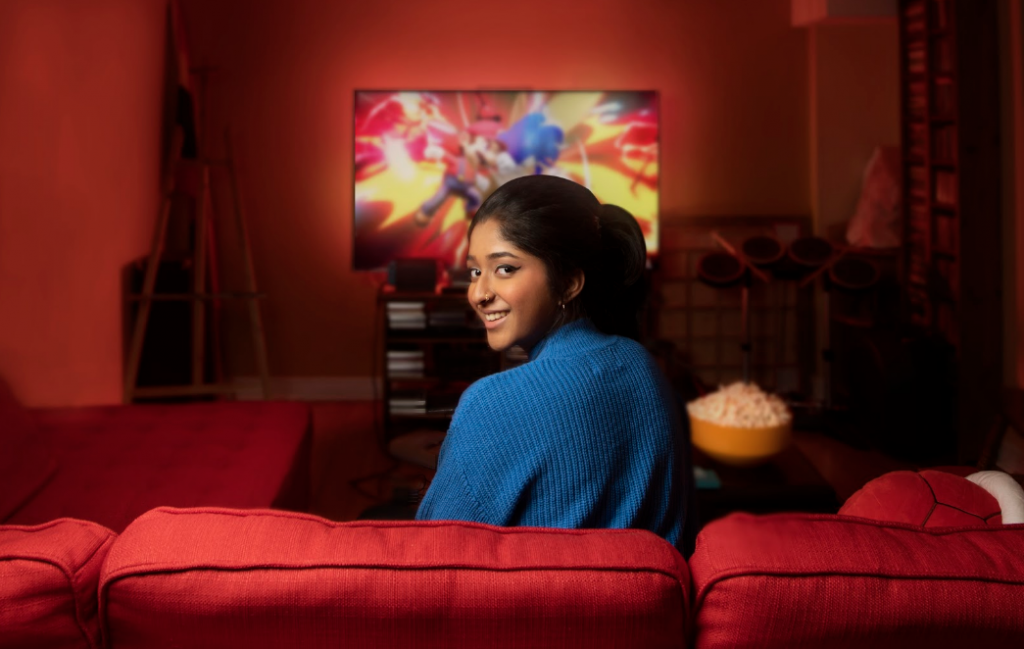 Mindy Kaling has made monumental strides for South Asians worldwide. From her work on "The Office," "The Mindy Project," and her new adaptation of "Four Weddings and a Funeral," she's been pumping out hilarious, heartwarming content for nearly two decades. And as someone who refers to Kaling as her "mom-in-spirit" for being as incredible and inspirational as her actual mom, you can imagine my excitement when Netflix announced her new coming-of-age, comedy series, "Never Have I Ever," starring Maitreyi Ramakrishnan.
Maitreyi (pronounced my-trey-ee) is set to play Devi, an overachieving high school Indian American sophomore with a short fuse that often gets her into difficult situations. It will be the young actress' Hollywood debut.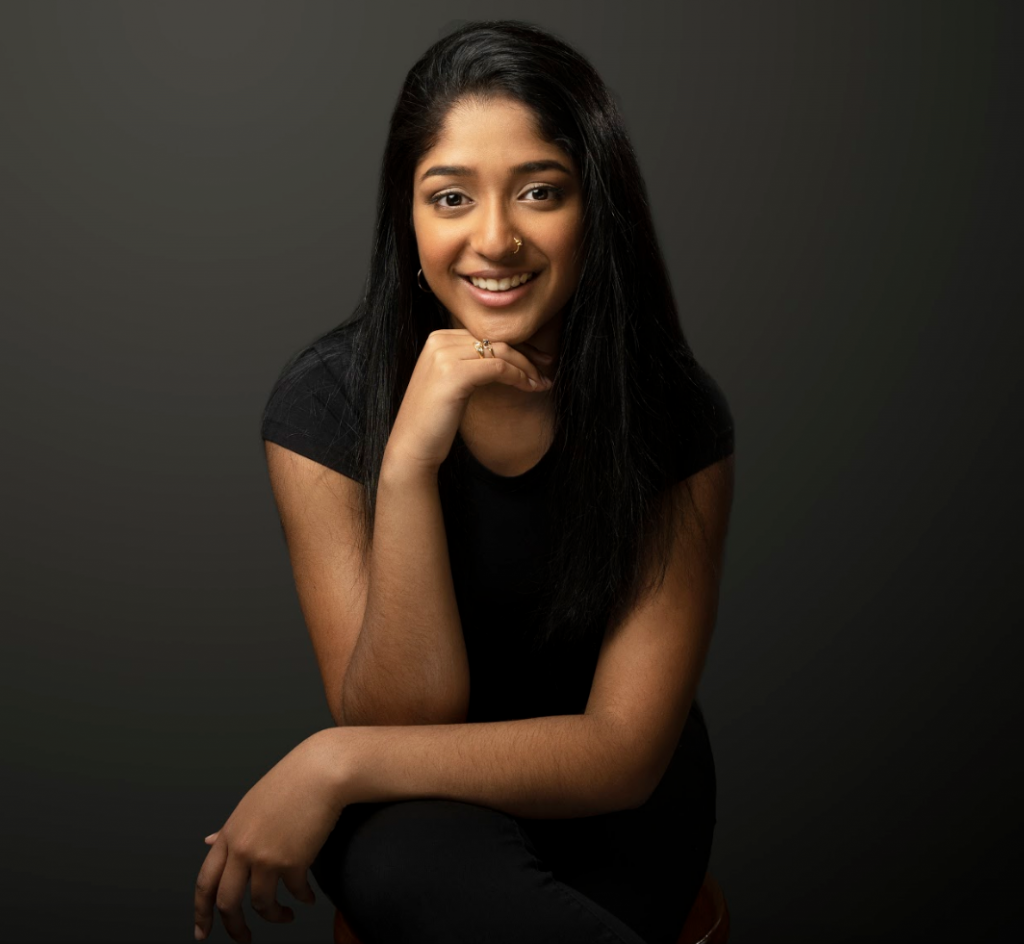 I had the opportunity to sit down with the lovely Maitreyi to plan my "Office"-themed Sweet Sixteen party (spoiler alert: it's going to be inspired by the Dundies) and discuss everything from getting into acting, identity, politics, and the Toronto Raptors.
What sparked your interest in acting and made you realize it was what you wanted to do?
So, in high school, starting from grade ten my drama teacher got me into acting after school: In our after school plays, our after school musicals and at first I just did it as something like for fun and then I realized it was something that I could dedicate myself to for the rest of my life and I would be really happy with it.
What was the audition process like?
First I had to send in a self-tape from the Instagram post, then I sent in another tape when they called me back to send in some more footage of myself, then I went to LA, two times to do some screen-testing and the whole process was so interesting to see how actors get roles and find themselves in the industry.
https://www.instagram.com/p/B1Hm2TRAxNu/
When you were cast, you were up against 15,000 other contenders, how did that feel?
Well, when I did like audition and go through that whole process, I don't think I realized how many people were auditioning. And then when I did find out that there were 15,000 other people, I don't think it really hit me because I didn't just come out of straight high school and I think, right now, even still, it hasn't hit me. The whole process of everything, getting the role even hasn't yet.
Going in to the world of professional acting, was it anything like what you'd imagined it would be like?
Honestly, it was everything I'd imagined and more. It's so crazy to be in the industry and see like the tricks behind the screen, and how movie magic is created and it's just so amazing how it's constantly evolving into something even greater.
How did it feel to meet Mindy Kaling for the first time?
It was amazing, 'cause she is one of my role models. I love her work on 'The Office,' it's my favourite TV show and she writes a lot of the episodes and some of like the most hilarious ones. So it was really surreal to see Kelly Kapoor in front of me and just like all of her talent.
So, it's safe to say that Maitreyi and I are now best friends (right, Maitreyi?) because that is what "The Office" does and that is what Mindy Kaling does.
https://www.instagram.com/p/B3lJrJahKLF/
If you could play any character from the past or present, who would it be?
There's so many characters I'd want to play, like Hermione Granger from Harry Potter, but I'd also want to be like, something like Wonder Woman, like a superhero, but also there's a part of me that would want to be a crazy villain, like Harley Quinn, just totally off the rails.
It's clear that South Asians need better and more proportionate representation in all genres. However, what genre would you like to see more South Asians on the forefront?
Well, like you said, all genres need to be covered because we are people and we deserve representation, we exist, but my favourite genre of like movies and like TV are thrillers, like a crazy thriller, totally like psychodramatic thriller with like a brown cast or just some prominent brown characters would be amazing.
Now that you've seen what the life of a professional actor looks like, do you foresee yourself continuing a career in acting or breaking into other parts of the media production industry?
Oh, 100 percent, like if I could continue acting, like continue doing this for the rest of my life, I would be one really happy girl.

I've always been interested in directing. I feel like later on in my career, I would definitely look into going into directing. It's something that I've always loved and have been curious about, but as of right now, we're sticking to acting.
I want to get into screenplay writing, so I'll write a pilot episode for a television series and you can direct it.
Yeah, let's do it.
You heard it hear first ladies in gentlemen!
I saw a post on your Instagram from the Student Walkout to protest cuts to our education on April 4th, as well as your stories about the importance of voting. Do you want to do more activism? Which issues are most important to you?
I do believe that it's everybody's civic duty to make sure that they are aware of what's going around in their government and to be politically aware about the changes that are happening and speak up and stand up for what they believe in.

I do really believe in public education and the right for education, that's something that's really important to me because without the arts and the arts program that I had at my high school, I definitely would not be where I am today.

Voting is really important because it's your voice, it's you being able to say what you want to see in the world. It's you being able to ask from your government what you want. Voting is that one teardrop that can start a whole storm.
Ladies and gentlemen, continue fighting against the education cuts in Ontario for the sake of your children and go out and vote for the sake of a prosperous future.
How significant are being Tamil and being Canadian to your identity? Have you ever questioned these aspects of your identity?
Well, it is my identity, it's who I am and I think identity is really important in this day and age when you need to make space and know who you are. And me identifying as Tamil-Canadian really resonates with me because I want people to know who I am and for other people to know and to feel seen and even if they're not Tamil or Canadian, themselves, they can feel that they can identify and be proud of who they are, just as I am about myself.

I feel like I've questioned my identity in the sense of wanting to know more about my culture, for example, but I've never really felt insecure, just because I've been so privileged to grow up in such a diverse environment, like you're from Scarborough, you know how people are just from all cultures and because of that I've never really been felt ashamed  of being Tamil or who I am.
https://www.instagram.com/p/B2aZ1JJA-UT/
One a scale of one to Ryan Reynolds, how Canadian are you?
I'm Ryan Reynolds to the exponent of Deadpool, that's me. I love being Canadian! I am so proud to be Canadian!
Being Canadian really is THE BEST!
Speaking of being Canadian, what is your go-to Tim Hortons order?
My go-to Tim Hortons order, the best thing, I posted this on my story a bit ago. It's a white chocolate hot chocolate and you put a chai tea bag inside and it's amazing. And it's like a London Fog, with a sort of like cinnamon-y taste.
What's your favourite thing to do in Toronto?
I really like Kensington Market.
Do you have a favourite sport to watch?
Basketball. Raptors bro, Raptors!
Bandwagon watcher or legit fan (asking as a legit fan, whose entire family obnoxiously hopped on the bandwagon)?
LEGIT FAN! When I was in grade five, I remember my grandma asking me what I wanted for my birthday and I asked her, can we go to Lids and buy a Raptors hat, but can we get my name engraved on the side.
https://www.instagram.com/p/B3kOo7Hpxji/
I guess we can go about respecting the bandwagon watchers because we're all here for the same team (even if you've been a fan for YEARS before the rest of your family).
It was an absolute pleasure being able to talk to Maitreyi Ramakrishnan. Let's meet up at Kensington Market for a day of Acai bowls (with lots of berries and coconut shavings) and churros (two with chocolate and one with dulce de leche because balance) to further plan my "Office"-themed sweet sixteen, which may very soon be "The Office" and "Never Have I Ever"-themed.
Maitreyi, I'm raising a glass of Timmy's white chocolate hot chocolate with a chai tea bag to you and your growing success.