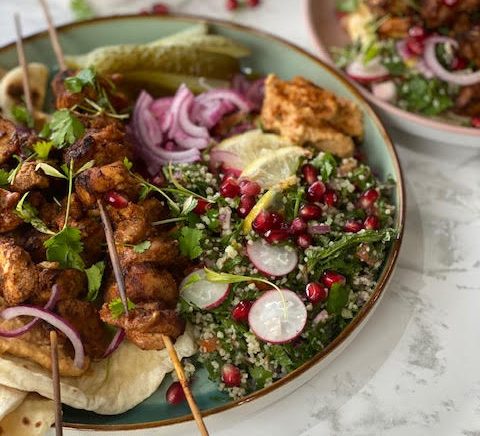 Make it for dad: chicken kebab flatbread! Here's a recipe that would be perfect for Father's Day weekend, kebabs wrapped in homemade flatbread with a fresh tabbouleh salad. No need to go out!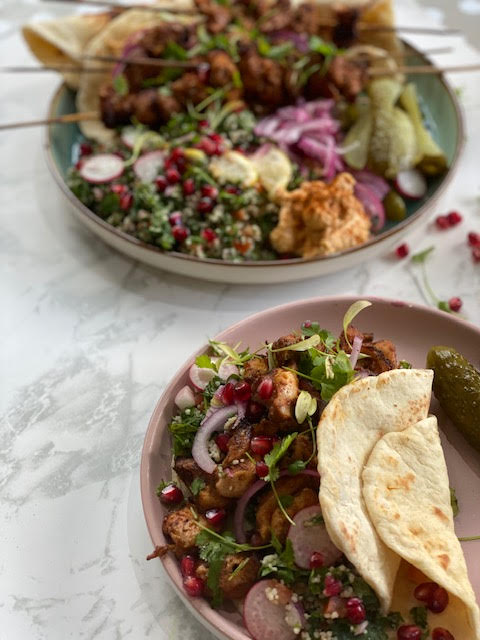 Don't mind me over here in the kitchen spending a few hours trying to perfect my ultimate rainbow-looking plate which to be fair will be demolished in seconds.  As I am learning to be kinder to myself, I am sure you can say with me, wow what a great looking plate and I hope your next action is to scroll for more. What is this plate? Whatever it is, I sure want to eat this right now!
I feel I have really pushed myself with this recipe and one I am really proud of too. Homemade flatbread – check, spicy chicken kebabs check and yes an amazing tabbouleh salad. If it's one thing you need to try this weekend, then it's this brilliant home fake way of a pretty Lebanese style of food. The one salad I feel that I ate with everything during summer is this one. It goes with mixed grill, meats, fish and tofu and paneer.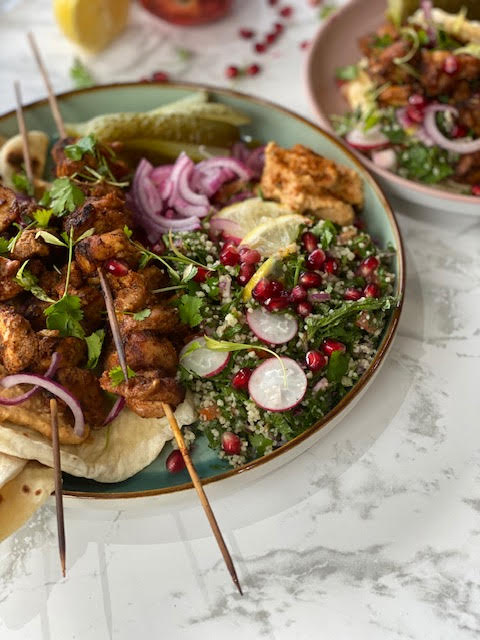 Homemade Flatbread
Ingredients:
500g/2 cups of self-raising flour
250g of natural yogurt/1 cup
some water
Method:
Mix the ingredients and kneed together until forms a dough. This makes 6-7 naan pieces.
Take some dough and roll out using a rolling pin. Dust with some flour to stop sticking and place on a heated flat pan, wok.
Turn 3-4 times so you see it rise and charred.
Spread some butter to keep soft.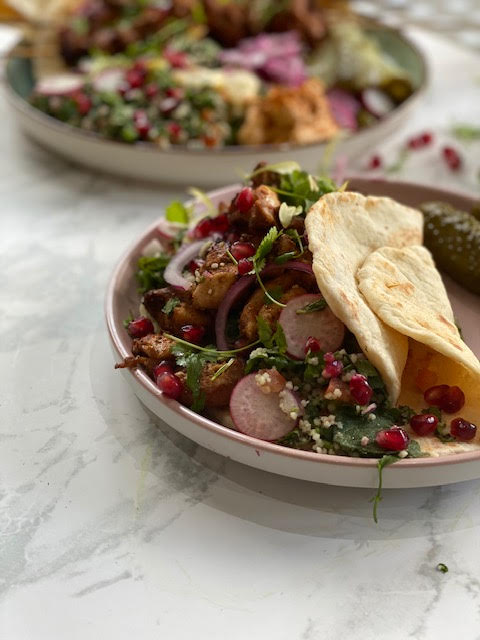 Tabouli Salad
Ingredients:
30 g of fresh parsley, finely chopped
30 g of fresh mint, finely chopped
1 onion (any type), finely chopped
1 tomato, finely chopped
1 cup of cooked fine couscous
1 juice of a lemon
2 tsp of olive oil
1 tsp of salt, pepper, sumac (optional)
Method:
Mix all ingredients together and serve.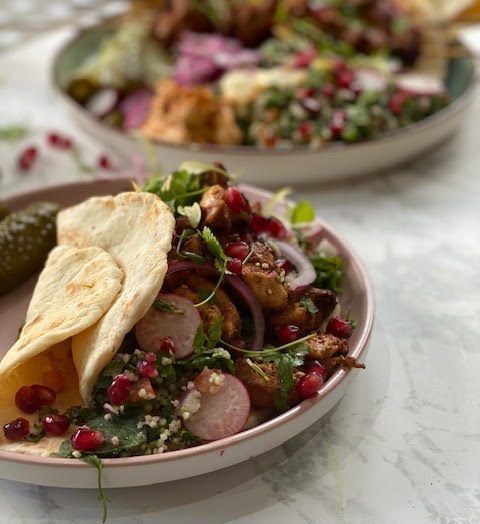 Chicken Kebab
Ingredients:
6 thigh pieces, evenly chopped
2 tbsp of natural yogurt
2 tsp of tomato or harissa paste
Spice mix, 1 tsp of: pul beiber, cumin powder, mint, garlic powder, harissa, paprika, cayenne pepper, black pepper, coriander powder, sumac
1 tsp of salt
Method:
Marinate the chicken with the above ingredients. ideally over night or long as possible!
Once marinated, add the chicken to pre soaked skewers and add them to the stick.
Grill for 5 minutes each side, keeping turning
Once cooked, squeeze some lemon and the remaining spice mix.
Serve these in a large platter or as loaded flatbreads and enjoy the taste of summer! The only question that I leave you with are you a plated kebab person or do you prefer a flatbread kebab?  Give it try and show me your recreations!