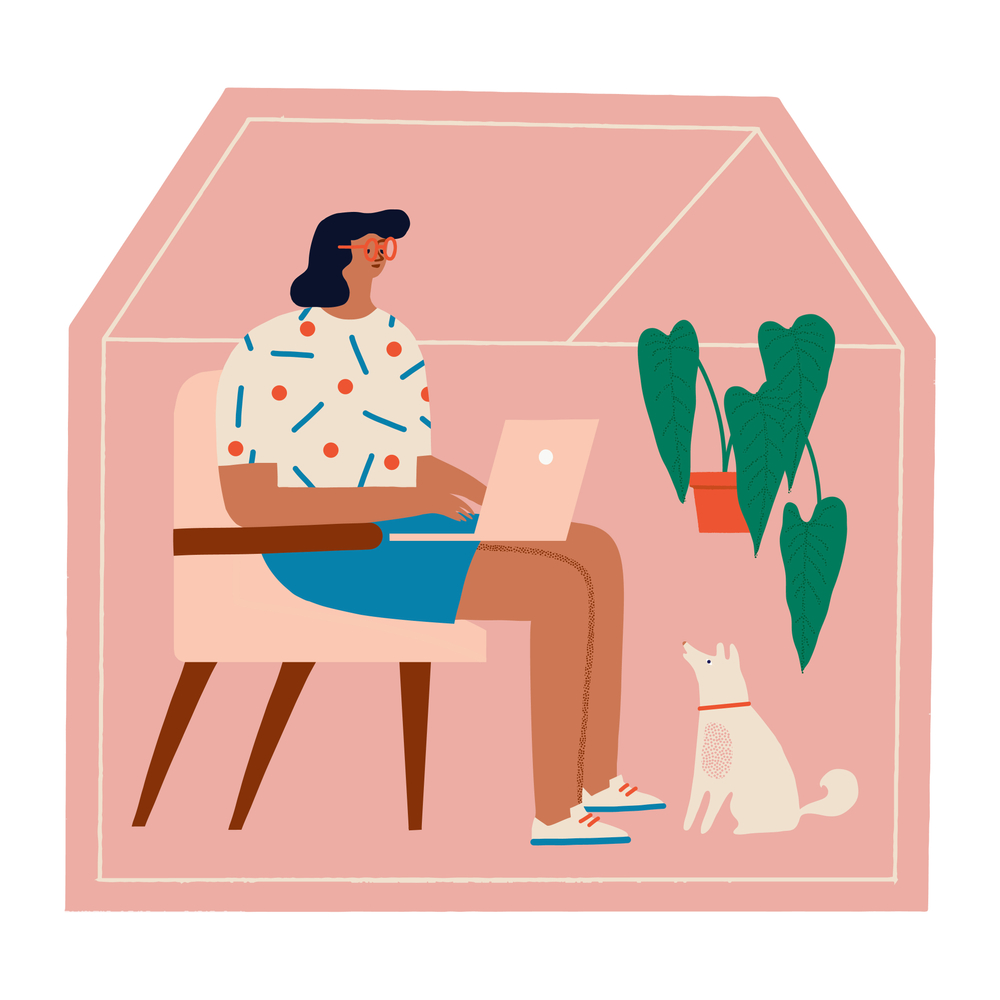 While COVID-19 has most of us in a chaotic state of mind and as feelings of anxiety increase, it's important to remember the positives among all of the negatives — even if we have to dig a little more to find them.
And yes, while the outbreak is causing much distress, the result of quarantining can bring the space and time we need to cope appropriately. 
Addressing our need to cope appropriately is important and while most of us are self-isolating or quarantining with family and friends it would be helpful for the entire unit to adjust fittingly. So, to spark your creativity, I've compiled a list of some stress-related activities to incorporate into your home if you're in quarantine or simply working from home with no desire to leave the house.
With the Family
Paint Night: Remember those paint dates we love to do with our best friends? They typically include bringing your own beverage or having a beverage at the venue. You can easily bring this fun activity to your home and include the older and younger generations for an entertaining night together. Simply find a paint-along video on YouTube, they are free and super easy. Then, ask each family member their favorite drink, maybe chocolate milk for the kids or a snack, and wallah paint night recreated!
Games: Let's pull the board games down from the attic and up from the basement. Board games are a great way to foster conversation and laughter for a small group. It takes little time and effort, and the majority of us have them already or can even make them up if we don't.
Spirit Week: While most children are out of school, they are also missing the events that tend to happen as the school year winds down. Recreating spirit week where family members dress up to a different theme every day is a great way to make new memories. Don't forget to take photos!
Meditation Group: Grab some blankets and some pillows to create a space in the living room to meditate. This is another great way to refocus, get our minds off what's going on around us – and to really get in the zone you can dim the lights, use candles, incense or a diffuser to bring a sweet and relaxing scent into your peaceful space. The Headspace app is now offering free meditation to all.
With Your Partner
Date Night: We are less likely to go to restaurants during this time, so why not recreate the experience at home. Cook a meal together, pour some wine and sit down with some background music. If you have children, set them up for a movie night in another room during dinner.
Massages: This is a great way to unwind and really become intimate with your loved one. Set the tone by playing spa music from YouTube or Spotify. Use your favorite scented lotion or oil, and maybe even give it your own flair by adding a few drops of essential oil to your mixture. For a final touch, light candles, increase or turn on a diffuser to make your partner feel like they have left the house and entered the spa. 
Breakfast in Bed: This is a fun idea that can make us feel like we're on a vacation. Assign each partner a morning to make the other breakfast in bed and enjoy it with some conversation (no COVID-19 talk allowed). 
Learn More About Each Other: I always recommend this test to individuals and couples alike. Made by Gary Chapman, the five love languages are Words of Affirmation, Gifts, Acts of Service, Quality Time, and Physical Touch. Take the Five Love Languages quiz with your partner, and after you receive your results, discuss them to learn how you can better communicate with one another.  It would be interesting to see how you both adjust while being in a quarantine post quiz.
The quarantine can be fun and exciting for the first few days. However, we can find ourselves becoming bored and lonely, so by using activities that we may not be used to in the home we can learn to adjust and hopefully not feel completely detached from the world.  
[Read Related: The Emotional First-Aid Kit: 6 Ways to Manage Anxiety During the Coronavirus Pandemic]
It is important to maintain mindfulness of our emotions and feelings during this time. Everything that we feel at this time, is warranted due to the hurried adjustment we were forced to make.  In addition, most therapists are providing telehealth services to continue to deliver the care people need.
Happy Quarantining!