by Sneha Goud – Follow @Sneha_Goud
by Abha Rai – Follow @Abharai
I've never been one to experiment with makeup. I have my favorite foundation, lipgloss, and mascara and rarely try anything new. But for my recent wedding, I knew it was time to venture into the makeup aisles and explore. I discovered several products perfect for my dark skin that I now incorporate into my daily routine.
Are you one of those ladies who's always on the lookout for the perfect makeup for brown skin? If so, you're in the right spot!
For brown girls on the hunt, and those intimidated by new products, here's a list of our new must-have makeup for brown skin.
[Photo source: Sephora]
Like many brown girls, my eyelids have been darker than the rest of my face basically since birth. This primer is perfect to make your lids the same color as your skin before applying any makeup.
[Photo source: Sephora]
I've always envied the beautiful eyebrows of many of the girls I see on Instagram but was intimidated by the work I assumed went into them. Anastasia's Brow Wiz has a pencil on one side and brush on the other—I can do my brows in less than five minutes!
[Photo source: Sephora]
Finding eyeshadow that shows up on my dark skin has always been a challenge. This eyeshadow palette has 12 shades that can help create a classic smoky eye and shimmery gold for different events.
[Photo source: Nordstrom]
My quest for the perfect red lipstick is finally over. MAC Liptensity Lipstick lasts all day and looks great matte or topped with clear gloss.
[Photo source: Nordstrom]
I usually use whatever random clear lip gloss I have sitting around, on my lips. But MAC's clear lipglass lasts longer than any drugstore brand without the stickiness.
[Photo source: Sephora]
I can never leave my house without mascara. I have tried so many of them since I love mascara so much. I love this particular one because it curls my lashes and makes them look so luscious and full.
[Photo source: Sephora]
Brown skin is prone to pigmentation and under eye circles. I know this because I have large circles under my eyes. I love this product because it works like magic on my skin and brightens my under eyes. I always use this with my concealer and color corrector.
[Photo source: Sephora]
I am all for highlighters and bronzers. The opal-gold one by Becca gives a soft golden glow to olive skin. I wear this during the day as well as the evenings—versatility at its best!
[Photo source: Sephora]
This highlighter is my absolute favorite! It gives such a beautiful golden glow to the cheeks. I also sometimes use it to highlight my eyes, and it has worked each time, beautifully.
[Photo source: Sephora]
I am all for the glitter especially now, since it is the holiday season. The gold shadow in combination with a powdery champagne/gold/bronze shadow looks gorgeous on brown skin, any day!
---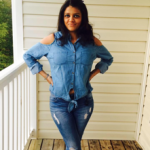 Abha Rai is a social worker and a doctoral student at the University of Georgia, Athens who works on domestic violence issues with South Asian immigrant women in the United States. She identifies herself as a women's rights activist and a feminist. She has been passionate about social work since high school. She loves to travel, try out new food and is a fitness freak. On a free day, she loves to sip coffee, write her heart out and go out for a nice long run.
---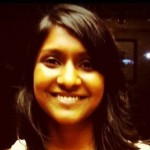 Sneha Goud recently graduated from NYU with an MA in public administration. Follow her on Twitter @sneha_goud for her thoughts on reality television, feminism, and all things South Asian.