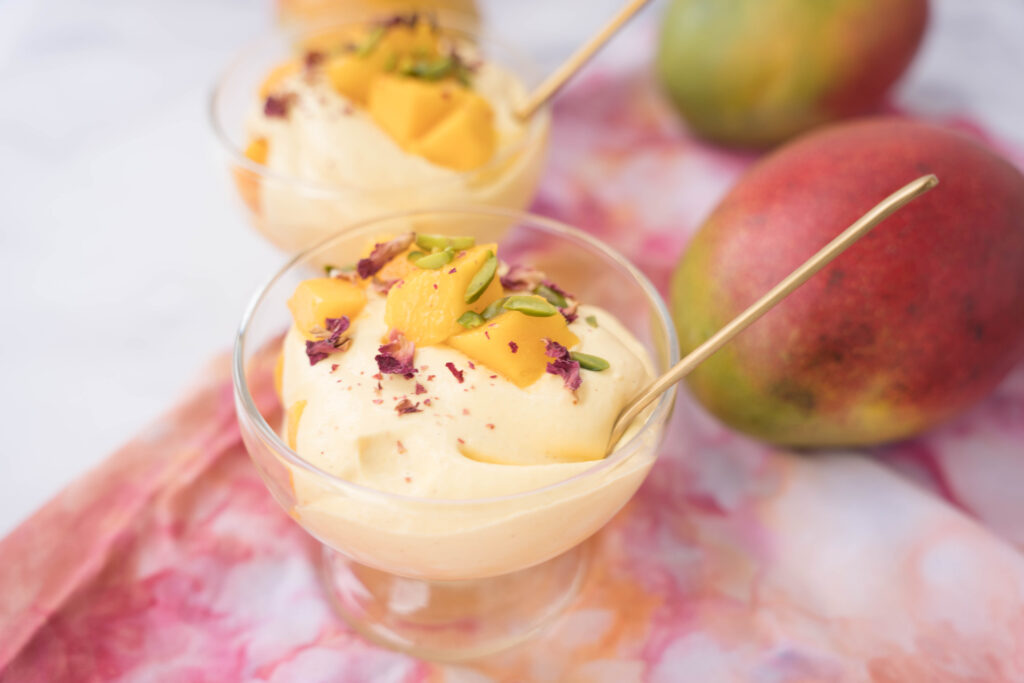 A light and airy dessert made with cream and mango purée and fresh mangoes.
Excited to be sharing mango mousse and three other Mother's Day desserts for Moms' special weekend.
Mango mousse is a vegetarian mousse that does not require eggs or gelatin. I find it best to serve after it's been chilled for at least 2 hours. To give it some depth and added flavor, I add in fresh fruit and roasted pistachios for a crunch just before serving. Some of my favorite fruits to add include pears, peaches, mango chunks, halved grapes and bananas. You could even top this with cardamom whipped cream for a trifle-type dessert. This recipe is flexible and really you can add any fruit you have on hand.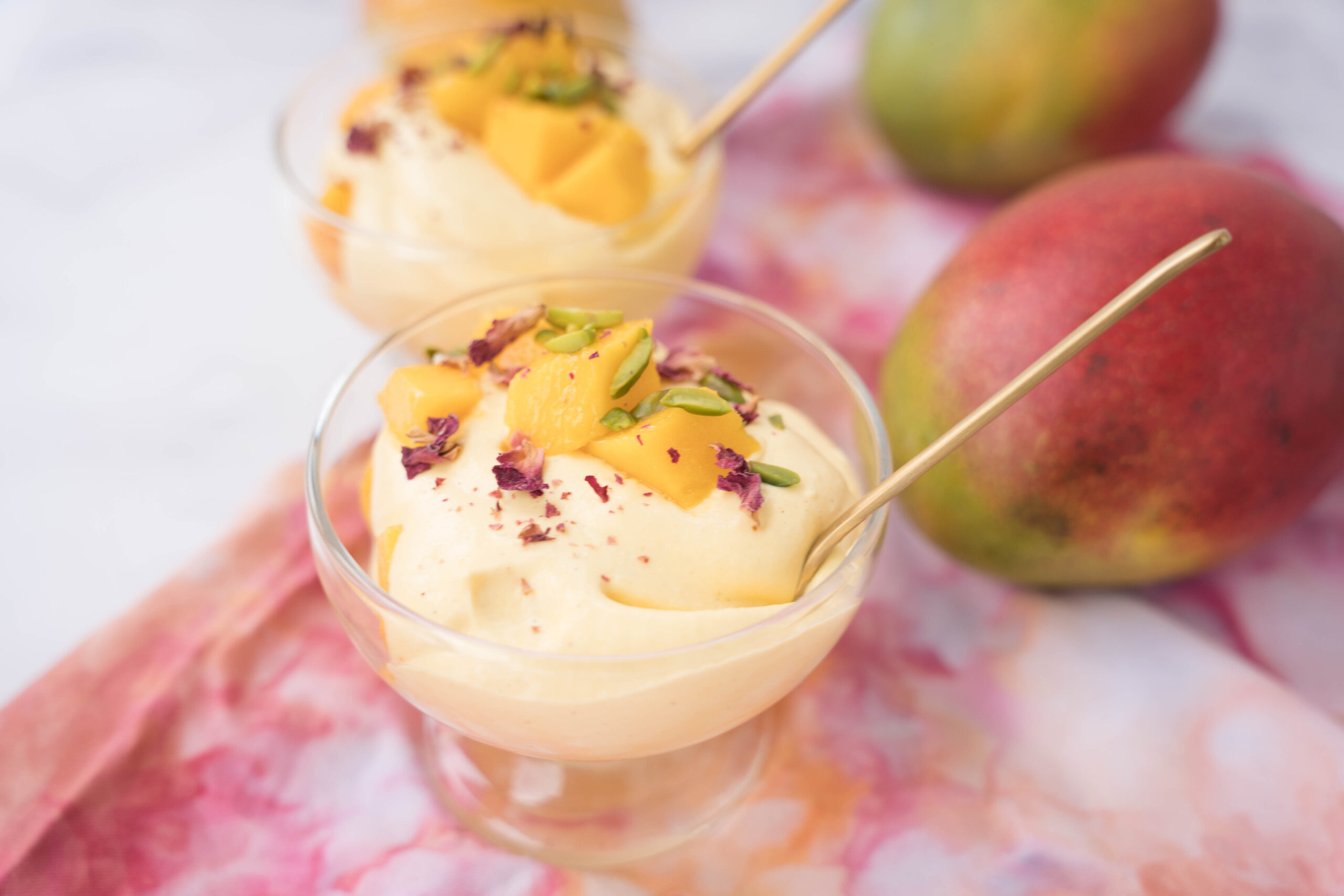 Kitty parties: they often get a bad rep, but I associate kitty parties with friendship, laughter and life long bonds. When I was little and my Dad was on an international assignment in Saudi, kitty parties are what helped my mom meet other expat women. They shared stories of home, exchanged recipes and found commonality in their differences.
After I got married and left home, many of my friends were doing the same. To keep themselves busy and in an effort to meet more, my mom friends formed a kitty. The aunties in this group have celebrated each other's joys, mourned with each other's personal losses and become like extended Nani's to my daughter.
When I learned this recipe from my Mom, I remember her telling me how this was her star kitty party dessert. For me this will always be, Kitty Party Mango Mousse.
Ingredients
2 cups heavy cream/full fat cream
1 cup mango purée, fresh or canned
1 teaspoon cardamom powder
2 tablespoons powdered sugar
1 cup chopped fruit, optional
Roasted pistachios, chopped, optional
Method
Place a metal mixing bowl and metal whisk into the freezer for 10 to 15 minutes.
Take out the bowl and whisk from the freezer. Place the sugar into the mixing bowl and add the whipping cream. Whisk just until the cream reaches stiff peaks.
Gently fold in mango purée, cardamom powder and fruits if you choose.
Cover and chill for a minimum of 2 hours
Garnish with roasted pistachios and serve.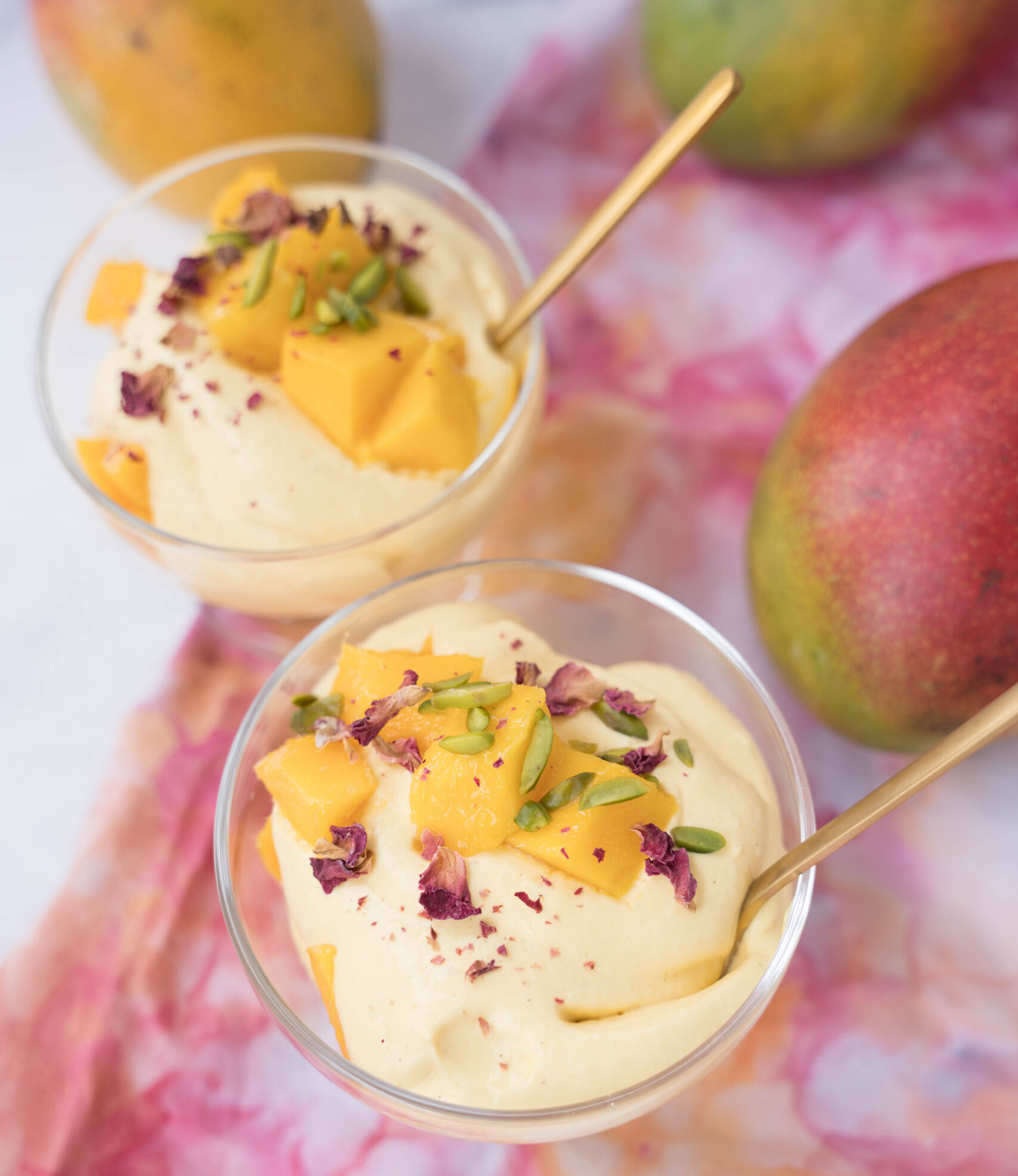 Here are three more Mother's Day Dessert recipes from some of our favorite creators!
Flaky and crispy eclairs piped with smooth, creamy ras malai filling. It's hard to say no to this beauty.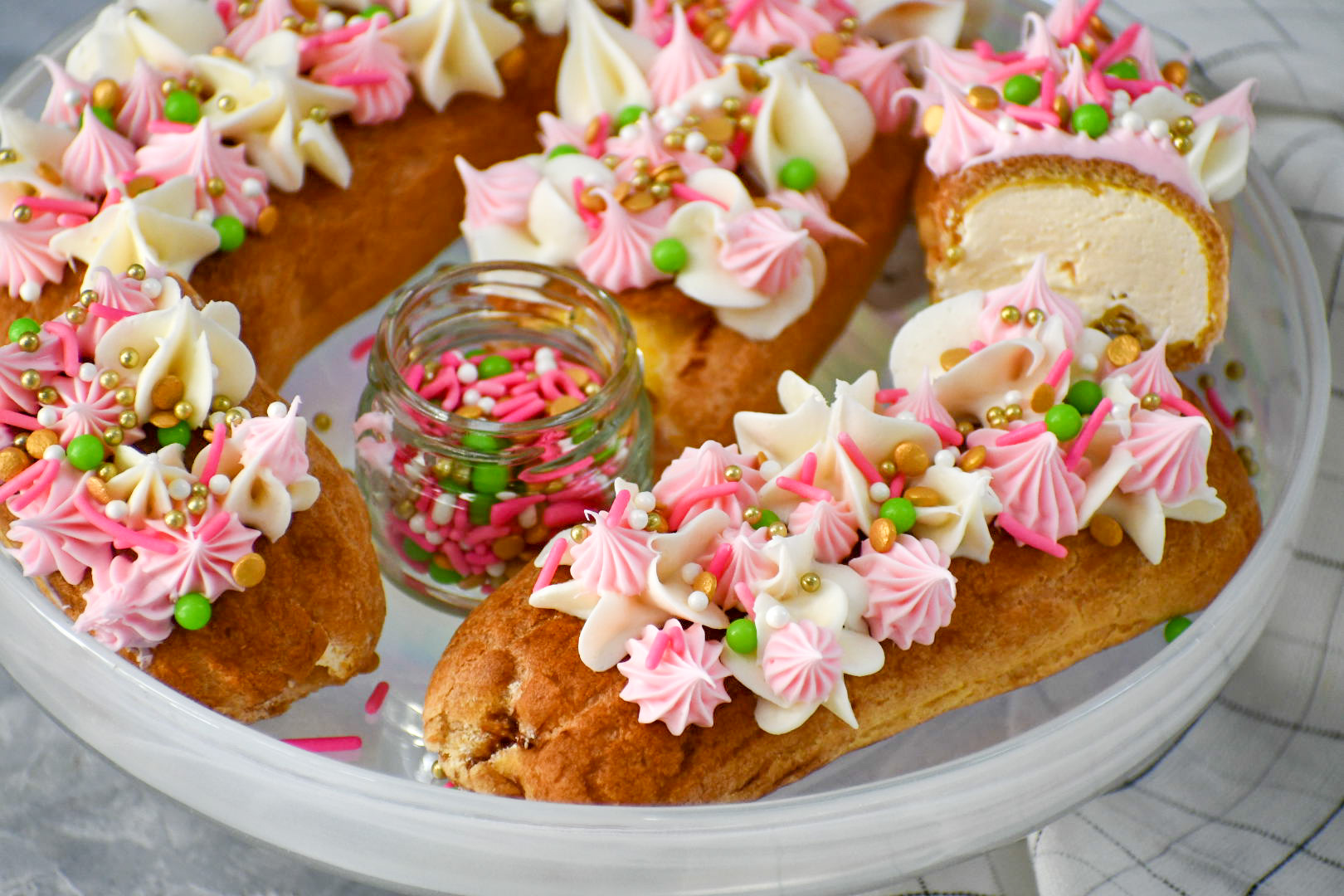 A simple Hazelnut and Cardamom Shortbread cookie, that's dipped in dark chocolate infused with rose water and decorated with edible dried rose petals and edible gold leaf for that slight touch of elegance.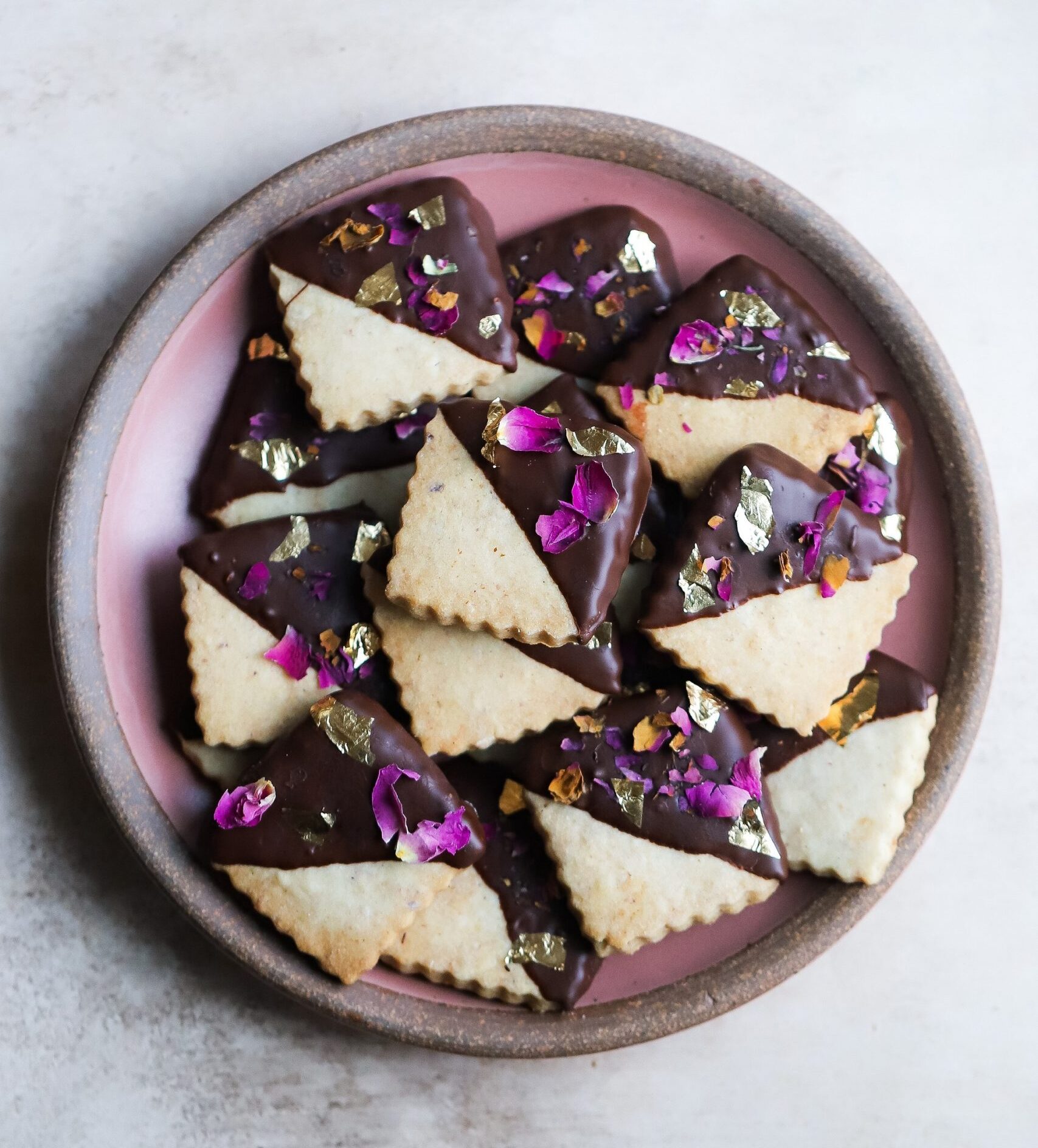 A simple loaf cake made with sweet blood orange juice. Enjoy it with coffee in the morning or as an evening dessert.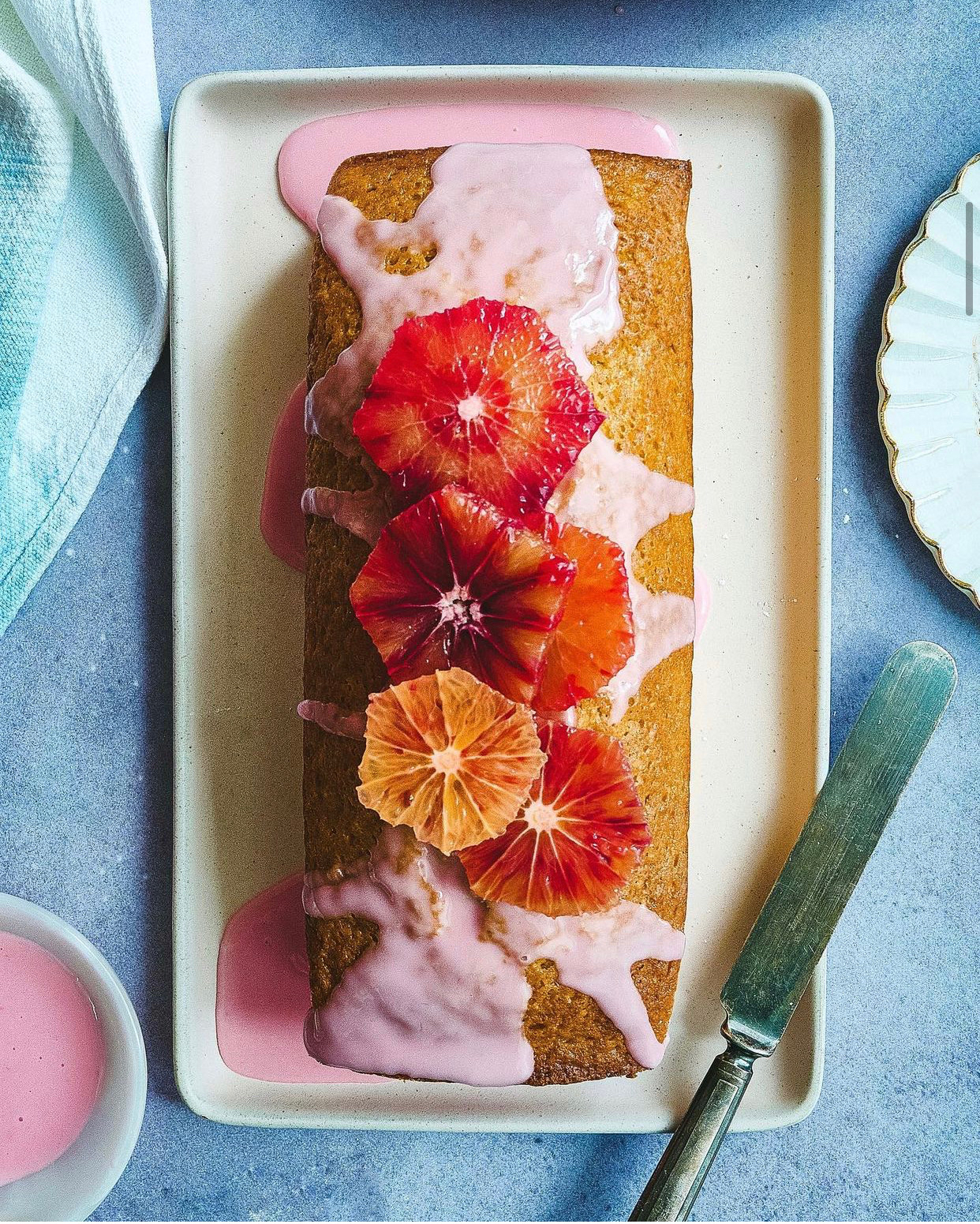 We hope you find a special way to celebrate MOM this weekend! Happy Mother's Day!
Mango Mousse was originally posted on Love Laugh Mirch and reposted here with permission.