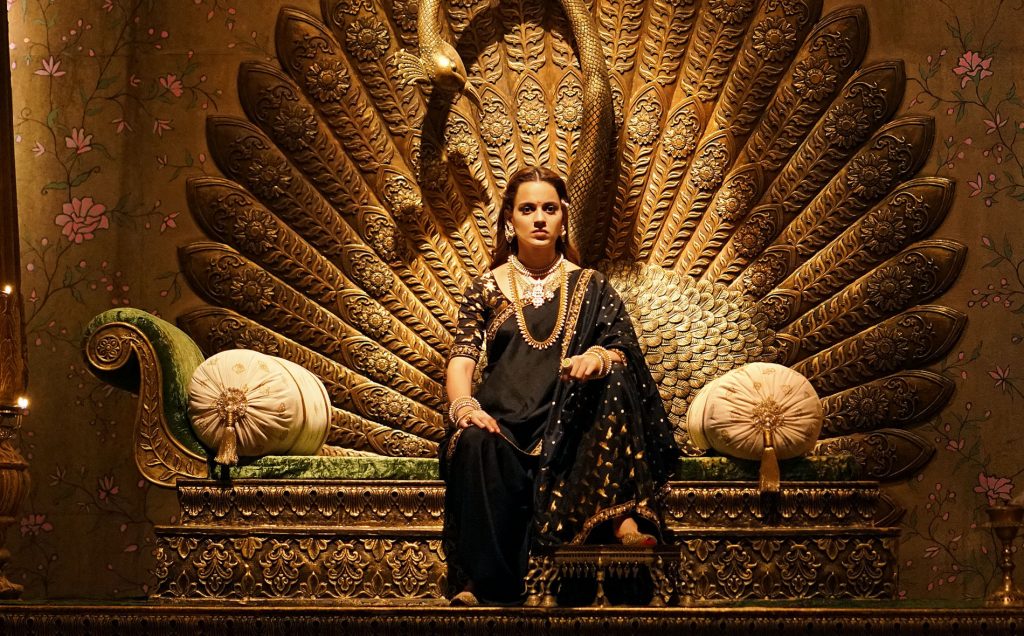 When you think of Hindi cinema's unofficial "Jhansi ki rani," Kangana Ranaut likely comes to mind. Often portrayed in the media as a frank, fearless actress who sparks larger conversation on issues ranging from slut-shaming to nepotism, casting Ranaut as "Manikarnika: The Queen of Jhansi" was a natural choice.
One of India's early freedom fighters, Rani Laxmibai's valor on the battlefield is the stuff of legend. Unlike previous films on icons of Indian independence like "Mangal Pandey: The Rising" and "The Legend of Bhagat Singh," which made serious attempts at historical accuracy, "Manikarnika: The Queen of Jhansi" takes the route of fantastical folklore. Dates and locations appear on frames to make the tale more believable.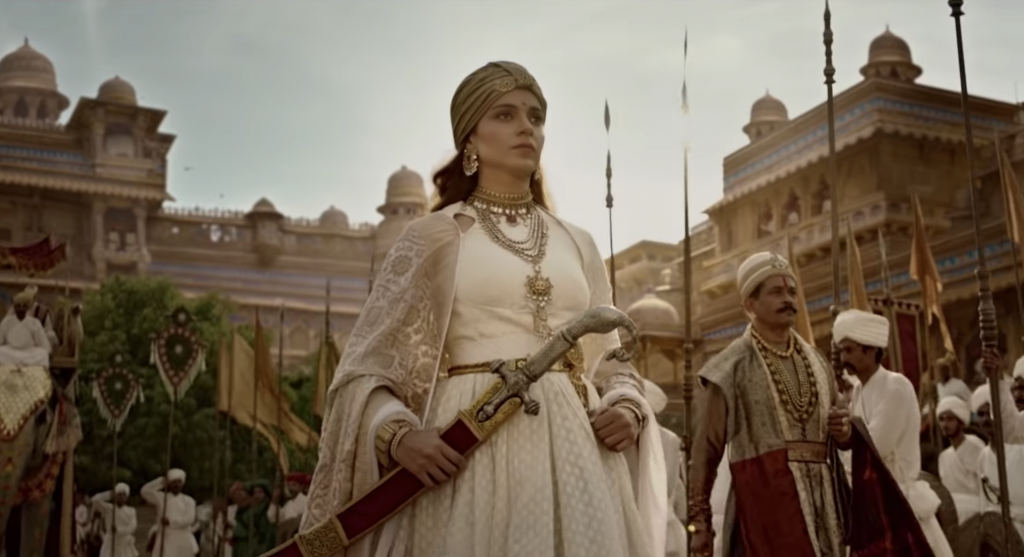 This film is apocryphal, and it celebrates the Queen of Jhansi in the style of today's India, immersed in nationalism. Case in point: Early scenes show Manikarnika, Rani Laxmibai's name before marriage, striking a tiger with a single arrow and jumping across shielded men onto an elephant.
Ranaut is the lifeblood of the movie. After her career-changing role as Rani in "Queen," she proves her supremacy as an actress yet again. It's impossible to imagine another leading Hindi film heroine conquering such a challenging role. Ranaut's portrays Manikarnika as larger than life while fighting on the battlefield, but when Laxmibai suffers personal setbacks, she is painfully human.
From carrying a child with the ease and familiarity of a mother to mustering every ounce of strength after losing her beloved husband and kingdom, Ranaut delivers with nuance, passion, and brilliance. Every scene where Manikarnika asserts herself is electrifying. Both the writing and Ranaut's portrayal show the Queen as confident and self-assured, but never arrogant. Her spirit and physicality, especially while wielding weapons and standing tall against oppressors, is commendable.
Courageous, moral, and progressive, this feminist depiction of Rani Laxmibai and the celebration of Nari shakti (woman power) is more relevant than ever. Three scenes illustrate this beautifully — when she delivers a speech to the women of her kingdom saying the gender of power is more than capable of serving in an army, and two moments related to her not believing in societal shackles of widowhood, including a very touching scene with her speaking to a widowed girl.
Battle scenes include multiple frames show women riding horses and fervently fighting with guns and swords, proudly sacrificing their lives in the name of freedom.
The theme of girl power continues behind the camera. Krish Jagarlamudi and Kangana Ranaut divide credit for directing the film, with Ranaut claiming she shot up to 70% of the finished product. The movie doesn't keep the viewer continuously engaged; who knows if that is Jagarlamudi or Ranaut's doing (or both).
Flat and uninteresting supporting roles cause a large chunk of the disengagement, the British characters are particularly annoying. Veteran actor Danny Denzongpa and film debutante Ankita Lokhande bring much-needed charisma to their scenes. Otherwise, much of the acting and angles resemble daily soaps based on Hindu mythology.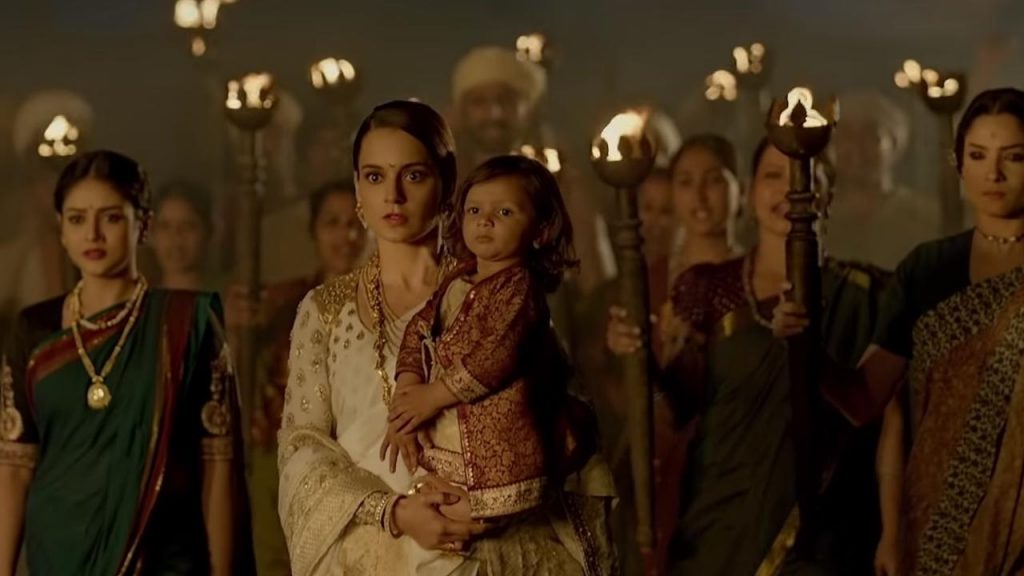 Writer Prasoon Joshi creates some clap-worthy moments, and the screenplay by KV Vijayendra Prasad is good, but it fails to reach the level of excellence seen in his previous works "Baahubali 2" and "Bajrangi Bhaijaan." Cinematographers Kiran Deohans, Sachin Krishn, and Gnanashekar V.S. create a lovely canvas, and sets designed by Sriram Iyengar and Sujeet Sawant are rich and exquisite. The computer-generated imagery gets the job done, but it certainly isn't the finest seen in Indian cinema.
Almost 20 years since its release, "Lagaan" remains the gold standard when it comes to British characters and their costumes. Other than General Hugh Rose, played by Richard Keep, British characters in "Manikarnika" are mostly caricatures.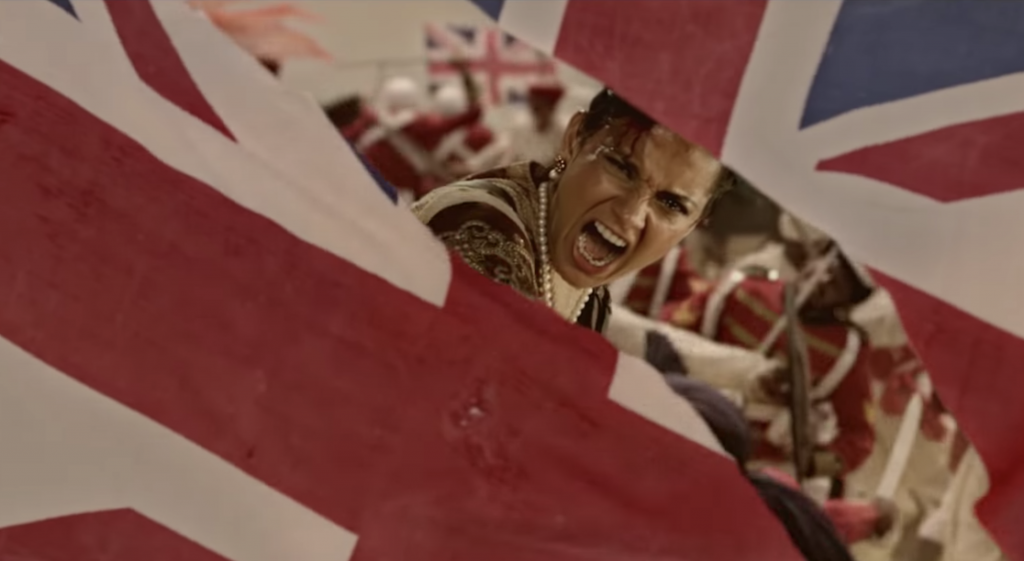 Neeta Lulla does a fine job with the Indian garments, but again falls short when it comes to clothing the angrez. Their hats look poorly constructed, and pants seem as though they were bought off-the-rack. Did nobody else see her questionable European period costumes in "Veer?"
Shankar-Ehsaan-Loy composed the music; the stand-out songs include "Vijayi Bhava" — showcased during the war preparation montage — and "Bharat," which returns multiple times in the film and remains with you even after credits roll.
"Manikarnika" is chock full of Hindu imagery from beginning, and especially, to end. In fact, it's not hard to imagine a future with Ranaut joining Indian politics. Dialogues like "You want to rule, I want to serve my people" provide perfect content for rallies and ads.
"Manikarnika" is another feather in the cap of Ranaut. If politics isn't in her future, earning a fourth National Award seems forthcoming.