Mary Ann Thomas, a full-time nurse in New York City embarked on a West to East coast bicycle trip. She plans to bike up the coast of California and across the northern border between the U.S. and Canada. Mary Ann is a South Asian-American (Malayali) and I have decided to track her journey for all of our Brown Girl Magazine readers with this second installment of a four article series. (Read the first one here.)
Sprawled out on the kitchen table are envelopes. Spreading them out quickly with my hand, I notice the image of a cartoon nurse carrying a sick tree like a baby. I turn it around. Scrawled across this postcard is a message from my own personal Sal Paradise.
Mary Ann Thomas is island hopping around the Gulf Islands off of the coast of Western Canada. The last time I heard from her, she was in Vancouver. She said she is reminded of a ferry we took, where we crossed the border between Ohio and Kentucky, but her writing brings a completely different image to mind.
The picture in my mind is of the scenic Pacific Northwest of the North American continent. I picture Mary Ann biking on a winding road through the dense forests of Ginkgo with fir trees surrounding a winding road on top of cliffs overlooking a clear blue ocean.
Every few weeks I get another postcard with a short message scribbled out in her small curled printed letters. I reached out to Mary Ann midway through her trip as she was making her way across Montana to see how her trip was progressing. She said this trip has become something that is changing her perspective beyond what she could have imagined. She is adjusting to biking across North America alone, while spending plenty of time by herself. After three months on the road, she said she does not know if she is "gaining" from her trip, but she knows she is changing.
"I went to a bar the other day and had culture shock. I could barely handle being in a crowd of people," Mary Ann said.
A place where she was once comfortable socializing with friends, she said, is now a different experience for her.
Mary Ann went from living in New York City and working as a nurse, spending her free time with her friends and exploring the city, which is characteristic of many 20-somethings, to spending each day biking from the West coast to the East coast. Her days off are spent with her kind hosts, many of whom she met through websites such as Couchsurfing.org or WarmShowers.com (a website specifically for people on long bicycle trips). She said her perspective on city living is changing.
"I have been able to converse with so many engaged, passionate individuals who have been able to excel creatively, because they aren't pushing themselves to make money, climb up a corporate ladder or losing their days to their commutes," Mary Ann said.
She adds that her trip is growing her appreciation for quiet time and hobbies, which she said people in the city do not have time for. I know from my travels with Mary Ann, that the mind wanders while riding a bike for days on end. I used to keep my mind occupied by writing in my journal at night or coming up with stories while riding. Sometimes, we would both sing to ourselves. I remember how much we both appreciated a car radio after two weeks of riding. I expected that her mind might be wandering a bit farther than anything I have experienced. Mary Ann surprised me with her thought process during this trip, while she does sing to herself and go long stretches without any thoughts, she has also been thinking about the state of the world.
"When I'm close to the Internet, I hear about atrocities like the conditions of refugee children from Central American countries in the U.S. and the killing of Palestinians. The bombing of Gaza is literally constantly on my mind while riding and sometimes I get sucked into a pit of feeling helpless, because I'm on a bike and not in a major city protesting," Mary Ann said.
As long as I have known Mary Ann, she has always been a socially conscious person and holds many causes close to her heart, and to hear her talk about things that she is passionate about, like social justice and human rights shows me that her giving spirit remains strong and intact through this trip. Beyond learning about the world and adapting to her environment, Mary Ann said she is also learning about herself. She said that she used to consider herself to be an extrovert in everyday life. However, the way that her social tendencies have changed on this trip, it has caused her to change her mind.
"I'm just an adaptable person and want more of whatever I have. If I am in a very social environment, I want to socialize, meet everyone and make sure everyone's having a good time. If I'm in an isolated environment, I tend to want to be alone with my thoughts and process my experiences alone," Mary Ann said.
She admits that she's a little afraid of returning to New York City, because it may take some getting used to, but she said she's up for the challenge. Mary Ann has taken on an adventure that many would not dare to do, let alone dream of. She is growing, changing, learning about the world around her and seeing the great North American outdoors. I await the next postcard that I receive from my modern-day-bohemian-traveler, which further inspire my New York City mornings.
Follow Mary Ann's adventures on her blog and catch up with her latest updates on her Instagram.
[divider]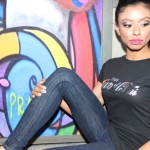 Sheena Pradhan is a Registered Dietitian-Nutritionist, writer, speaker and model. She runs a nutrition consulting and communications company, called Nutritious Balance in New York City. In addition to BG, she writes for India.com, The Daily Meal and Busy Mom Snacks. She also loves to blog about health, food and nutrition on her blog. When she's not writing, modeling, or consulting on nutrition, you can find her preparing for the 2015 Miss New York USA Pageant, riding her bike around Central Park, or wandering midtown Manhattan for inspiration. You can find healthy tips daily by following her on Twitter!