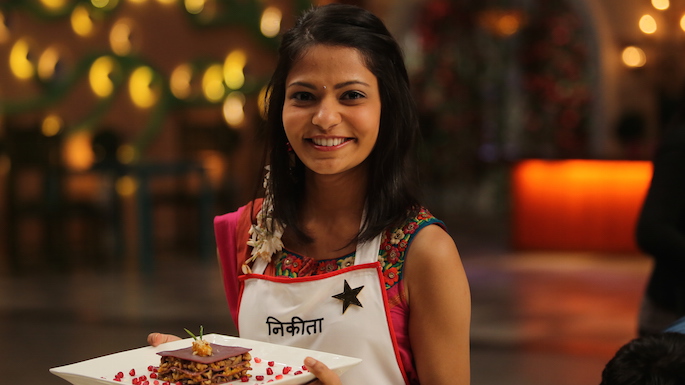 This post was originally published on our partner website India.com:
At 22 years, Nikita Gandhi has made greater strides in her career than some even twice her age. A business graduate from the University of Baltimore, entrepreneur, and food blogger are among her numerous titles, but Gandhi is best known for her recent fame as MasterChef India's youngest Top 5 contender. Most recently, claiming bragging rights of having her winning dessert featured on the menu of Sanjeev Kapoor's Signature Lounge in Dubai, has proven time and time again that it takes only potent combination of passion and innovation to stand out in the MasterChef kitchen. As she prepares for the show's grand finale on April 12 and an invitation to participate at the Dubai Food Festival 2016, Gandhi shares her journey to the top and dishes about what drama really takes place behind the scenes of MasterChef India Season 4.
Q: Congratulations on having made it this far! What is going through your head as you absorb being apart of the Top 5, especially as the youngest person in the show's history to have earned this spot?
Thank you! All that's going through my mind is how I came in all quiet and nervous to the audition on day one and how I am now— fearlessly facing the audience through those huge cameras that I was so scared of a few months ago. I have come to believe, through my own self, that age has nothing to do with talent. In a competition, we are all at the same level.
Q: What is your earliest memory of cooking or preparing food as a child? How did your early experiences inspire you to continue pursuing your passion?
My earliest memory of baking was quite a disastrous one. I added a tablespoon of baking soda to a batch of chocolate cupcakes instead of a teaspoon, simply not knowing the difference. I think it was this first failure that inspired me to get better through trial and error, rather than giving up.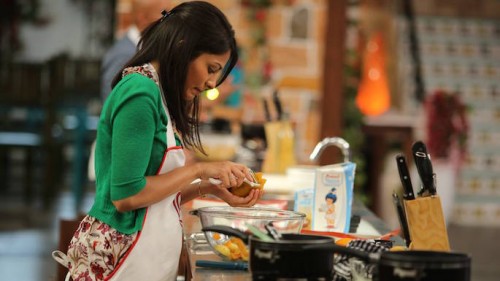 Q: How did you conceptualize your Passionfruit Amrakhand with White Chocolate Pistachio Ghari dessert that is now featured on Signature by Sanjeev Kapoor's menu, and how does this dish represent you as a chef?
Signature by Sanjeev Kapoor specializes in modern Indian cooking. While the root of every dish on the menu remains to be traditionally Indian, it still takes you into the future with its contemporary twist. Keeping this concept in mind, I decided to play around with some traditional Indian dishes like shrikhand and ghari, just enough to make it a good fit in the menu.

I added passion fruit to amrakhand (mango shrikhand), dipped the ghari in white chocolate instead of the traditional whipped clarified butter (ghee) and served it with a raspberry sauce. The idea was to modernize the dish only till a point where the basic Indian flavors were not taken away. The thought behind combining the two desserts was simply a matter of bringing different textures on a plate.

This dish represents my understanding of food that I've acquired from MasterChef. I think a lot of it also stems from having lived in multiple cities across the globe and understanding how to play with flavors.
Q: What are the best and worst dishes you have ever made?
One of my best dishes by far has been Rose and Raspberry Éclairs — choux pastry filled with a rose petal crème pâtissière and topped with a raspberry glaze. The tart, baby pink exterior and mildly fragrant interior make it my all time favorite.

My worst dish would have to be Bengali rasgullas. Despite several attempts, I haven't been able to achieve the perfection I'd like so far.
Q: How would you describe the reality TV competition experience to someone who is wondering if it's all as chaotic/exciting/dramatic as it looks?
Prior to the show, it was a question I wondered about myself. The challenges are tough and chaotic, but sound effects on Indian television do accentuate the intensity a tad bit. Nonetheless, much to my surprise, the drama, crying, stories are all 100 percent authentic.
Q: What are the judges really like off camera? How would you describe each one?
All the judges are super friendly and truly our gurus.

Ranveer Brar

Loves giving advice and correcting our mistakes even from the past.
Treats food as a religion.
Amazing photographer.

Vikas Khanna

Loves flattering everyone with multiple 'Brilliant! Beautiful! Amazing! Fantastic! I love the idea!' sort of phrases.
Very good singer (he denies it but we've caught him singing his favorite track "Mein tenu samjhawan ki" multiple times).
Stand-up comedian (I always wonder if he became a chef by accident).

Sanjeev Kapoor

Not as scary as portrayed on screen.
Father of the MC family.
A very good dancer and singer (I think he breathes music).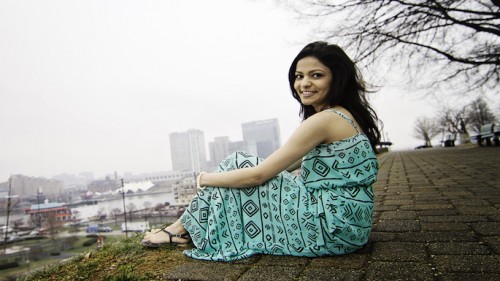 Q: How would you describe your cooking style and why is it so unique or special from the other contestants'?
I believe it is important to remain calm and composed in a stressful environment like the MasterChef Kitchen. It's also important to work in a cleanly manner given the time constraints. This is what helps me focus better and sets me apart from my contenders.
Q: What's running through your head as the grand finale approaches?
The golden chef coat.
Q: What comes next after MasterChef?
I would ideally like to study molecular gastronomy and also gain some real-world experience in a professional kitchen. After that, it's wherever life takes me!
MasterChef India Season 4 Grand Finale will air live on April 12 on Star Plus at 9 p.m. Stay tuned this week to find out how to vote for your favorite contestant.
---
Foram Mehta is a freelance journalist and photographer enjoying the life of a "starving creative" in New York City. When she's not hunting down the best brunch in NYC, you can find her rooting on her beloved Texas Longhorns and dreaming of the day Oprah comes calling. Check her out on her personal blog: A Metaphorical Mind.