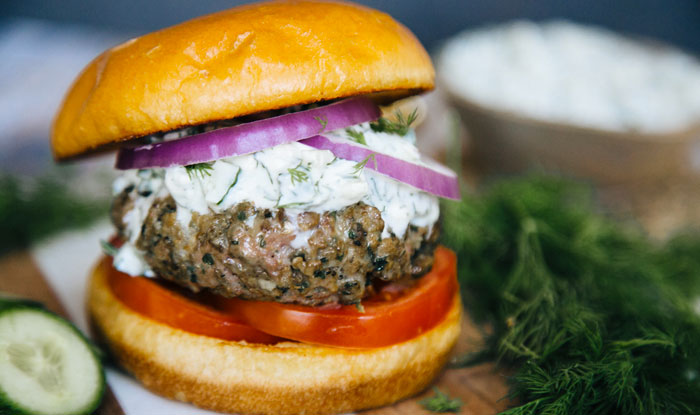 by Palak Patel
This post was originally posted on The Chutney Life and reposted with permission. 
I love lamb, but it is the one thing I never really make at home. I think that's because for most of my life my mom had forbidden me from making any red meat in our home, so I never dared (moms can be scary when you don't listen!)—hah! Either way, if I'm out at a restaurant and lamb chops are on the menu, you better believe that is what I am going to order! And just in case there are no lamb chops, then lamb burgers are definitely the way to go!
I love lamb burgers so I wanted to make one that had some Mediterranean flair because those flavors are incredibly bright and zesty paired with the savoriness of lamb.
If you've never had tzatziki (get acquainted because that's pretty much the king of this dish), then think of it as the greek cousin of raita! LOL! I added some feta into mine because I love cheese and I didn't want to ruin these Mediterranean lamb burgers with the sliced stuff!
Mediterranean Lamb Burgers with Feta Tzatziki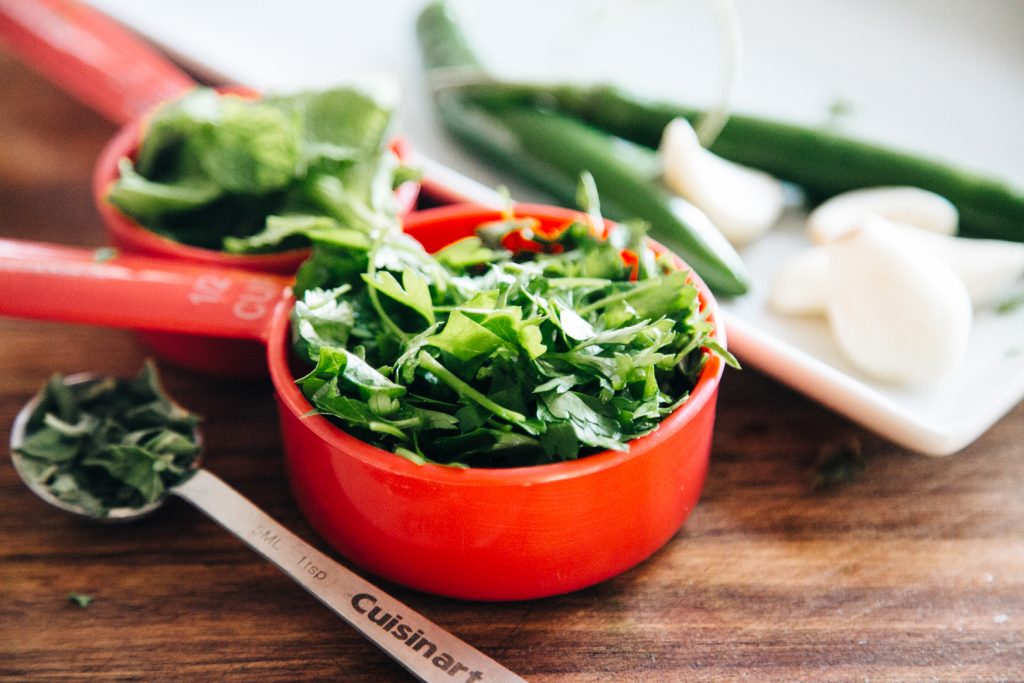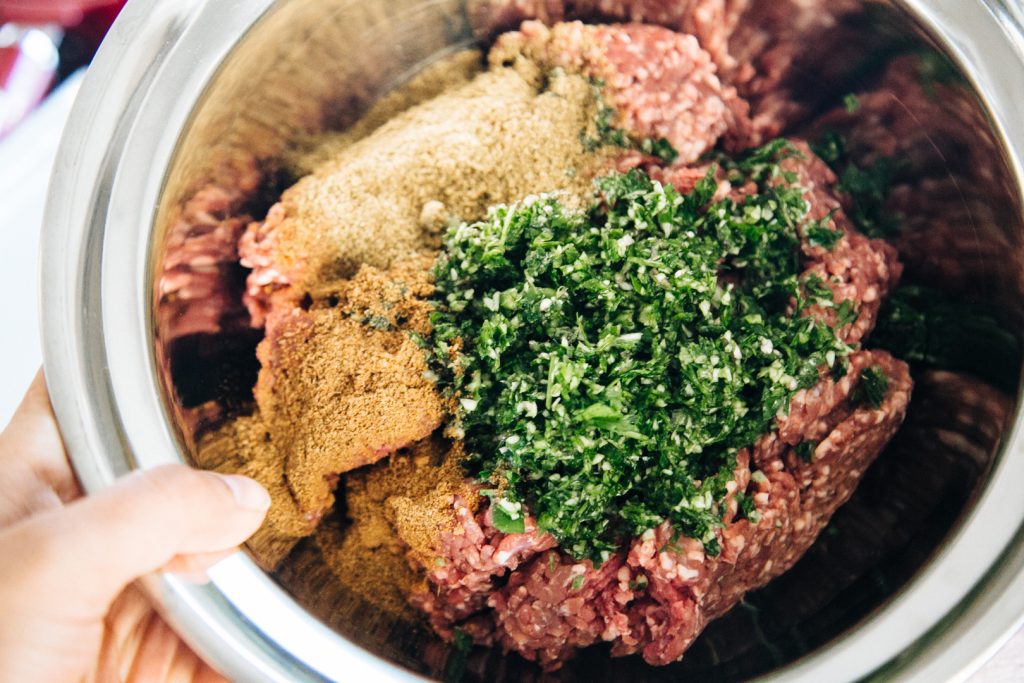 INGREDIENTS
1.5 lbs fresh ground lamb
1/4 cup mint leaves (about 15 leaves)
3/4 cup parsley, chopped
5 cloves garlic
2 serrano peppers
1 tbsp oregano, fresh
1 tbsp coriander powder
1 tbsp cumin powder
1.5 tsp salt
1/2 lemon, squeezed
Burger buns
Sliced onions & tomatoes for garnish
2-3 tbsp oil
FETA TZATZIKI
In a bowl, combine the following:
2 cucumbers, finely diced
1/4 cup dill, chopped
2 cloves garlic, minced finely
1 tsp mint leaves, finely chopped
1 cup yogurt, full fat (whole milk yogurt)
1/4 cup feta, crumbled
Salt to taste
INSTRUCTIONS
In a food processor or blender, combine the parsley, mint, garlic, serrano peppers, and oregano. Blend until well mixed.
Add blended herbs, coriander, cumin, salt and lemon juice to the ground lamb and mix gently using your hand.
Heat a grill pan or skillet over medium-high heat and add 1-2 tbsp oil. Form lamb mixture into patties and grill or cook on a skillet for 6-8 minutes on each side for a fully cooked burger. (cook less if you prefer medium/medium well).
Place patty on a grilled bun, top with tzatziki sauce, sliced onions, tomatoes and serve hot!
---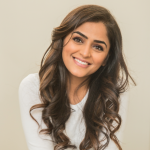 Palak Patel is a passionate home cook and food blogger who has an affinity towards creating dishes that provide a fresh and modern take on the familiar flavors of Indian cooking. Her belief that food can empower us, heal us, and most importantly connect us, is the driving force behind her blog. She especially loves sharing recipes that incorporate global flavors with locally sourced and seasonal ingredients.