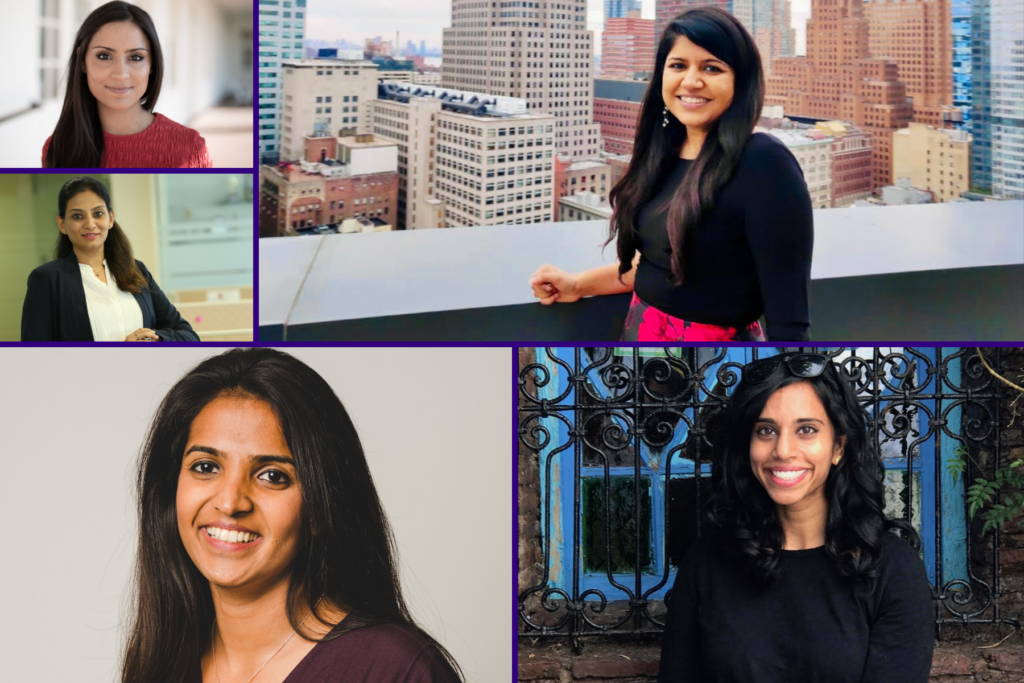 Venture capital (VC) firms fuel innovation across the globe. Without funding to grow their businesses, entrepreneurs with great ideas may never be able to bring their solutions to market. Venture capital firms have the power to support founders who may otherwise be underestimated because of their backgrounds or identities. Unfortunately, these firms are plagued with inequities in representation.
All Raise reports that only 12% of decision-makers at U.S. venture capital firms are women. A 2018 analysis found that Latinx women comprise less than 1% of the VC industry, while Black women comprise about 1%. The lack of diversity at venture capital firms hinders diverse entrepreneurs from receiving funding. Asian women make up 6% of the VC industry overall, a low percentage proportionally when factoring in educational background, income, and population growth. Asian women who do make it into the industry are far less likely to assume top leadership roles. 
Brown Girl Magazine spoke with five successful South Asian women in venture capital across the globe who have persevered against the odds and are changing the face of the industry, one investment at a time: Sruti Bharat, Akriti Dokania, Sushma Kaushik, Siya Raj Purohit and Meera Clark. Below, they share their personal backgrounds, investment strategies and how their identities have shaped their paths in the venture world.
[btx_image image_id="85405″ link="/" position="center"]Photo courtesy of Sruti Bharat[/btx_image]
Where do you work and how would you describe your role?
I work at All Raise, a non-profit dedicated to advancing gender equity among funders and founders in tech. My role is managing venture programs, which are dedicated to supporting the careers of female and non-binary investors. Day-to-day, that means that I manage all the educational events, cohorts (peer-groups), and other career-oriented topics like mentorship and conferences. In my first six months here, I've helped scale programs nationally (and virtually!). The best part of the job is the energy I get working with incredible women in venture who are passionate about moving the needle on representation in this industry. 
What was your path into venture capital?
I started my career at a software company called OSIsoft right out of undergrad [at UC Berkeley]. I didn't have much of a plan other than "get a stable job related to my major," but I ended up learning a lot in that first job and stayed for five years. At OSIsoft, I moved around the company from operations to product to strategy, which was a fantastic learning experience that I still draw on today. When I was there, I was often the only woman of color in a room and became really involved in diversity and inclusion efforts. After that experience, I decided I wanted to broaden my exposure to different industries (and take a break, frankly!) so I went the business school and consulting route.

When I was in business school, I started a nonprofit called FutureMap. I kept FutureMap alive even while working 70-80 hour weeks at Bain post-MBA, and I realized that my weekends working on impact-driven work were giving me much more energy. When a recruiter contacted me about the opportunity at All Raise, more than anything else it was my genuine passion to find diverse talent that opened the door for me to enter this unusual industry. I would still describe myself as an operator and founder at heart since my role is really about empowering women in venture, but I am still struck by how unexpected and opportunistic my entry into the world of venture has been! 
What does being a South Asian woman in the field mean to you?
South Asians are no longer considered underrepresented in venture capital as a whole, but that really skews to men. South Asian women, like all women, still have a long way to go in terms of representation in VC, especially at the senior levels. For me, identity is complex. I have a deep awareness of my status as a minority in this country and grew up knowing what it was like being an outsider; yet I know my community has privileges that Latinx, Black, Indigenous, and Pacific Islander communities do not.

I think we as South Asian women have a huge responsibility and a huge opportunity. Our responsibility is to become allies and leaders who use our voices to lift up others, and the opportunity is that our position gives us the empathy and understanding to be really effective change agents who can question the status quo. 
[btx_image image_id="85406″ link="/" position="center"]Photo courtesy of Akriti Dokania[/btx_image]
Where do you work and how would you describe your investment strategy?
I work at Octopus Ventures. We are early-stage venture capitalists, investing from seed to Series B companies. We write cheque sizes from £1m to £10m and invest across consumer, fintech, health tech, life sciences, and deep tech based out of the U.K.
What was your path into venture capital?
I am a computer science engineer. I worked at Microsoft as a product manager and then ran a company as a founder for a few years before turning into an investor. My path was through a small fund where I interned for 8-9 months and then got introduced to Octopus for a full-time role.
What does being a South Asian woman in the field mean to you?
It is both difficult and fulfilling. In Europe, the tech ecosystem is not that developed so you don't find as many Indians as you do in the Bay Area, and on top of that, Indian women are even fewer in numbers. However, that [lack of representation] also presents opportunities and means that we really bring a different thought process to the table. I think being a South Asian woman today is absolutely a strength and a springboard to fundamentally making huge strides in the VC ecosystem. It gives me ammunition to give back to society and bring other women with similar backgrounds to the table.
3. Sushma Kaushik (Mumbai, India)
[btx_image image_id="85409″ link="/" position="center"]Photo courtesy of Sushma Kaushik.[/btx_image]
Where do you work and how would you describe your investment strategy?
I work for an India-based, impact-focused fund called Aavishkaar Capital. We manage approximately $400 million in assets. Our core strategy is to back high-growth businesses that are solving complex social problems using technology. Our key focus areas are sustainable agriculture, financial inclusion, and essential services (waste management, logistics, health tech, etc).  
What was your path into venture capital?
I have 14 years of VC/PE [private equity] experience. My journey started in entrepreneurship and moved into investing. One of the key reasons for this transition was my interest in problem-solving while managing people. Investing to me is all about spotting opportunities and managing people with their peculiarities. 
What does being a South Asian woman in the field mean to you?
I have only recently come to the realization that there are very few Indian women in the investing ecosystem, especially in leadership positions. During the formative years of my career, I struggled to identify the right role models. I believe all of us who have trodden that path in the past have to make it easier for others. As more women join the workforce, there is a big role for women in investing and we all need to play our role in encouraging that.
[btx_image image_id="85410″ link="/" position="center"]Photo courtesy of Siya Raj Purohit[/btx_image]
Where do you work and how would you describe your investment strategy?
I'm the co-founder and general partner at Pathway Ventures, an early-stage fund focused on the "human side of the future of work." My co-founder Taylor [Stockton] and I started building Pathway during the pandemic since we recognized that more than 50 million people were displaced from the workforce, and COVID-19 will further accelerate trends around the skills gap, career transitions, the gig economy, and remote work. More specifically, we invest in companies that are enabling innovative models of earning, learning, and community building. We obsess over how people learn employable skills and how they can monetize those skills to build rewarding and financially secure lives.
What was your path into venture capital?
Honestly, it's no surprise that I landed in venture capital. I've always been a community builder and passionate about all things tech. The path to my first VC role was a little more complicated though. 

While finishing graduate school, I applied to 120+ VC funds for an associate role (it's a tough sector to break into!). I had many interviews, but with graduation only a few weeks away, I still didn't have any offers. To buy more time, I convinced Reach Capital to let me pursue an internship with them. Thankfully, they agreed — and after my summer there, introduced me to GSV Ventures, where I joined full-time. 

Four years (and another startup role) later, I decided to chart a path for myself and teamed up with Taylor to launch Pathway Ventures. 
What does being a South Asian woman in the field mean to you?
In 2016, when I was just getting started with my venture career, I discovered that only five South Asian women were partners across all VC funds in the United States. Just FIVE! It was so disheartening. It's obviously difficult to imagine a future in an industry when you have such few role models to look up to.

Thankfully, the scene is shifting rapidly. As the composition of financial gatekeepers changes with more South Asian women entering the sector, we're going to see more brilliant, underrepresented founders emerge. And that's amazing for the world. 
[btx_image image_id="85411″ link="/" position="center"]Photo courtesy of Meera Clark[/btx_image]
Where do you work and how would you describe your investment strategy?
I'm a consumer investor at Obvious Ventures, an early-stage venture capital fund founded by Twitter and Medium founder Ev Williams. At Obvious, our investment approach is grounded in the belief that "world positive" businesses have advantages in the market and can outperform their more traditional peers across trillion-dollar industries. These types of businesses have a sustainable positive impact and are transforming the products we're consuming and the ways in which we live our lives.

Across our consumer landscape, I spend a lot of time exploring various social determinants of health, ranging from food and food systems to healthcare to financial services – all areas seeing quite a bit of disruption on the back of the pandemic!
What was your path into venture capital?
My path into venture capital started out with a more traditional foundation in finance. Soon finding myself on the trading floor post-graduation, I spent two years exploring the intersection of the equity (stock) and credit (bond) markets as one of the first hires on Morgan Stanley's Cross Asset desk. In this role, I was empowered to explore the various disruptive trends shaking the world around us – very similar to my job in VC today – and identify the most attractive way to invest in these trends across asset classes.

After a stint in Morgan Stanley's Technology Investment Banking group, I landed back in New York working in the firm's Multicultural Innovation Lab. Unlike my onboarding at Morgan Stanley, my introduction to Obvious was less conventional. I actually cold applied to Obvious after finding out about the open role through All Raise. While it felt like a winding path at times, it was truly a dream come true!
What does being a South Asian woman in the field mean to you?
Being a South Asian woman in the field means honoring the example and taking advantage of the path that my mother paved before me. I was fortunate to have been raised by a mother who immigrated from India to the U.S. in her mid-20s to pursue a career in finance. My grandparents thought she was CRAZY at the time.

Fast forward to today, I am fortunate to be guided and supported by her warmth, advice, and earned insights. I like to think of these as my secret weapons. Sharing this path with her means the world to me!
While women of color in venture capital continue to be underrepresented, these five South Asian women investors provide a reason for optimism. They represent just a small sample of those who continue to persevere in the industry against all odds, contributing to a more equitable innovation pipeline for years to come.