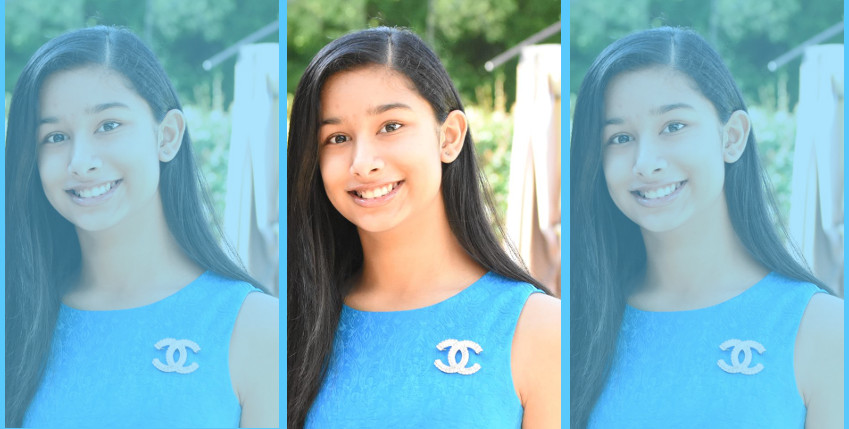 Meet our March Brown Girl of the Month, 13-year-old Chloe Choudhury! 
"What started off as an unpleasant experience of feeling left out in elementary school and continued, for a couple of years, was surprisingly what helped mold my heart, character and mind. It made me realize very early on that I did not want to be anyone but ME!    
I have always loved music and singing and had opened many a swim meets, until one day when my mom overheard me singing and thought it was the radio playing.  My parents were convinced from then on that my voice had that something special.
My first big performance was when I was 10, three years ago, and it was at your typical big Indian wedding. Mom and dad were truly petrified and nervous on my behalf, but I was thrilled. I was planning on singing in unison with the piano but, at the last moment, it had to be moved by the Fire Marshall, which ended up throwing me off. I sang and everyone loved it, but I was upset because I didn't feel like I had sung my best. A family friend suggested that I just go to the courtyard and sing my heart out and let my frustration out. So, I did…and as soon as I started singing, it seemed as though the whole world around me had stopped.  There was pin drop silence and everyone was just staring at me.
After I had finished singing, a man from the lobby approached my family and said that he belonged to the minor league baseball team— the Sugar land Skeeters—and that I simply HAD to come open a game. He said he would have the management team call me on Monday and they did!
It was at the Sugar Land Skeeters game that I was scouted by an International Music Producer who then invited me to Nashville, TN. There, I recorded with an accomplished team and released my first cover singing Katy Perry's "Roar."
This was just the beginning…and it changed everything!  Since then, I have been invited often, as the youngest and yes, in some cases, the brownest (pun intended) to open some high profile events. I opened the NBA Game for the Houston Rockets Game on New Year's Eve on December 31, 2014. 
I have been fortunate to have been featured in numerous national and local media outlets and have received numerous congressional certificates and recognition from cities and universities in my great state of Texas. Some of the most important accolades for me were the organizations and causes that honored me by honoring me with the title 'Junior Ambassador,' like OVARCOME  – an ovarian cancer awareness organization – and Miss Amazing Pageant, an organization that provides opportunities for girls and women with mental and physical disabilities; building confidence and self-esteem.
And yes, I have since then opened the Sugar Land Skeeters game for three years in a row." 
– Chloe Choudhury
To keep up with updates about Chloe, follow her on Facebook!
---
Do you know a Brown Girl who is awesome at what she does? Send an email telling us why at Trisha.Sakhuja@0mq.349.myftpupload.com.