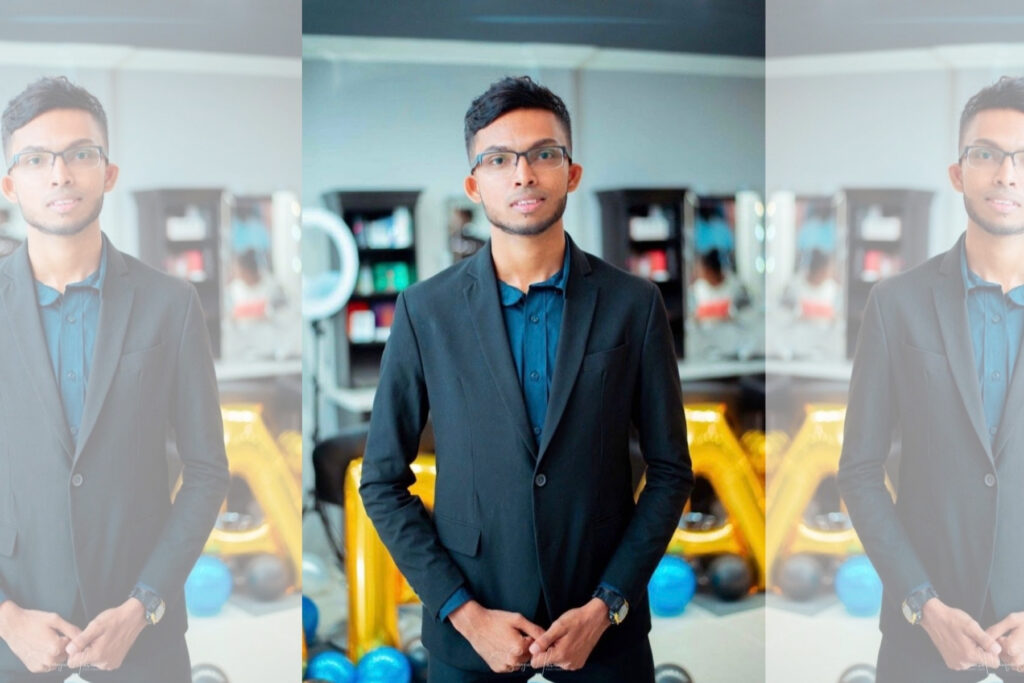 "Start unknown. Finish unforgettable"- Misty Copeland
This is the quote that comes to mind when I hear the name Mahendra Phagwah. Words have impacted people for generations, but it's stories that carry on their legacy. Phagwah has a story that will not only touch your heart but will fill you with inspiration. So exactly who is Mahendra Phagwah and what is his story? Before you read any further, take a minute to appreciate the blessings in your life. Sometimes we forget the value of what we have.  
Phagwah grew up in No. 2 Village Canje in Berbice, Guyana. He has a younger sister, and they were born to differently-abled parents –one being mute and the other deaf. Due to his parents' disabilities, they were unable to access quality jobs. As a result, the family faced many financial issues and struggled to maintain a stable income. 
The family lived in poverty, but family members and neighbors helped by occasionally sending barrels of food and clothes. These little acts of kindness made the struggle feel a little bit lighter. However, that did not diminish the mental issues Phagwah faced. His father suffered from alcohol addiction which left the young boy craving a sense of family. 
At a young age he recalls going to events, such as BBQs, and seeing families together, laughing and smiling. He could not share such love with his own parents, for their limitations in comprehension made it hard for them to engage in emotional connections. A simple hug or word of advice was the support he lacked growing up. Like many who lack a solid family foundation, Phagwah's frustration showed itself in the form of behavioral issues, lashing out in a rebellious manner. 
Phagwah's experience in high school reflected his childhood struggles. His routine for the day would often involve him brushing his teeth with soap, not being able to take a proper shower due to the lack of products, and having a sole meal consisting of a bowl of salt and rice. While barely surviving the day-by-day was hard, things were worse at school.  Bullying played a negative role in his life as he was often mocked and laughed at for having smelly underarms, small ears, large teeth, and for his distinctive walk. Such taunts tortured him mentally. Phagwah wished he would get hit by a passing car, or die from his heart condition. Eventually, he dropped out of school and began working to provide for his family. 
Phagwah was the breadwinner of the family. He worked rigorously to make sure his family was fed and his sister (who excelled in school) could continue her education. Phagwah knew, however,  he was destined to do better and not only provide for his family but give them the life they deserved. 
While he took private classes that were financed by the help of friends, it was still inefficient as the quality of private classes was not the greatest. He realized it was time to go back to school. He met with a teacher from J.C. Chandisingh Secondary School through a Facebook friend and managed to get enrolled, even though he was considered an adult. No one was as determined to receive the Caribbean Examination Council (CSX) education as much as Phagwah. This was his second chance. Through persistence,  a generous scholarship of the MMP Foundation for Excellence, the support of teachers and family members, and a bond made with new friends, Phagwah was able to score (15) on his CSEC subjects. 
Phagwah then applied to the U.S. Youth Summit in New York City. The summit is made possible from the MCW Global through its Young Leaders Access Programme (YLPA). The program is meant to assist communities around the world by training youth to become the leaders in their communities. In 2019, Phagwah became the only Guyanese participant out of 50 youths worldwide. The program is open to applicants worldwide and is very competitive. 
The application process involves three major phases. The first is answering questions related to oneself, describing community issues, and submitting a resume. In the second phase (for only those who get through phase one) candidates must describe a way to tackle their community's issues. 
Phagwah created an extensive survey that targeted Guyanese teachers, students, former school dropouts, religious workers, and social workers, to get their view on the community issues. The majority agreed that a major issue was drug use and a growing school-drop-out trend.  The third phase required him to answer thought-provoking questions to tackle these community issues. Phaghwah was successfully selected for the program, which begins summer 2021 spanning July 23th to August 1st. 
When asked what are some issues he would change within his community, Phagwah replied 
 "Poverty and the effects it has on  children…"  
While other societal factors such as bullying and suicide are topics of concern, Phagwah highlights that the root cause has to be pinpointed, tackled, and solved by communities as a whole, not just one person. 
Phagwah is one of the lucky ones. The reality is that not every child that drops out of school will be fortunate enough to reenter the educational system. 
"Why should they pay for dropping out of school for the rest of their lives? Oftentimes, realization kicks in and the drive from within is what matters. By allowing dropouts to go back to school and complete their education, we open the door of possibilities for a brighter future. I lost my best friend to suicide and I know of many people who lost friends to suicide. So much more needs to be done in school on mental health, equipping students with the mental tool to psychologically process and handle external factors. Bullying is no stranger to me also and I hope to work with NGOs, gym clubs, teachers, and students to tackle such issues and create a strong awareness campaign."
Phagwah and his family still reside in Guyana. He has successfully secured a position as the OSH Safety Officer at Metro Office and Computer Supplies. This is only the beginning as he hopes to carry out his project after graduating from the U.S. Youth Summit. He will be mentored and funded to ensure that his vision is successful. 
Once his campaign is solidified in the community, he will be visiting schools regularly to create awareness, will partner with other organizations in solidarity,  and will be working with the government and ministries to tackle bullying, suicide prevention, and drug abuse. The overall aim of the platform is to work through the community to empower youth, foster growth, and development, and bring awareness to such social issues as a country at large. 
As for personal goals, Phagwah's words on family, activism, and politics paint their own picture.
 "I am currently hoping to pursue law as I am passionate about the field. Even though I am actively  pursuing an associate degree in Public Health and other courses, my ultimate aim is to be well-rounded as knowledge gained is never lost. The true purpose of the law field (which I believe is my calling as I have a deep passion for helping others) is changing and challenging the way we operate and advocating on platforms."

"As a little boy to the present, I intend to one day become president for my country. Even if I don't get there, I intend to come close. My love for this country lies not in pro-opposition or anti-government support but to help Guyanese people. Whether directly or indirectly it can make a difference in the lives of my fellow brothers and sisters easier. Politics has always been painted negatively but the brush that draws is always determined by the painter, hence politics guided by efficient leaders who represent the people what should be the ultimate goal."

"My sister has always been supportive and I am always pushing her to do her best as she has the ability and she too will be working with me on many social platforms. Last but not least, my parents are the ones who are the burning fuel for me wanting to achieve success. Both of my parents have worked domestic jobs and have suffered because of their disabilites. Yet my mom never gave up on me even when I dropped out.  As a son I want to give them the happiness they truly deserve. I only pray that God gives them life and good health so they can live to see me achieve such goals  one day." 
Guyana's high suicide rates are alarming. It's activists like Phagwah, that are looking to make a difference and bring awareness to the country's dire concerns.
For now, remember the name Mahendra Phagwah, you may just see the young activist rise to the occasion.