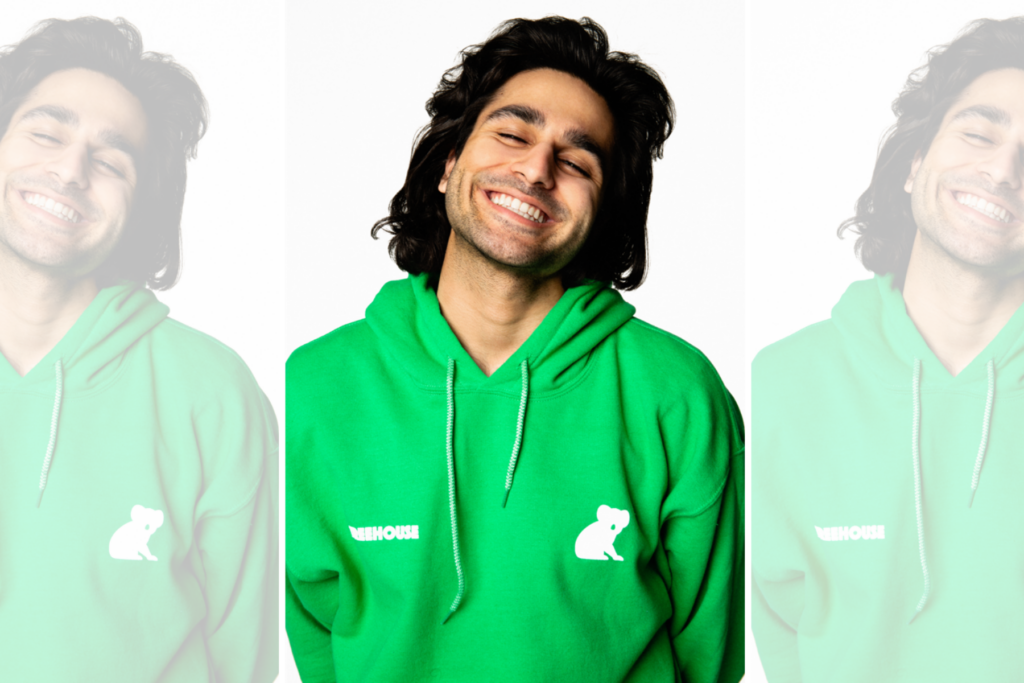 From raw and honest lyrics to hyper-intensive energy, KOAD creates avant-garde music influencing the future of soundscapes. His musical journey involves dropping out of high school, being co-signed by the Asian-American media company 88rising, and working with artists he has looked up to such as ICECOLDBISHOP. I got the incredible opportunity to ask him questions around the start of his musical journey, the meanings behind his music, and lastly his nuanced experiences being a South Asian artist and how he is trying to express himself.
When I meet an up-and-coming artist, I like to start at the beginning of their musical journey. KOAD has a unique musical style and is paving the way for himself in an avant-garde indie alternative hip hop lane if we had to put a label on it. KOAD describes what hip hop means to him and how he started creating music. 
"I grew up on hip-hop. That's the thing that comforts me most in this world and has kept me alive. I started making music after I got this beat-pad that I convinced my parents to get me when I was 13. I wanted to create the world's I had in my head and express myself through beat-making, but also my parents were not gonna be down for buying $20 youtube type beats." 
KOAD dives in deeper about what it means to him to be doing music full time at such a young age. You can clearly see that he does not hold back on the song "Jaunty" with his creative lyrics. 
"I've dedicated my life to this music shit since I was in school and then dropped out to chase it even more. A lot of brown kids are forced to unlearn a bunch of things when they're older, things that white kids get the pleasure of not having to learn like the beauty standard. If I can be myself, talk my shit, and give confidence to young brown kids I am literally undoing hundreds and hundreds of years of systemic bullshit. So I don't hold back on these verses." 
What I love about KOAD's music and personality is that he is honest in both lyrics and conversation. While creating the song "on some bullshit" he just wanted to make music that he wanted to hear, and in this case rap about some things that he found to be bullshit. He openly talks about dropping out of school and dropping the TREEHOUSE project to escape his surroundings. 
"I dropped out to learn. I wasn't able to spend a 100% of my energy in school and 100% of my energy in music so I was like what the fuck are we doing here? School wasn't teaching me what I needed to learn for my life so I saw no reason to stay. Also, I had a lot of teachers who were top-tier douchebags who I can't wait to see and tell'em they ain't shit. TREEHOUSE is the project filled with the raw honesty and juvenile energy that I wish I had in middle school." 
We moved on to talk about the crazy energetic song pots n' pans. KOAD doesn't like giving meanings to songs as music can mean something completely different to the listener. He added that he felt like a pirate while making this song and that he wrote it on a bunch of plates. I loved learning that his little cousin loves singing the hook to this song and that KOAD finds this adorable. 
We switched gears to talk about one of the most insane collaborations I have heard in 2021. KOAD dropped the song "enuff" featuring ICECOLDBISHOP, JAHMED and Asha Imuno. I got the chance to get to the bottom of what the process was of working with so many talented artists. 
View this post on Instagram
"The fucking best dawg. Growing up in hip hop, posse cuts have always been so magical to me so to have some of my favorite rappers from LA on a song with me that's so in the world of TREEHOUSE that shit is the world to me. I used to listen to ICECOLDBISHOP like almost every day for a period while working on TREEHOUSE. I'm literally doing exactly what I set out to do and that's the typa shit to make a motherfucker cry. This song"enuff" is my first posse cut ever and I couldn't be more happy with that shit. It's magic." 
In terms of all of the music, KOAD has dropped he has enjoyed creating every single one of his songs. Jaunty holds a special place in my heart. In KOAD's own words, "I bodied the verses and I made a ridiculous beat for it and that was when I was like 16 or something." 
KOAD has garnered support from the Asian-American media company 88rising, as well as artists such as Raveena, Curtis Waters, and Merlyn Wood of BROCKHAMPTON. He lets me in on how supportive the media company has been from the very beginning of his musical journey and that he got to drop the song "Jaunty" on their YouTube channel. He felt it was the perfect home for a video tied to South Asian culture and his identity. He does make it clear that he is not signed to 88rising and that all of his music is released through KOGO. 
As KOAD is one of the few South Asian artists paving his own way in music, I wanted to get to the bottom of how he feels about South Asian culture and especially his identity. My goal was to find out his thoughts, feelings, and emotions around the topic of what it feels like being born and brought up in America with South Asian roots. KOAD provides insight on how hard he has to work being a South Asian artist and how he has faced adversity throughout his life. 
"Yes, absolutely that's why I work so fucking hard. I know that my existence and me making the music I am making has the possibility of saving so many brown kids' lives. I am Indian, don't get that shit twisted but I was born in America and I had to unfortunately learn over time how much my voice doesn't matter that much here. But don't worry, that's gonna change, just watch. When you're someone who has the ability to change the world it's all worth it. I keep a close team of trusted people so no funny stuff happens but again if this shit was easy it wouldn't be as tight." 
KOAD continues by gushing over some of his favorite South Asian artists taking over the airwaves. 
"Raveena always knows a way to get me relaxed with her music. That shit is gorgeous and my mom loves her music too which is so wholesome for me to see her cry to Raveena." 
"Nick Mono — that boy is dangerous. When I hear the songs that he's written I really feel like the world is changing and now we're gonna have a brown popstar." 
"Curtis Waters is very fuckin talented he produces his ass off and you can tell he's a student of music." 
"Weston Estate is so fire to me to see these dudes get the recognition they deserve for their good ass music AND the fact it's some brown hot boys is so hard to me. And then I play KOAD like 70 times."
KOAD continues to grow as an artist and has huge aspirations. He grew up watching Lil Wayne and Kendrick Lamar and was inspired by them to be the greatest artist of all time. His dream collaborations include Lil' Wayne and Bruce Springsteen. KOAD truly believes his existence as an artist can change the South Asian experience in America. He hopes to be a superhero to his 5-year-old and 13-year-old selves.