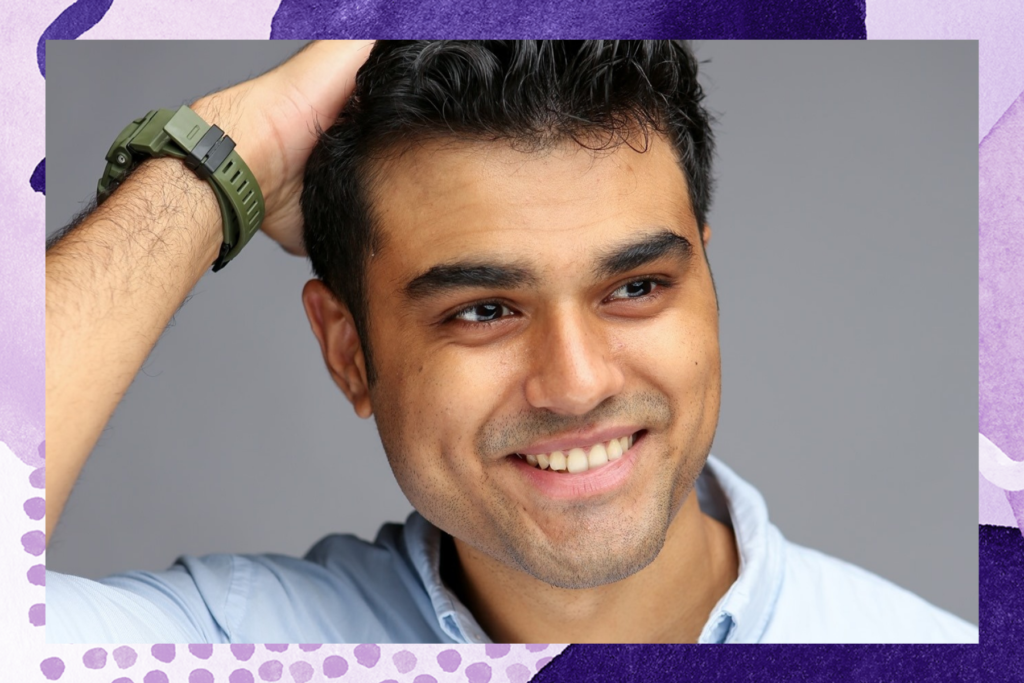 Brooklyn-born Pardeep Singh is a neuroscientist, podcaster, Comic Con lover, gamer and season 18 contestant on "The Bachelorette." When he's not busy being a neuroscientist, Singh can be found hosting a podcast focused around the "struggles, triumphs and personal stories of minorities in the sciences, arts and public service."
I had the incredible opportunity of interviewing him around his journey on "The Bachelorette," how he has grappled with his Indo Guyanese identity as an adult, his work-life balance as a neuroscientist and so much more.
My bachelor nation intro that you didn't get to see. Enjoy! #bachelornation #thebachelorette pic.twitter.com/PWKW837ClB

— Pardeep Singh (@Deepbrainstmuli) November 10, 2021
We started the interview off around the topic of what motivated Singh to apply to season 18 of "The Bachelorette" and how the individuals around him reacted to seeing him on the show. A little fun fact is his brother has also appeared on a dating show called "Indian Matchmaking," which can be found on Netflix. Coincidence?
I didn't really watch 'The Bachelorette' before joining the show. As I was being casted, I began to check in on Matt James' season to see what Michelle was about. Once I learned more about her, it definitely motivated me to keep going in the casting process.

I really couldn't tell anyone I was on the show until I had permission. I'd say for most people it was a big surprise. My family especially was really proud. Funnily enough, the cast leaked before the official announcement so I had to stay coy while people were expressing their excitement. It was so hard not spill the beans!

It's a funny coincidence that my brother and I [were] cast on two different shows. I didn't tell my brother I was being cast until I was pretty deep into the process. Pure coincidence.
I am truly grateful for this experience and the lifelong friendships I have made along the way!#TheBachelorette #BachelorNation pic.twitter.com/SULtGnIZV2

— Pardeep Singh (@Deepbrainstmuli) October 27, 2021
We continued our interview around the "The Bachelorette" interview process, specifically on how the casting process is tailored toward the bachelorette Michelle Anne Young.
Well, I was cast through a dating app funnily enough. It was really random. I matched with one of the casting people and I discovered at a later point that she was casting for the show. I would say that Michelle was front-of-mind when casting for my season. Casting has to be tailored in a way to find the right match for her and so trying to be my best and most natural self was the best way to proceed.
Singh elaborated on what it was like interacting with the other contestants on the show and how some of them will continue to stay in touch for years to come.
A lot of the guys are going to turn out to be lifelong best friends. I will say that some of these guys are the best type of folks you can never meet and I cherish them for that. Some of my best moments with them weren't wild or extravagant but instead mild, quiet and conversational. I will say, however, that I was pretty shook learning how two-faced and disingenuous some of them can be (you can figure out who) but you have to expose yourself to bold unpredictability so you can learn how to deal with it.
Singh dove deeper into what it was like being born and brought up in Brooklyn, New York and how his environment prepared him to embrace differences.
Growing up in Brooklyn, or New York City for that matter, you have an entirely different prospective New York City when you lived your entire life there. When you think [of] New York you think of Central Park or the Empire State Building or Times Square, but my whole world was a six-block radius and I almost never went to those landmarks. I grew up really poor so most of my time was spent trying to make it to the next day or the next week and a lot of my friends grew up the same way. I went to public school and grew up in a multicultural multi-racial setting. Brooklyn is very diverse and growing up in that environment prepared me to embrace differences, make friendships across identities and be empathic of people's struggles.
We moved on to the topic of identity and how Singh has grappled with his Indo Guyanese identity. Singh provides insights around how that has shaped him as well as his dating life.
My Indo-Guyanese identity is something I'm still grappling with as an adult. Mainly because a lot of the history is unknown and not documented. For example I don't know which village in India my great-grandparents are from because there aren't any records of that [from] when they were transported to the Caribbean during the British slave trade. I've often struggled with my identity as Indian because I grew up in the Caribbean household while my Punjabi father was never in my life. Perhaps if he was around I'd know how to speak Punjabi or know familial ties back in India but I don't.

I'd say my Indo-Guyanese identity shaped me a lot, particularly living in Brooklyn, which has a very large West Indian population. My mom still goes to the temple, she can speak Hindi and I can recognize all the old Bollywood stars but West Indian culture has its differences. It's a fusion of Indian, European, Asian and African culture because of the remnants of colonialism in the region. I am Indian-American though, despite my ancestors being caught up in the slave trade. I want to have an Indian wedding one day, re-connect with my roots in India and perhaps track down my family history in the British archives.

I didn't really have a dating life and in many ways being on "The Bachelorette" was my first foray into dating with the intent to marry.
See you at Men Tell All#TheBachelorette #BachelorNation

— Pardeep Singh (@Deepbrainstmuli) December 1, 2021
As there have been very few South Asians on shows like "The Bachelorette" or American reality TV shows in general, I decided to ask Singh his opinion on why there is such a lack of South Asian representation on reality TV shows.
It's hard to say why. I think a lot of it is up to personal preferences and individual views about reality TV and entertainment. Since I went through it, I will say that if you want to see more Indians on TV my advice is: be bold and take a risk. Put yourself in a place where you can tolerate different views, opinions and high-pressure environments. I want to see more diversity on TV. It starts with you to take a strong step forward. Don't listen to haters and take a bite out of life. I know it sounds cliché but I wouldn't be here if it was.
As Singh is a neuroscientist with a hectic schedule, I wanted to learn more about his work-life balance and if he had time to have a healthy dating life balancing his career.
I've spent much of the last 10 years in school. Throw in a healthcare crisis and you can see why I have not had much time for dating. Often times, my work schedule could be pretty intense but I think this mostly has to with my own personal work ethic. But I am learning to chill, take up more hobbies like video games and try not to put too much pressure on myself. I'm embracing my nerd side more and more these days and meeting people who enjoy that too.
While initially conducting research I found that Singh loves Comic Con. I decided to ask him if Professor Xavier from X-Men was one of his inspirations in pursuing a career in neuroscience.
Let's put it this way. Professor Xavier's X-Men Mansion was in upstate New York and I majored in neuroscience at an upstate New York university. Coincidence? I think not. Just kidding. I will say this though that Professor Xavier has inspired me to try to lift the TV remote across the room with my mind when I was too far away. Still, no luck though.
I had a pleasure interviewing  Singh about his journey as a contestant on season 18 of "The Bachelorette." His personal narratives were truly captivating as I loved learning more about his thoughts around his South Asian identity as well as his career as a neuroscientist. Here's to seeing more Asian representation on screen soon.