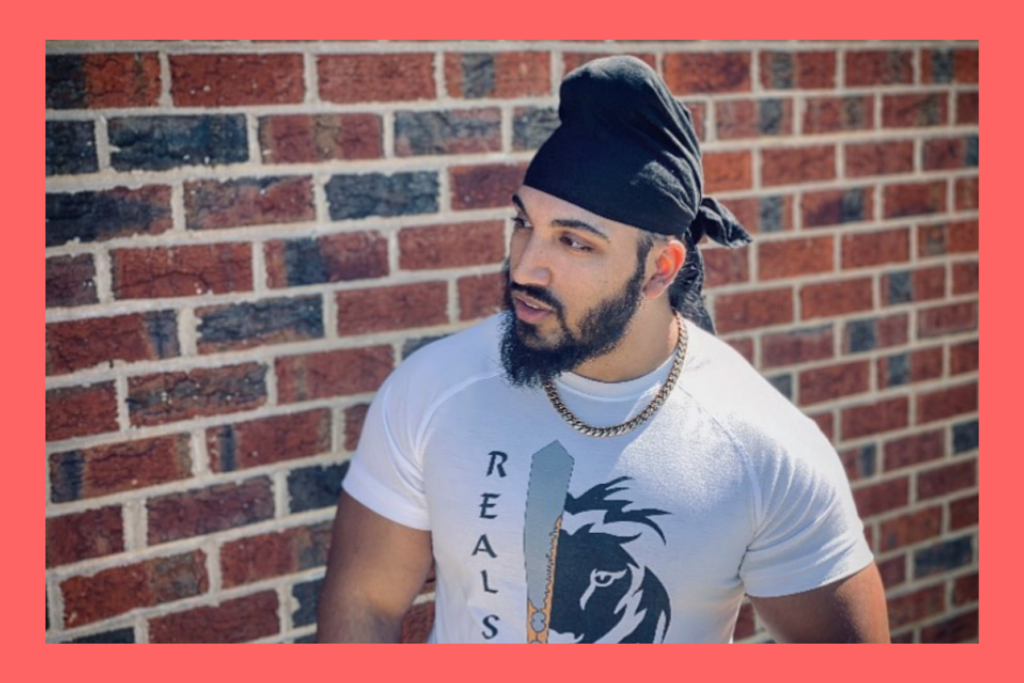 From quick jabbing punchlines to gut-wrenching rebuttals, Real Sikh is an MC to look out for in the world of battle rap. His journey into the world of competitive battle rapping started in high school with mini competitions and moved on to proper leagues and tournaments. He credits his Hip Hop influences as Eminem from watching 8 Mile, 50 Cent from the G Unit days, Crooked I from Long Beach, and many more. I got the incredible opportunity to interview him about his entry into the world of battle rap and what it was like for him to perform at Drake's birthday party which featured many worldwide legends.
I started at the beginning of Sikh's journey around how he chose his stage name Real Sikh. While conducting research I found an old song by him that leads into the meaning behind his stage name, "Ain't no discrepancy in the name, Identity's in it, you gon' remember me in the game."
9/11 happened around the time I was 6 or 7 years old. There was a lot of confusion and ignorance at this time around different groups of minorities. I heard Sikh being mispronounced as (seek) but as you know the real pronunciation is (sick). I wanted Sikhs to be known and celebrated the way they are in multicultural societies such as the UK, and clear up any misinterpretations. I wanted to represent my community and bring awareness, along with providing a message to be confident and proud of who you are.

For me, Being Sikh and Punjabi, music is a big part of our culture. Even our religious text is written in music, right? So music is kind of in my genes.
We continued our conversation around the difference between rappers and MCs. In Sikh's words, "There are fast rappers, storytellers, and freestylers, but an MC can do everything." Sikh talks in-depth about his favorite era of Hip Hop and provides more insight into his artistry.
When I was in high school back in 2009 lyrics still mattered the most. The flow is different nowadays, more bounce, trap, and based on vibes. No disrespect, it's just different. I consider myself a swiss army knife. I can jump in on a battle rap or make songs by telling a story.
Sikh grew up watching S.M.A.C.K. DVDs in his teens and fell in love with the world of battle by watching his favorite performers go head to head in acapella-style battle rap. He continued our conversation by recalling his first battle rap tournaments and when he started to take battle rapping seriously.
I saw an opportunity to join a tournament, hosted by a battle league called "UDUBB" run by the most viewed battle rapper of all time, Arsonal Da Rebel. I entered the tournament and ended up winning and that was my entry into battle rap. My boy Lexx Luthor is the reason for where I am today. He runs a league called iBattle and messaged me asking me why I wasn't famous yet and set me up in the league. I battled in a couple of different rounds where my biggest battle was with a rapper named XCEL.
XCEL is known as one of the best writers when it comes to battle rap. This battle was a pinnacle point for Sikh as this led to him getting the call to be on Ultimate Rap League.
We transitioned into talking about Drake's sponsoring the deal between Caffeine the streaming platform and URL being the Ultimate Battle Rap League platform which led to Real Sikh performing at Drake's birthday party for a battle rap tournament.
Drake is a huge fan of battle rap, so to be a part of his event is a huge acknowledgement that I'm very appreciative of.
View this post on Instagram
Drake picked all the battles for his birthday event and was eager to see PAT STAY who is a legendary battle rapper from Canada versus New Jersey's own Real Sikh. Drake thanked Sikh after the battle saying, "That was a great way to start off the night, thank you I appreciate you," according to Sikh's recollection.
We concluded the interview by talking about Sikh's overall experience of the event.
I want to thank Drake for putting up the money for this event as well as the recognition that came from this event. As I said he's a huge fan of all of the performers on the card for his birthday and it's so cool to see him be a fan of something as niche as battle rap. I also got to meet one of my favorite rappers of all time at this event, KXNG Crooked.
Real Sikh is a versatile MC in his own right who has come a long way from high school battle rapping days and ciphers. His journey has come full circle from watching S.M.A.C.K. DVDs to meeting S.M.A.C.K. in person at an event called Ultimate Madness where he battled JEY THE NITEWING making it one of the best battles of the tournament. Sikh has used his platform to bring awareness to causes such as the Farmers Protest going on in India. We wish Real Sikh the best of luck and look forward to seeing him drop new music in the future as well as continuing to be a part of tournaments and battle rap leagues.