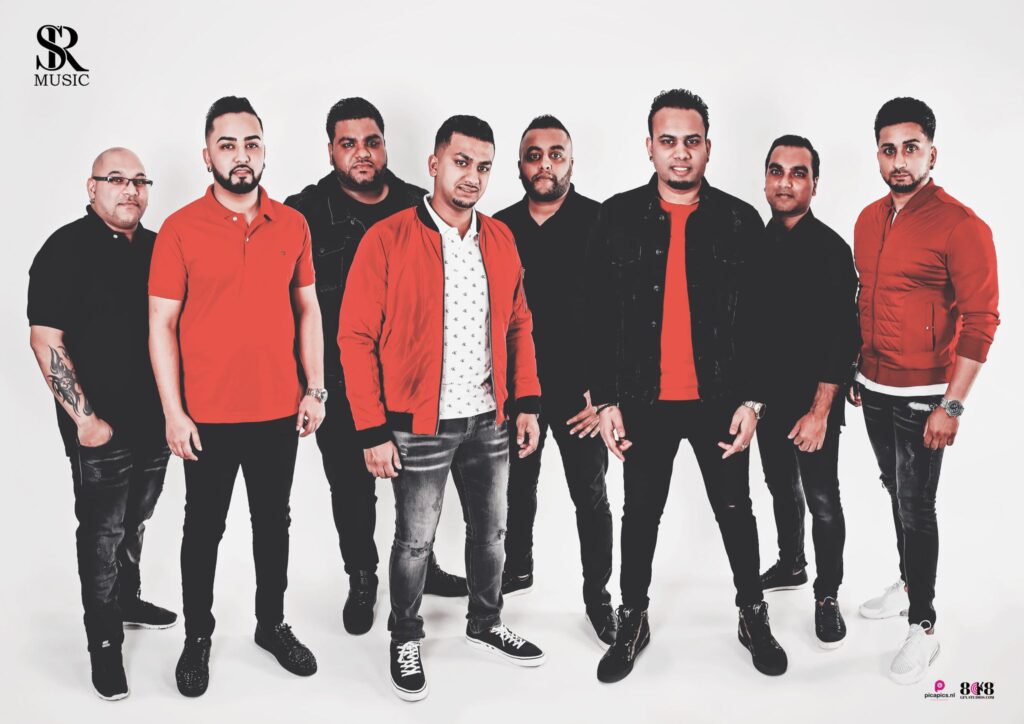 Dutch-Surinamese band SR-Music is breaking ground in Indo-Caribbean pop culture. Based in Rotterdam, Netherlands the group specializes in baithak gana, a music genre originating from the country of Suriname. Baithak Gana has roots in India and is sung in a Caribbean Hindustani dialect called Sarnami. SR-Music has performed medleys of chutney classics, Bollywood tracks, and their own written songs. The group along with their manager Soerin Ramkhelwan, a renowned dholak player, are well-known amongst chutney music enthusiasts. 
The in-demand group is known for their unique style and quality music. They perform frequently for birthday parties, weddings, and Indo-Caribbean events such as mundan sanskaars, tilaks, tilwaans, and bhatwaans. Soerin and SR-Music have performed alongside popular Dutch-Surinamese music artists such as Sandeep Badloe, Faziel Wagid Hosain, and Shai Dharampal to name a few.
In November 2017, SR-Music released their first album, "Baithak Gana," followed by their first tour in Suriname. The tour was a hit and SR-Music returned for a second sold-out tour in December 2018. This prompted their second album release of "SR-Music Volume 1." Both tours and albums featured singer-songwriter Sandeep Badloe.
In a March 2020 tour during Holi, lead vocalists Steven Raghoenath and Sandesh Sewdien showcased amazing vocals and featured a collaboration with Trinidadian chutney and soca artist Ravi Babooram. Sewdien and Babooram were also finalists in Trinidad's Chutney Soca Monarch 2020 with their hit song "Goonjariya."
Founded in 2017, Soerin says the group already knew each other from being friends. Each member brought a different dynamic, which was then fused together.
The members consist of dholak player Soerin Ramkhelawan, drummer Sandjay Dharampal, bass guitarist Charwan Mohan, keyboardist Mario Ganpat, sound engineer Dinesh Ramkhelawan, lead singers Steven Raghoenath and Sandesh Sewdien, Soeradj Ganpat (who plays the dhantal, cowbells, and cabasa), and stage manager Ramish Moennasing.
"We bundled our experiences from working with other artists," says SR-Music.
A notable moment in the Indo-Caribbean community is when Ravi Bissambhar teamed up with Dubraj Persaud to perform the latter's chutney classic "Gunga Gana," giving the song a chutney-soca twist. SR-Music fused their version of "Gunga Gana" with "Bela Chameli," a classic from Trinidad's singing sensation, Ustad Yusuff Khan.
"I have listened to that song ever since I was a little boy. I always wanted to apply that," says Soerin.
During the angst of the pandemic, SR-Music continued to bring baithak gana to their fans. Performing for international audiences, they successfully live-streamed four mini-concerts on Facebook and YouTube. The live stream included SR-Music's popular "Samdhiwa Ke Angna," "Popsicle (Sarnami Ladki)," and "Raat Ke Jhakka Djhor Me."
However, SR-Music is more than just a band. In 2006, Soerin established SR-Music Academy in The Hague, Holland with a mission to "play arranged baithak gana and chutney music and bring it to another level with renewal but also keep the origins intact." The academy is dedicated to the preservation of baithak gana through music and singing lessons for students of all ages, consisting of both traditional (dholak, harmonium, and dhantal) and modern instruments. Additional focus is given towards Sarnami, Hindi, Dutch, and English language music variations. 
Musical performances and projects are organized every year allowing students to develop their skills. Even during the COVID-19 pandemic via Zoom instruction, Soerin's goal remained the same: to share his experience and knowledge to keep our culture alive.
Most notable, Soerin and fellow instructors led music students in a performance at the 2019 Milan Summer Festival at Zuiderpark in The Hague.
Apart from leading both the academy and the band, Soerin cites his father, Bhan Ramkhelawan, as the inspiration behind sparking his interest in music. 
"I have learned everything step-by-step throughout the years. When I was younger, I was often thrown to the lions but that made me the person I am today. I started playing dholak when I was five years old, but began playing professionally when  I was thirteen years old. So, professionally speaking, it has been twenty-eight years," Soerin says.
Soerin's Tours
Soerin has also performed with Trinidadian chutney stars Drupatee Ramgoonai and Rikki Jai. His Bollywood collaborations include Malini Awasthi, Babul Supriyo, and Kumar Sanu.
"I enjoyed working with everyone because not everyone is the same. It's a new experience every time," he says.
In 2010, Soerin's New York tour featured multi-talented Surinamese singer and composer Kries Ramkhelawan, who is known for his hit song "Doenija Djhemele Me." Soerin says, "Being on stage with Kries was very cool and educational. I have learned a lot from him. We know each other thoroughly and that's why we can improvise on stage together." Soerin adds that performing in New York was a new world for him and as he was cordially received, he hopes to come back.
A big win for Soerin was at the World Forum Theater in The Hague for Lalla Rookh in Concert (Een Ode Aan Baithak Gana) where he accompanied Sandeep Badloe. The 2013 concert celebrated 140 years since Indian Arrival Day in Suriname and also featured the Metropole Orkest.
"It was a once in a lifetime experience and it is the highlight of my career," Soerin says. 
"Although Soerin has toured many countries, he notes Suriname and New York have been his favorite places to perform because the audience is always bouncing with energy."
Q & A with SR-Music band members
Apart from SR-Music's career, I seized the opportunity to learn some fun facts about each member.
1. If I went through your music playlist, what music artiste(s) or song(s) would I find that I wouldn't expect to find?
Soerin Ramkhelawan: Ramdew Chaitoe, Sameer Hosein, Ghulam Ali, Nusrat Fateh Ali Khan, Rahat Fateh Ali Khan, and Sonu Nigam.
Sandjay Dharampal: Bob Marley.
Steven Raghoenath: Arabic songs.
Ramish Moennasing: All of the recorded songs of SR-Music, Ramdew Chaitoe, and typical Dutch songs of the late Andre Haze.
Charwan Mohan: Davina Michele.
Soeradj Ganpat: James Brown.
Dinesh Ramkhelawan: Soerin Ramkhelawan and Ramdew Chaitoe.
Mario Ganpat: Gurdas Maan.
Sandesh Sewdien: Bruno Mars and Ozuna.
2.
What are your f
avorite food(s)?
Soerin Ramkhelawan: Noodles, vegetables, potatoes, and meat.
Sandjay Dharampal: "Surinamese food like bami (Indonesian stir-fried noodles), nasi (Indonesian fried rice), saoto (Javanese soup), and roti."
Steven Raghoenath: Saoto soup, curry duck, and sushi.
Ramish Moennasing:I just love food. Mom's home-cooked food is the best in the world! One of my favorite dishes is rice with chicken curry! 
Charwan Mohan: I like to discover food with each country I travel to. But homemade Surinamese food is delicious.
Soeradj Ganpat: Surinamese food like saoto soup, doksa, nasi and Italian food like spaghetti, lasagna and pizza.
Dinesh Ramkhelawan: Doksa, nasi, and bravoe (a Creolese soup).
Mario Ganpat: Tandoori chicken.
Sandesh Sewdien: Chinese food.
3. What are t
hree words you'd each use to describe yourself?
Soerin Ramkhelawan: Disciplined, Consistent, and Straightforward.
Sandjay Dharampal: Helpful, Team player, and Friendly.
Steven Raghoenath: Social, Calm, and Polite.
Ramish Moennasing: Loyal, Team player, and Creative.
Charwan Mohan: Punctual, Caring, and Loyal.
Soeradj Ganpat: Epicure, Social and Perfectionist.
Dinesh Ramkhelawan: Helpful, Team player, and Friendly.
Mario Ganpat: Musician, Father, and BBQ lover.
Sandesh Sewdien: All-rounder, Team player, and Entertainer.
4. If you weren't in your respective SR-Music role, what would you be doing or aspiring to do?
Soerin Ramkhelawan: I'd want to be a soccer player.
Sandjay Dharampal: A sports person or just a normal person.
Steven Raghoenath: If I wasn't a musician, I would focus more on my work career instead of playing music. I was bored all the time.
Ramish Moennasing: I would want to own my own bar/dance club and restaurant, serving good quality food for low prices.
Charwan Mohan: I have no idea. This is what I've been doing for the past 22 years.
Soeradj Ganpat: I would play more soccer.
Dinesh Ramkhelawan: I'd want to be a soccer player
Mario Ganpat: I'd want to be a mathematician.
Sandesh Sewdien: I'd be doing engineering.
According to SR-Music, it is crucial to retain the Indo-Caribbean culture through music and preserve the baithak gana genre for future generations.
"We see that it gets lost and many people don't know what they are singing or playing as a band."
Considering the journey of the genre throughout the Caribbean, one change they'd also like to see in the chutney music industry is "the quality of music."
Soerin's advice for aspiring musicians is "practice makes perfect" and "respect each other."
For Indo-Caribbean artists who are using different art forms to retain our Indo-Caribbean culture, Soerin says, "I appreciate other artists, also if they are using different arts. It's very important to keep our culture alive, spread love around the world, and bring unity and fusion between various cultures."
To learn more about  SR-Music visit their Facebook page Soerin Ramkhelawan and YouTube Channel SR-Music.
---
The opinions expressed by the guest writer/blogger and those providing comments are theirs alone and do not necessarily reflect the opinions of Brown Girl Magazine, Inc., or any employee thereof. Brown Girl Magazine is not responsible for the accuracy of any of the information supplied by the guest writer/bloggers. This work is the opinion of the blogger. It is not the intention of Brown Girl Magazine to malign any religion, ethnic group, club, organization, company, or individual. If you'd like to submit a guest post, please follow the guidelines we've set forth here.